Afghan Refugees Are Entering the US—Here's What We Know
During a Friday briefing at the Pentagon, Air Force General Glen D. VanHerck addressed the ongoing evacuation process in Afghanistan and what Afghan refugees will face as they make their way into the U.S. and settle at military bases across the country.
With just under 7,000 Afghan refugees currently in the United States, and more set to enter, the federal government has continued to expand the number of bases that will house these individuals. Right now, the Fort Pickett and Fort Lee bases in Virginia, Holloman Air Force Base in New Mexico, Fort Bliss in Texas, Fort McCoy in Wisconsin, and Joint Base McGuire-Dix-Lakehurst in New Jersey are all prepared to take in refugees.
"We're prepared to house them and feed them for as long as it takes to get them through the process," VanHerck said during the conference. "They're coming here, starting over with what they bring with them."
All of the individuals entering the country have undergone security screenings, having their names, biographical data and biometric data scanned through terrorist identification databases, VanHerck said. However, they still must undergo steps to finish the special immigrant visa (SIV) screening process, which VanHerck estimates takes about five to seven days, basing this estimation off of processing times seen at Fort Lee.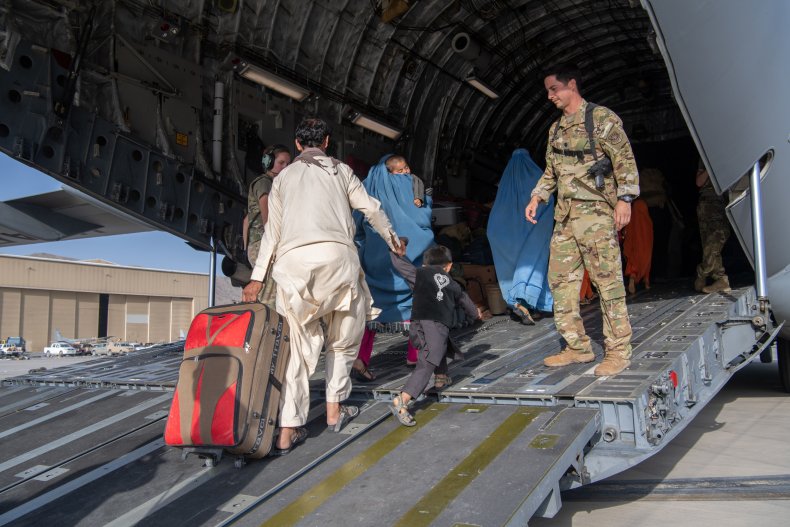 When visa applicants arrive in the U.S., they generally stay on the base until they complete a number of medical screenings and vaccination requirements. Towards the end of this process, the International Organization for Migration supports these individuals as they begin to settle into American society. VanHerck said many of the Afghan refugees have family members in the United States. Those who don't are primarily resettled in areas with existing Afghan communities.
During their stay on base, visa applicants are provided culturally appropriate foods, with the bases serving timed meals and offering 24-hour grab-and-go options. Local NGOS have provided children at the bases with coloring books, education materials and sports equipment to entertain themselves through the stay.
About 15 percent of those entering the U.S. have children, VanHerck said. The make-up of the groups arriving are roughly 50-50 male-female. While he did not have an exact figure for the number of children entering the country, VanHerck said at one base children account for 30 percent of the total population. Providing these allies with aid has been a "privilege" for VanHerck, who knows the sacrifices they made to support military efforts in Afghanistan.
"It's really a privilege to be executing this mission for those that have helped us for, oftentimes, a couple of decades," VanHerck said. "We continue to look forward to supporting them, and we're prepared to do this for as long as it takes to ensure that we get them settled here back in the United States of America."