Afghanistan Airport Attack Carried Out By Lone IS Bomber, Pentagon Says
A military investigation into the attack at the Kabul, Afghanistan airport concluded a suicide bomber acted alone and it was not the complex attack that officials previously believed.
The August 26 attack at Abbey Gate killed 13 U.S. service members, including 11 U.S. Marines, one sailor and one soldier, and 170 Afghans attempting to leave the country after the Taliban regained power following the U.S. exit. Forty-five service members were also wounded in the blast.
"A single, explosive device killed at least 170 Afghan civilians and 13 U.S. servicemembers by explosively directing ball bearings through a packed crowd and into our men and women at Abbey gate," said Gen. Frank McKenzie, head of U.S. Central Command, at the Pentagon on Friday.
Investigators also believed the attack was not preventable as the bomber used side roads to bypass the Taliban and checkpoints. At the time of the attack, many Afghans used alternative routes to reach Abbey Gate as the Taliban would often beat Afghans caught trying to leave, according to CNN.
Officials concluded that the blast caused instant chaos, but all those killed and wounded were moved to triage sites within 20 minutes.
McKenzie also said the investigation revealed five-millimeter ball bearings in the bomb caused the wounds which they initially believed were gunshots and led them to believe there may have been more than one person involved.
"We now know that the explosively-fired ball bearings caused wounds that looked like gunshots, and when combined with a small number of warning shots, that led many to assume that a complex attack had occurred."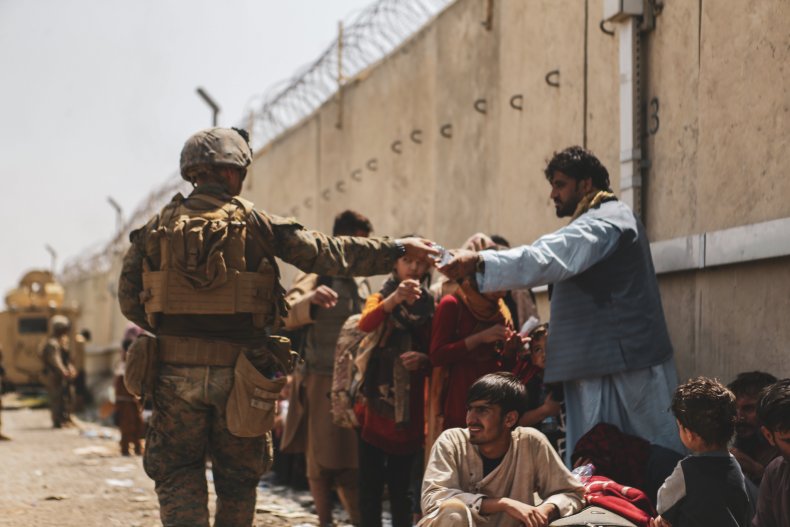 Although gunshots were reported, the investigation determined U.S. and British troops fired warning shots, but no one was killed or injured. The investigation found one Marine fired at an adult man who was allegedly holding an AK-47, ProPublica reported.
While the investigators determined no one suffered from gunshot wounds, Dr. Hares Aref, a senior surgeon at Wazir Akbar Khan Hospital in Kabul, told ProPublica he personally operated on patients with bullet wounds.
"We had patients with bullet injury in this attack, it's clear," Aref said.
McKenzie said they spoke with more than 100 people to conduct the investigation.
The press release from the U.S. Central Command also included three videos, one from drone footage minutes after the blast, another featuring a group of marines being pulled into a crowd at Abbey Gate, and another one featuring two Marines right before the blast. According to the AP, investigators looking at the video see a single person dressed in all black, which they believe to be the bomber.
Military officials also concluded that contrary to initial reports, there was enough military and medical presence on the ground, including nine surgical teams, according to the AP.