Drugs around the World: Afghanistan Officials Seize 650 Tons of Narcotics within a Year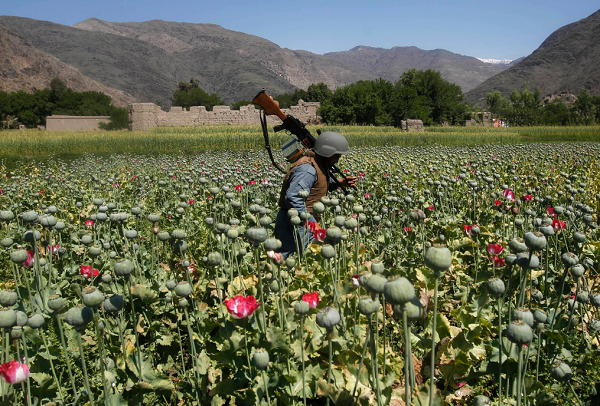 Afghanistan has seen a boom in opium production in recent years despite the country's narcotics division's best efforts to combat it. Officials from the Afghan government recently announced the narcotics department seized nearly 650 tons of drugs, including raw opium, within the last year, the Associated Press reported.
In addition to confiscating opium, Gen. Baz Mohammad Ahmadi, the deputy interior minister for the counter-narcotics police in Afghanistan, said Tuesday that heroin, hashish—Afghan cannabis—and alcohol were also seized during drug raids over the last 12 months.
Seizures have led to the arrests of 20 police officers and 17 army soldiers in connection with drug trafficking along with 2,683 drug smugglers (including 67 women), Ahmadi said.
The massive raids come as Afghanistan officials try to crack down on cultivation of poppy fields, which grew by 10 percent in 2016 in Afghanistan, according to a recent United Nations Office on Drugs and Crime (UNODC) report.
The government has spent billions on reducing opium production, transport and sale within Afghanistan, including about $8 billion that the U.S. has funded to help counter-narcotic efforts in the country. Afghanistan still produces about 90 percent of the world's opium.
The recent surge of opium could have been triggered by new poppy seeds being transported into Afghanistan from China. In an interview with CNBC in March, Afghan government spokesperson Javid Faisal said there was a new strain of genetically modified poppy seeds infiltrating the country from China.
"We are aware of the new seed in town," Faisal said, adding that government will "search to find ways to avoid its traffic."
The new seeds, which officials believe first arrived in Afghanistan in 2015, speed up poppies' growth cycle to just two months, making them capable of growing all year round in Afghanistan compared to traditional poppy seeds which take about three times as long.
The new seeds alone have led to a 43 percent surge in opium production, up to 4,800 tons of possible opium production in 2016 from 2015's potential 3,330 tons of opium.
Faisal blamed the Taliban for increased opium production, 90 percent of which he said is cultivated "in the areas which are under the Taliban control."