Afghanistan Earthquake Kills at Least 950—Officials
A powerful earthquake struck Afghanistan early on Wednesday, killing at least 950 people, according to officials.
The 5.9 magnitude quake struck about 46 km (28 miles) southwest of the city of Khost, not far from the country's border with Pakistan, at a depth of about 10 km (6 miles), according to the United States Geological Survey (USGS).
A second quake, with a magnitude of 4.5, struck about 49 km (30 miles) southwest of Khost about an hour later, the USGS said.
Earlier, officials reported that more than 280 people had been killed, but the death roll has been revised as information trickles in from remote mountain villages.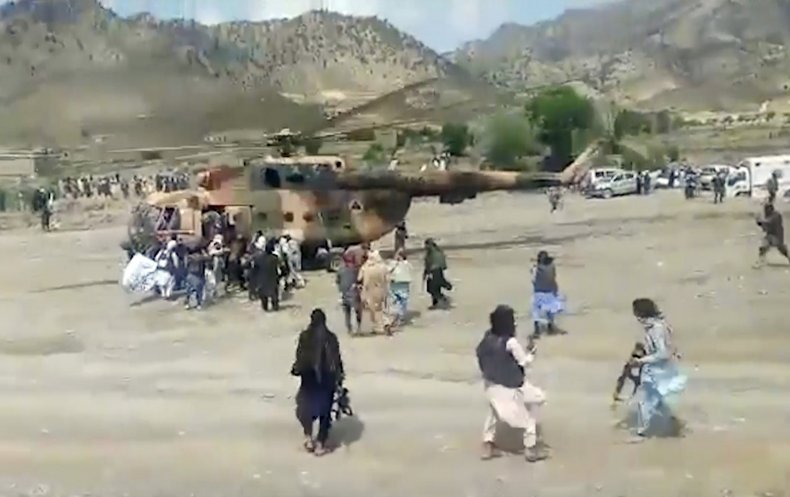 Disaster management officials said at least 950 have been killed, according to Reuters.
Most of the confirmed deaths were in the eastern Afghan province of Paktika, interior ministry official Salahuddin Ayubi told the agency.
"The death toll is likely to rise as some of the villages are in remote areas in the mountains and it will take some time to collect details," Ayubi said.
Authorities have launched a rescue operation and helicopters were being used to reach the injured and take in medical supplies and food, he added.
More than 600 people have been injured, according to the state-run Bakhtar news agency.
Photographs shared by Bakhtar on social media showed houses reduced to rubble and bodies covered in blankets.
The agency posted a video on Twitter that it said showed a helicopter landing in a quake-hit area to transport the injured to hospitals.
The news agency's director-general, Abdul Wahid Rayan, wrote on Twitter that 90 houses have been destroyed in Paktika and that dozens are believed to be trapped under the rubble.
Bilal Karimi, a deputy spokesperson for the Taliban government, tweeted that "a severe earthquake shook four districts of Paktika province, killing and injuring hundreds of our countrymen and destroying dozens of houses.
"We urge all aid agencies to send teams to the area immediately to prevent further catastrophe."
Ramiz Alakbarov, the U.N. resident coordinator in Afghanistan, said U.N. agencies were responding to the earthquake. "Our condolences to the families of deceased, response is on its way," he wrote on Twitter.
Pakistan's foreign ministry said that it was working to provide aid to Afghanistan.
"The people of Pakistan stand in strong solidarity with their Afghan brethren in this difficult time," the statement said. "We have no doubt that the brotherly Afghan people will overcome the effects of this natural calamity with their characteristic resilience."
The earthquake's tremors were felt over a radius of 500 km by 119 million people across Afghanistan, Pakistan and India, according to the European Mediterranean Seismological Centre.
The earthquake came as Afghanistan has been enduring a humanitarian and economic crisis since the Taliban's takeover of the country in 2021 amid the chaotic withdrawal of the U.S. military following two decades of war.
Update 6/22/22, 5:35 a.m. EDT: This article and its headline have been updated to include the latest information.