Afghanistan Estimates Coronavirus Cases More Than Double U.S. Confirmed Infections
Almost 10 million people may have contracted the novel coronavirus in Afghanistan since the pandemic began, the country's top health official said on Wednesday.
The estimated figure is more than double the United States' confirmed infections, and currently higher than total diagnoses reported by all other impacted countries. As of Wednesday, August 5, more than 4.7 million people have tested positive for COVID-19 in the U.S. since the outbreak's onset earlier this year, according to data published by Johns Hopkins University.
Afghanistan's new infection estimate is based on findings of a national public health survey, which collected antibody test results from roughly 9,500 people. Dr. Ahmad Javad Osmani, Afghanistan's acting Minister of Public Health, said the results indicated about one-third of the country's population was, at some point, infected with COVID-19.
Antibody tests evaluate blood samples for the presence proteins generated in response to an infection. The tests are helpful to evaluate the true scope of an area's COVID-19 outbreak, especially given that people can contract the illness without showing symptoms.
In Afghanistan, a shortage of diagnostic tests has made accurately determining the virus' spread more difficult. Official numbers reported by the nation's health authorities are significantly lower than those suggested by the recent survey. Johns Hopkins University's tracker accounts for just 36,829 confirmed positive tests throughout Afghanistan as of Wednesday. Just under 1,300 deaths linked to the virus have been confirmed.
The survey's results will inform the Ministry of Public Heath's approach to managing Afghanistan's COVID-19 outbreak moving forward, Osmani reportedly told the public during a news conference held Wednesday morning.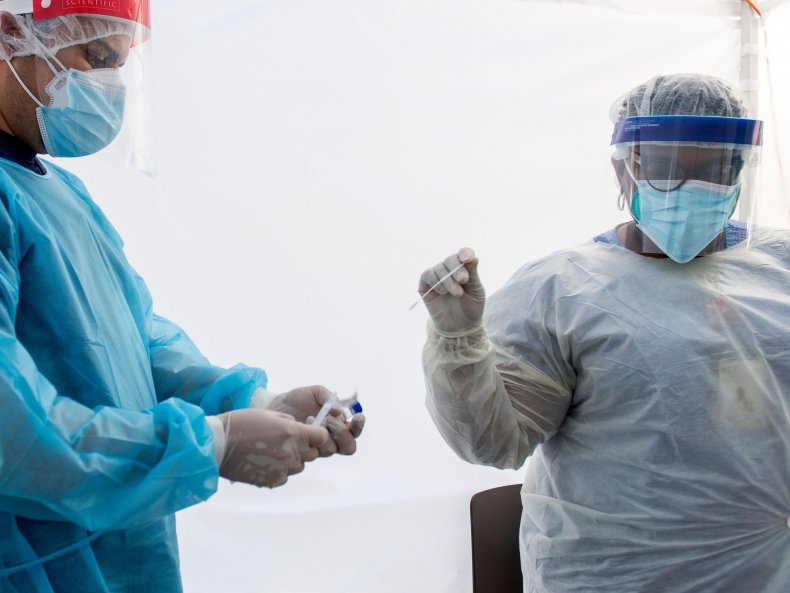 "A second wave of the infection is happening everywhere in the world and we cannot be an exception," Osmani said, according to a report from Agency France-Press. "We will use the findings of this survey to better prepare ourselves for a possible second wave."
According to AFP, Afghanistan's health ministry is already pursuing another study to more accurately determine the COVID-19 fatality rate among its population.
Newsweek reached out to the Ministry of Public Health for comments but did not receive a reply in time for publication.
Antibody tests administered across the U.S. similarly indicate COVID-19 may be more widespread than official infection reports have shown. A dashboard that tracks antibody test results nationwide suggests as many as 19 million Americans have contracted the respiratory illness since the beginning of the outbreak. The database evaluated 15,993 antibody tests to form its estimate.
The raw U.S. estimate is nearly twice as high as Afghanistan's projected figure, but population adjustments point to a more severe COVID-19 incidence in the latter country. The U.S. population, at roughly 328 million people, is almost 10 times as large as Afghanistan's.