Afghans Must Ensure Woman's Murder by Mob Was Not In Vain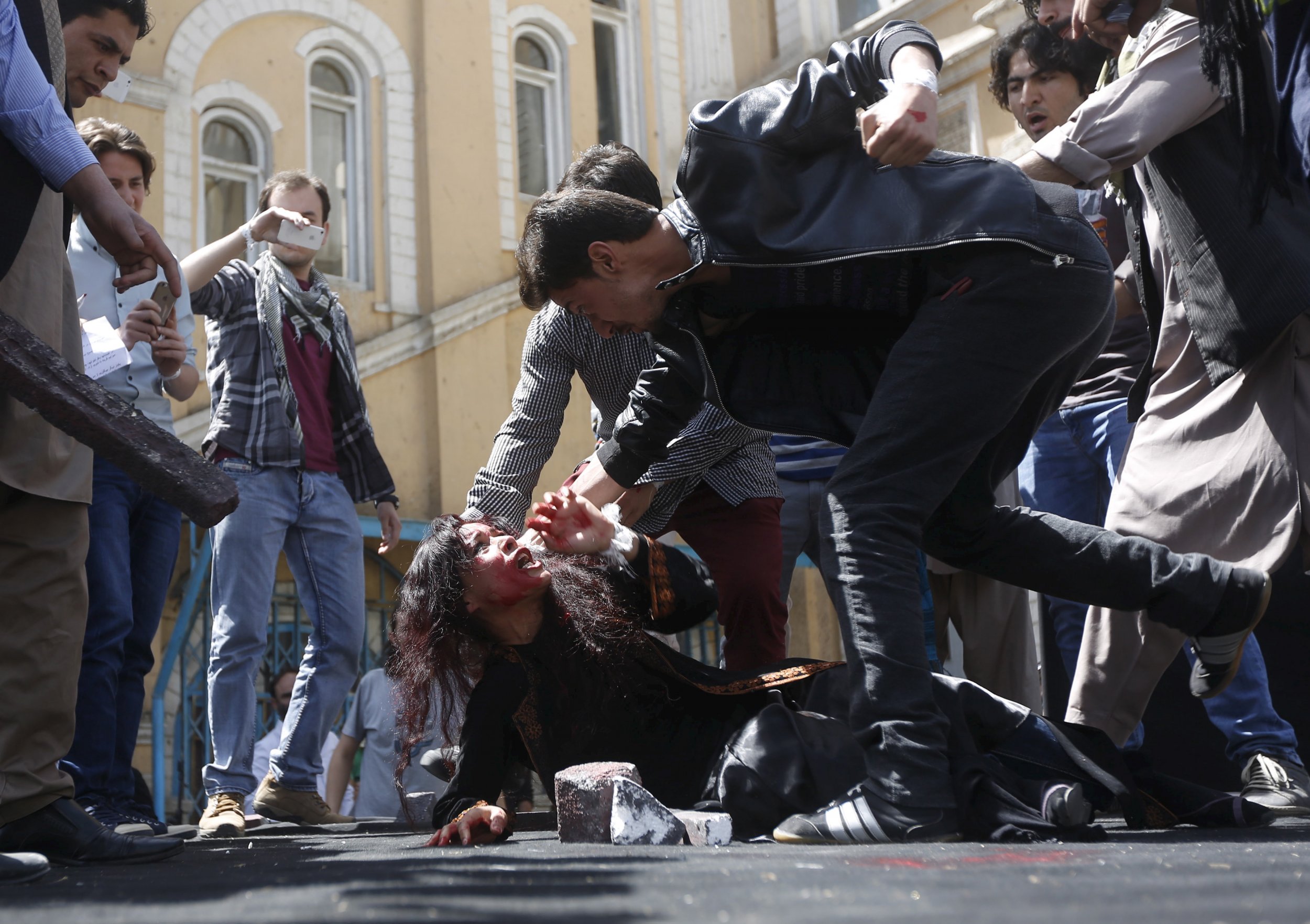 I was there when Farkhunda Malikzada, a 27-year-old Islamic law student falsely accused of burning the Koran, was killed by a mob in Kabul, Afghanistan.
Not on the day she actually died—when unfortunately too many other Afghans did nothing to stop the violence—but on the day Leena Alam, a brave Afghan actress, re-enacted the killing as part of an ongoing effort to ensure Malikzada's death was not in vain.
On that Monday, April 27, 2015, I stood with hundreds of others to watch as actors playing the part of the men who beat Malikzada to death pretended to do the same to Alam. Many of us, women and men, were crying—some choking on our tears—imagining her pain, desperation and loneliness on that ugly day just over a month earlier, when she was killed in front of the Shah-e-Do Shamshira mosque.
Standing there with that emotional crowd, I feared the justice system would fail Malikzada in the same way it has failed so many other Afghan women. But I was also moved by the level of discourse and public engagement that her brutal murder had inspired.
In a country where even saying a woman's name in public is taboo, staging a theatrical performance to commemorate a woman's death is unprecedented. So is the fact that women carried the casket to the graveyard, a revolutionary act in a culture in which funeral processions are men-only.
But I was right about the justice system. On March 7, just 12 days before the first anniversary of Malikzada's killing, Afghanistan's Supreme Court released a decision reducing the sentences of the 13 men who had been convicted in the case (a number nowhere near the actual number of men who participated in the mob), including the four who had been sentenced to death.
Three days later, a spokesperson for President Ashraf Ghani said the government would reopen the case, but the implications of that are unclear.
The process of seeking formal justice in Malikzada's case has been lengthy, frustrating and non-transparent, highlighting serious challenges to the rule of law in Afghanistan. But we can't count on the system to fix what made her death possible, even if the case is reopened.
If Afghans want to make Malikzada's death mean something—or, better put, if we want to make Afghan women's lives mean something—we will have to do that work ourselves.
Malikzada's murder sent shockwaves through Afghan society. In a country where nine out of 10 females report being sexually harassed and where reported violence against women increased by 16 percent from 2014 to 2015, she stood out.
Perhaps because the horrible act against her was captured on video by multiple smartphones—the cheering crowd memorialized forever—Malikzada instantly became a symbol for the women's rights movement. (Considering the people who chose to film the violence rather than try to stop, it is devastating to all of humanity.)
Alam's re-enactment of the murder was not the first act of courage inspired by the incident. The public outcry, civil society mobilization and artistic response were unlike any seen in this country since the overthrow of the Taliban in 2001.
Large-scale public rallies and demonstrations followed her killing. Art Lords, a group that raises awareness of social issues with graffiti, painted the wall across from the mosque in her memory, writing her name and a single line from a poem by Forugh Farrokhzad, a female Persian poet: Remember to fly.
Just last month, a memorial was built on the banks of the river where the mob threw Malikzada's body after burning it. The case has generated a soul-searching debate about the ugly side of Afghanistan's urban culture, the role of the religious community in protecting women from violence, the prevalence of mob culture and "street justice," and the failures of our security forces (19 police officers were arrested in connection with Malikzada's death).
A year on, Malikzada continues to inspire. Several media outlets, including 8AM, the most prominent daily in the country, dedicated special editions to commemorate her memory and provide analysis of the case and the violence that spawned it. That work must continue.
Afghans must choose between the different versions of our country revealed by Malikzada's case. How can it be that two crowds can stand before the same mosque, one cheering on a murder and the other in tears over the murder's re-enactment? Malikzada's case reminds us that women have no safety even in places of worship.
Like other Afghan women, I can't help but think of Malikzada's hopes and struggles. She studied math at a university in Kabul before switching to Islamic law. She stepped out of her home every day hoping to change our society, and she lost her life for expressing her opinion.
She could have easily been one of my sisters, or me. She was killed in a city I love, in front of a mosque I pass every day on my way to work.
It took me months to cross the street in front of that mosque without a shudder. But many other young women continued to walk past it every day with raised heads and colorful scarves, a simple act that had taken on newfound significance.
They've chosen the Afghanistan they want. I have too, and I am hopeful that more Afghans will join us.
Shaharzad Akbar is the director of Open Society Afghanistan and a co-founder of Afghanistan 1400, a group dedicated to bringing young Afghans into the political process for a democratic and pluralistic Afghanistan.
Afghans Must Ensure Woman's Murder by Mob Was Not In Vain | Opinion