Afghanistan Female Mayor Waiting for Taliban to 'Kill Me' With No Help Coming
With nowhere to go and no apparent help coming, Zarifa Ghafari, who made history in 2018 by becoming the first female mayor in Afghanistan, is sitting at home, waiting for the Taliban to come for her.
The Taliban's rapid takeover of Afghanistan's capital, Kabul, raised concerns about the fate of women's rights, as the Taliban kept the door open to reimplementing Sharia law. Appointed by President Ashraf Ghani, who fled the country after the Taliban took over, Ghafari has had three attempts on her life, which she's attributed to the Taliban.
"I'm sitting here waiting for them to come. There is no one to help me or my family. I'm just sitting with them and my husband. And they will come for people like me and kill me. I can't leave my family. And anyway, where would I go?" Ghafari told i News on Sunday.
A mob of men protested Ghafari's first day in office, but she refused to back down and continued serving as mayor of Maidan Shahr, the capital city of Wardak province, and a stronghold for Taliban support. The Trump administration honored her in March 2020 with the International Women of Courage award, during which time she warned that Afghan women are "always worried for the future," because they "have not forgotten the reign of the Taliban."
The ceremony came after the Trump administration struck a deal with the Taliban to withdraw troops by May 1, 2021. Ghafari asked the U.S. for their "continued support" to ensure the peace process "does not erase the gains that have been made since the dark days of the Taliban regime."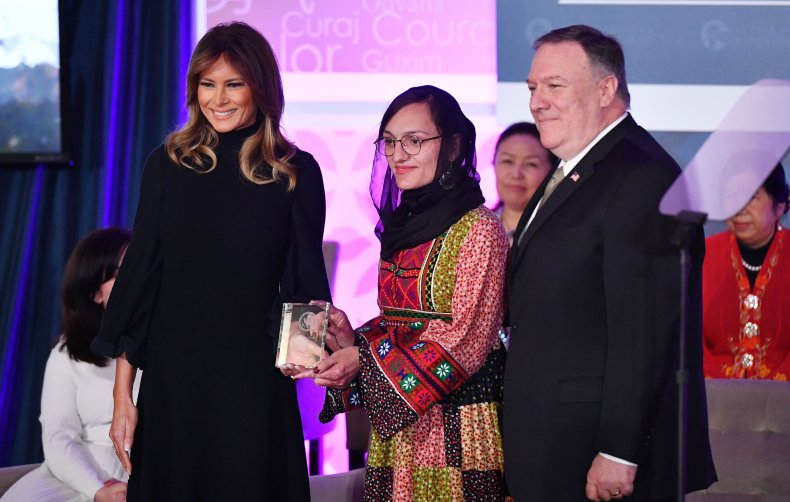 President Joe Biden has defended the decision to pull troops out of Afghanistan, even amid the chaotic retreat. He said Trump's May 1 deadline left him with the difficult choice of leaving the country or sending more troops to Afghanistan to fight in their civil war. Biden officials have also said that failing to adhere to the negotiations the Trump administration brokered with the Taliban would send America back into an all-out war with the Taliban and put troops at risk.
Weeks earlier, Ghafari had a more optimistic view of the situation. She told i News that younger people in the country were "aware of what's happening" and were communicating about it.
"I think they will continue fighting for progress and our rights," Ghafari said. "I think there is a future for this country."
Having spent the past two decades in Afghanistan, sending troops and helping to train Afghan soldiers and equip their military, Biden put the onus for the resurgence of the Taliban on the Afghanis. In a statement on Saturday, Biden said remaining in the country wouldn't have "made a difference" if the "Afghan military cannot or will not hold its own country."
The Taliban said in a Sunday statement that the "lives of the citizens of Kabul will not be at risk" and no one's "life, property and dignity will be harmed." However, Ghafari's experience gives her reason to believe her life is in danger.
After returning home from receiving the International Women of Courage Award, gunmen fired on her car in Kabul. Her father, an Afghan Army colonel, was also murdered in front of his house in November.
"When they understood they couldn't kill me, they killed my dad," Time reported she said. "It was my dad's dream too, that I stand my ground."
Ghafari again expressed concerns about America leaving the country in May and told Time that the international community can't "leave us to fight, to lose lives, lose hope, lose opportunities." She added that people in Afghanistan also "desire a good life."