The last known Jew in Afghanistan reportedly intends to stay in Afghanistan, despite earlier saying he would leave if the Taliban returned to power.
Zebulon Simentov, 62, has survived the Soviet invasion of his homeland, the civil wars and the brutal rule of the Taliban from 1996 to 2001.
He has lived in Kabul's only synagogue in recent years, refusing to follow his wife and children, who emigrated to Israel in 1998.
Earlier this year, Simentov said the prospect of the Taliban's return once U.S. troops pulled out of the country had finally convinced him it was time to leave.
He said the Taliban had jailed him four times when they were last in power, ransacking his synagogue and trying to convert him.
"Why should I stay? They call me an infidel," Simentov told AFP in April. "I'm the last, the only Jew in Afghanistan... It could get worse for me here. I have decided to leave for Israel if the Taliban returns."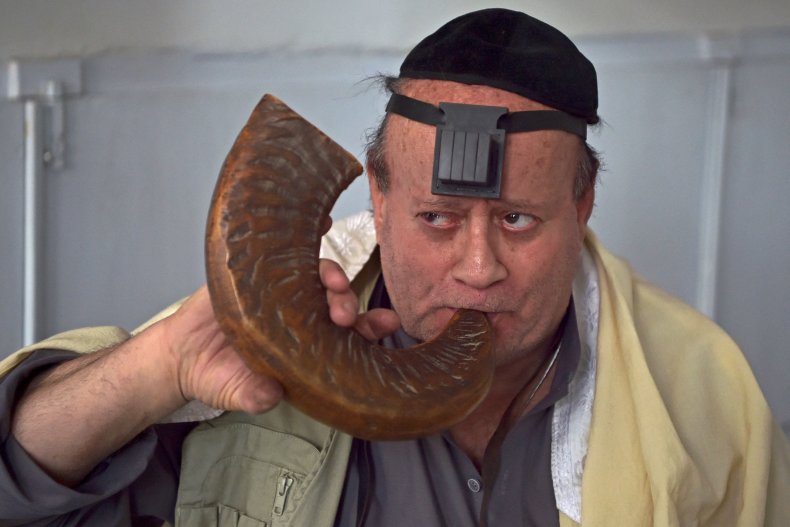 The Taliban swept into Kabul on Sunday, after storming the country and capturing major cities without much of a fight in a matter of days.
Fearing persecution, many Afghans rushed to flee the county. Simentov was reportedly not among them.
Several Jewish organizations have said they would help Simentov if she wishes to leave Afghanistan.
But an employee of one of those groups said a journalist in Kabul had contacted Simentov on Sunday. He told the journalist he would not leave, the agency reported.
Wion News, an Indian network, also quoted Simentov on Tuesday saying he had the chance to leave for the U.S. or Israel but had decided to remain in Afghanistan. The network did not broadcast the interview, using only archive footage in the report.
Simentov allegedly demanded money from volunteers working to facilitate his evacuation, Haaretz reported.
Moti Kahana, an Israeli-American businessman, told the outlet that Simentov initially agreed to be evacuated, but then made "personal financing" a condition of his departure.
Asked about Simentov in an interview with Israeli state television, Taliban spokesman Suhail Shaheen said he had not heard of Simentov, but insisted the group would respect the rights of minorities.
"We don't harm minorities," Shaheen told Kan TV. "There are Sikhs and Hindus in the country, and they have their religious freedom. People don't need to fear and run away."
Shaheen later took to Twitter to defend himself for speaking to an Israeli journalist, saying he had not known who his interviewer was.
"Some journalists may be masquerading but I haven't done interview with anyone introducing himself [to say that] he is from an Israeli media," he wrote.
Roi Kais, the Kan TV journalist, said he had identified his network, but did not reveal that it was an Israeli outlet.