Live Updates: Taliban Violence Escalates as Fight for Key Cities Intensifies in Afghanistan
The Taliban has regained significant territory in the weeks following the announcement of a full withdrawal of U.S. and NATO troops from Afghanistan. The escalation of violence has forced tens of thousands of people to flee the country in search of safety, with the Biden administration on Monday promising to widen the scope of Afghans eligible for refugee status in the United States.
Current and former employees of U.S.-based news organizations, U.S.-based aid and development agencies, plus other relief groups that receive U.S. funding are now covered, according to the White House. "This is incredibly hard," Secretary of State Antony Blinken told reporters. "It is hard on so many levels, it's hard to pick up and leave everything you know (and) it's hard to get yourself to a place where you can take advantage of what opportunities exist to see to apply for refugee status. And we recognize that this is. Alas, this is the case for millions of people around the world who find themselves in very difficult situations and particularly in Afghanistan now."
But relief agencies are calling for Biden's team to go a step further, claiming the widening of refugee status was not enough. Refugee umbrella organization InterAction condemned the move as "unacceptable" suggesting the U.S. would be forcing more families to endanger themselves by crossing Taliban-controlled checkpoints to make them eligible for refugee status.
Follow Newsweek's liveblog for all the latest updates.
Taliban spread could impact commercial interests, security in South Asia
If Lashkar Gah fell to Taliban forces, it would mark the first provincial capital won by the group since 2016. Gaining control of the city would increase the Taliban's efforts to expand their presence in Afghanistan and the rest of South Asia.
"An increase in operational capabilities further elevates the risk of a spill-over of consequences from the armed conflict into South Asia, elevating the threat to South Asian regional security and particularly for Pakistan and India," Supriya Ravishankar, a South Asia Analyst for Sibylline, told Newsweek.
Ravishankar said the increased presence of the Taliban along Pakistani border cities could impact transportation and logistical trade costs that would fund the Taliban and bolster their military reinforcements.
Indian and Chinese officials worry that the instability along the Afghanistan-Pakistan border could permeate into their countries, increasing vulnerability to attacks and impacting commercial interests.
China has remained engaged with both the Afghan government and the Taliban since NATO and U.S. forces began their withdrawal in Afghanistan. Indian leaders have also met with Afghan and U.S. officials to discuss their concerns over the Taliban's rise in the area.
"Going forward, it is essential that South Asian countries continue to engage with the Taliban in a way that does not disregard the Taliban's atrocities while ensuring they are in a better position to secure their national security interests," Ravishankar said. "While interaction may or may not help in this cause, non-engagement will certainly place countries like India in a more vulnerable position."
Afghan President blames increased violence on U.S.'s "abrupt" withdrawal
While addressing Parliament Monday, Afghanistan's President Ashraf Ghani blames the "abrupt" withdrawal of U.S. troops for the current increase in violence.
He also said the county is facing an "unprecedented onslaught of terrorism" as Taliban attacks have intensified, according to Al Jazeera.
Afghan forces urge people in Lashkar Gah to evacuate Taliban-controlled areas
Taliban forces have captured nine out of the 10 districts in Lashkar Gah, the capital city of the Helmand province, Majid Akhund, deputy chairman of the Helmand provincial council, confirmed to the Associated Press.
Local journalists also report that the Taliban has overtaken the city's state-run television and radio station, which have gone off the air.
The Afghan forces commander General Sami Sadt told residents in Taliban-controlled areas to evacuate.
"Please leave as soon as possible so that we can start our operation," he said in a message to local media.
"We will not leave the Taliban alive. ... I know it's hard ... we do it for your future. Forgive us if you get displaced for few days, please evacuate as soon as possible," he added.
According to the AP, the message indicates that the Afghan government is planning more airstrikes to target the Taliban.
Russia deploys combat helicopters on Afghan border
The country is preparing for military drills is Tajikistan as conflict across the border intensified, according to Russian state-affiliated news agency TASS.
Reports suggest Mi-8 military transport helicopters and Mi-24 assault gunships will be practising at the Kharb-Maidon training ground - around 20km from the Afghan border.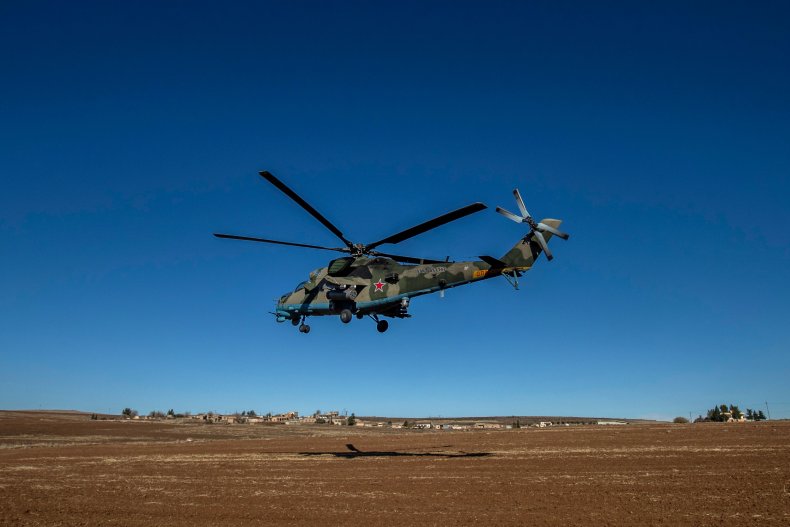 Dozens of countries condemn Taliban attack on United Nations compound
In a joint statement, embassies in Afghanistan from across the globe called for a "permanent and comprehensive ceasefire" after a UN compound was attacked on Friday, which the group said amounted to a possible war crime.
The U.S. mission joined the E.U.'s 27 nations, the U.K., Japan, South Korea, Australia, Canada, and NATO's Senior Civilian Representative to demand an end to the violence.
Any attack on a civilian humanitarian facility protected by international law should be investigated as a possible war crime. The Taliban must stop denying their involvement in human rights violations and follow the rule of law, to investigate and prosecute those responsible in their ranks. As we said previously, the Taliban's offensive is in direct contradiction to their claim to support a negotiated settlement of the conflict and to the Doha peace process. We join the United Nations Assistance Mission in Afghanistan in demanding that the Taliban allow unfettered humanitarian assistance access to the millions of Afghans in need. We continue to call for an immediate end to the ongoing violence in Afghanistan and for a permanent and comprehensive ceasefire, and for an inclusive political settlement that safeguards the human rights of Afghans - particularly women, children and minorities - upholds the rule of law, and ensures that Afghanistan never again serves as a safe haven for terrorists.
United Nations: 'Civilians are bearing the brunt'
U.S. and U.K. accuse Taliban of war crimes, push for ceasefire
Why has the U.S. been crticized for widening its refugee status program?
Relief agencies have criticized Monday's expansion - welcoming those who have worked with U.S. media organizations - suggesting that people can be forced to put themselves in more danger than necessary to become eligible.
InterAction, an umbrella organization for scores of international relief and development groups, said:
InterAction feels that this is unacceptable, as several critical border crossing checkpoints are now under Taliban control and Afghanistan's neighbors may not necessarily welcome these individuals and their families. Requiring at-risk Afghans to first become internationally displaced before applying for visas further endangers the Afghan people who have partnered with the United States.
Newsweek has asked the State Department for a response.
China balances relations with Taliban and U.S.
The Chinese government has been keen to talk with Taliban leaders and strengthen its stance with the group as it looks to hold significant influence going forward.
It is a difficult balance for the country, which says it respects Afghan sovereign independence but also calls for it to stay clear of its Xinjiang region, fearing unwanted Islamic extremist influence.
"The Taliban are a pivotal military and political force in Afghanistan and are expected to play an important role in the process of peace, reconciliation, and reconstruction," Chinese Foreign Minister Wang Yi said last week.
The U.S. cautiously welcomed the talks, suggesting its comfortability with China holding a greater influence over the region as the American and NATO troops pull out.