The Message To Americans From A U.S. Soldier Killed In Afghanistan
It was last Sunday when U.S. Army Major Brent Taylor took to his Facebook page to admire the beauty of democracy in Afghanistan as he posted pictures of Afghan men and women turning out to vote in the country's first parliamentary elections in eight years despite threats of violence.
"The strong turnout, despite the attacks and challenges, was a success for the long-suffering people of Afghanistan and for the cause of human freedom," Taylor wrote. "I am proud of the brave Afghan and US soldiers I serve with. Many American, NATO allies, and Afghan troops have died to make moments like this possible; for example, my dear friend Lieutenant Kefayatullah who was killed fighting the Taliban the day before voting began."
Amid the political vitriol occurring 7,000 miles away back in the U.S. as the country becomes increasingly polarized before the midterm elections, Taylor concluded his Facebook post with a message to all of his fellow Americans.
"As the USA gets ready to vote in our own election next week, I hope everyone back home exercises their precious right to vote. And that whether the Republicans or the Democrats win, that we all remember that we have far more as Americans that unites us than divides us. "United we stand, divided we fall." God Bless America."
On Saturday, Taylor, 39, a married father of seven—four sons and three daughters—was killed in an apparent insider threat attack in Kabul, Afghanistan. Defense Department officials said that initial reports indicate the attacker was a member of the Afghan National Defense and Security Forces, who was later killed by other Afghan troops.
Taylor becomes the eighth U.S. service member killed this year in America's longest-running war, where more than 2,250 Americans have died with another 130 being killed elsewhere while supporting the war since September 11, 2001. Almost 21,000 have been wounded.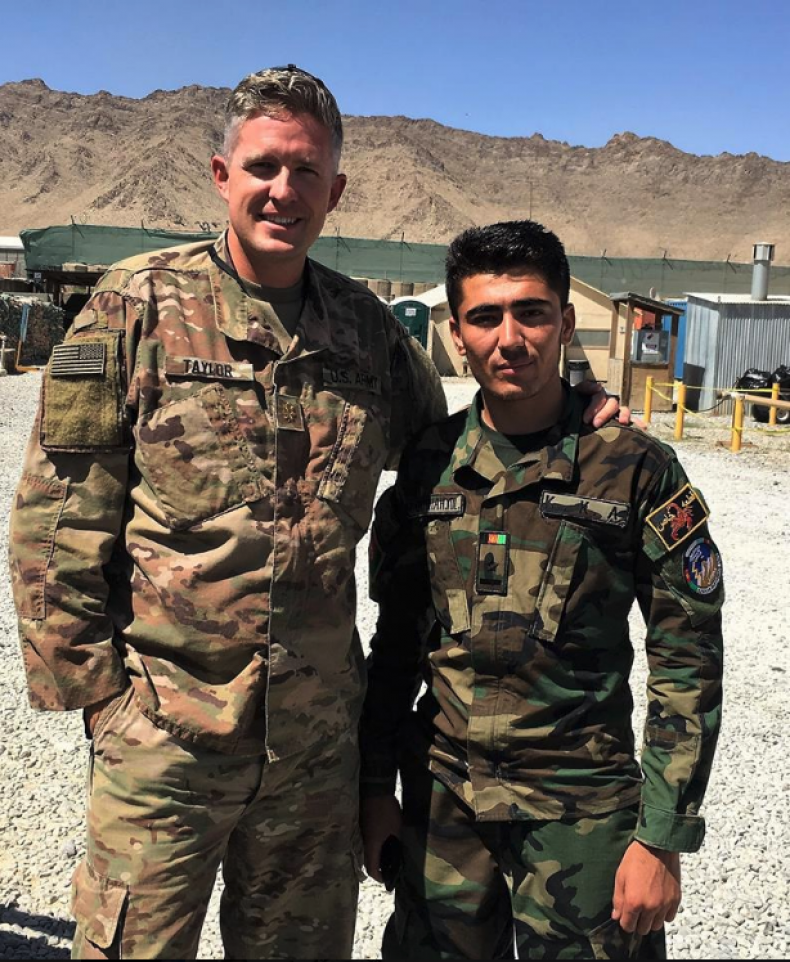 Taylor and another U.S. service member wounded in the attack were medically evacuated to Bagram Airfield. The wounded service member is undergoing medical treatment and is in stable condition as of Saturday. Officials said the incident is under investigation.
Local media in Utah, where he served as mayor of North Ogden since 2013, announced Taylor's death. Utah Senator Orrin Hatch and former presidential candidate Mitt Romney both tweeted out condolences on Saturday as the news began to spread.
"We are devastated by the loss of our Mayor and friend, Brent Taylor. Our hearts and thoughts go to Jennie, their children, and other family members as they deal with this tragic loss, "a statement posted on the the city of North Ogden's Facebook page and website read. "We love them and hope they will feel the love and support of all of us in North Ogden."
"Brent had a profound influence on this community. He was the best of men with the ability to see potential and possibility in everything around him. We feel blessed to have had him as our mayor. Everywhere you look in North Ogden you can see his profound influence. He had a great love and vision for this community. He was patriotic to the core and a shining example of what an American politician should be. We are grateful for his service to both our city and our country. His loss will be felt for years to come."
A veteran of the wars in Iraq and Afghanistan, Taylor was on his fourth deployment as a member of the Utah National Guard. A recipient of both the Bronze Star and Purple Heart, Taylor had obtained five degrees from three different universities, among them, a Ph.D. in international relations from the University of Utah. Taylor's tour in Afghanistan was the first known time in Utah history a mayor deployed for wartime service, according to Deseret News.
In the two months leading up to his death, Taylor posted about his 15th wedding anniversary to his wife, Jennie, writing, "Happy Anniversary to this talented and selfless woman who chose to dedicate her life to her family and to God. She is truly the center of our home and at the very center of all of our lives." Another post is Taylor watching his youngest daughter over a Skype call from Afghanistan. She's using a chair for support as she begins to learn how to walk.
In an interview with Deseret News from earlier this year before Taylor's deployment, Jennie told the newspaper, "I hope my kids grow up and look back at this, not as a time they missed Dad or that Dad wasn't here or Mom needed extra help, but as a time they can say, 'We tried our best. We wanted to help. We answered the call because my dad was needed. My country needed me. My God needed me.'"
Before Taylor started his last Facebook post this past Sunday, he quoted Thucydides, the Athenian historian and general, who said, "The secret to happiness is freedom… And the secret to freedom is courage."
On Saturday night, many red-hat wearing MAGA Republicans and #Bluewave Obama supporters on social networks set aside their profound political differences to thank Taylor for his sacrifice and offer condolences to his family. Strangers from Facebook and Twitter underscored his courage and, if even for just a moment, honored Taylor's final message, days before the midterm elections.