Pentagon Identifies U.S. Service Members Killed In IED Blast in Afghanistan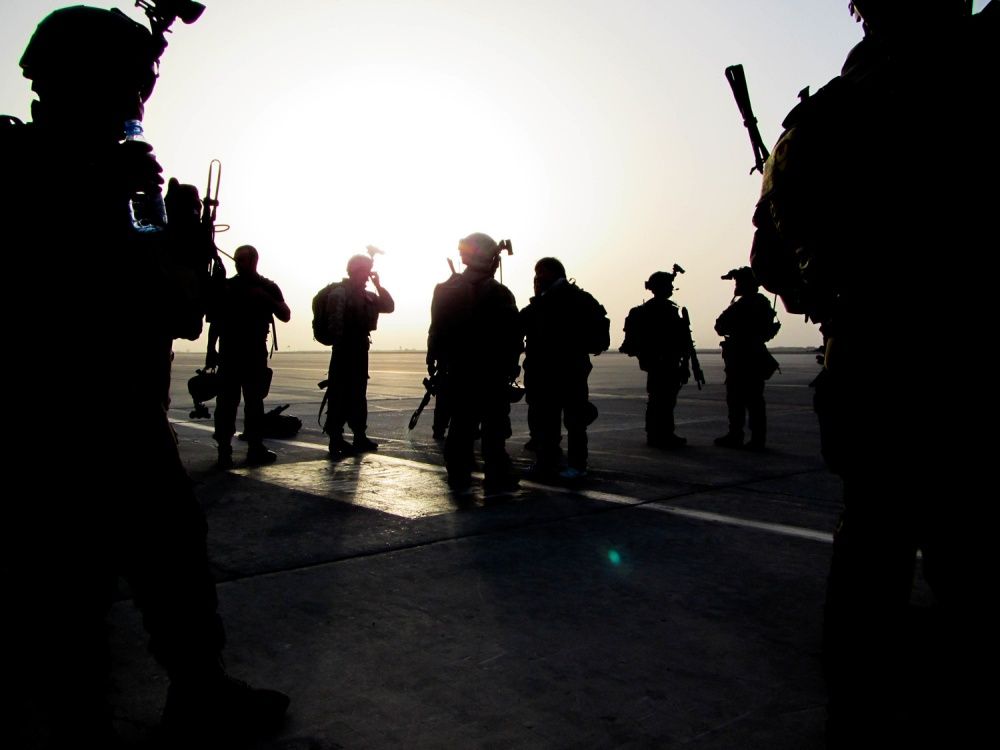 The Pentagon on Wednesday identified the U.S. service members killed in central Afghanistan this week by a roadside bomb in what is the deadliest day for American forces so far this year.
Taliban militants claimed responsibility for the attack on Tuesday near the central Afghan city of Ghazni. A convoy of U.S. Army special forces soldiers were traveling to Andar district, roughly 20 miles south of Ghazni city, to conduct combat operations against Taliban forces when the convoy struck an improvised explosive device.
U.S. Army Green Berets Captain Andrew P. Ross, 29, of Lexington, Virginia and Sergeant 1st Class Eric M. Emond, 39, of Brush Prairie, Washington died after sustaining severe wounds from the blast. U.S. Air Force Staff Sergeant Dylan Elchin, 25, a combat controller from Beaver, Pennsylvania was also killed.
Ross and Emond were members of 1st Battalion, 3rd Special Forces Group (Airborne), out of Fort Bragg in North Carolina, while Elchin was on loan to the unit from the 26th Special Tactics Squadron out of Cannon Air Force Base in New Mexico.
Newsweek subscription offers >
Three other U.S. soldiers and an American contractor were wounded. U.S. attack helicopters flew in to evacuate the injured and retrieve the dead. Sarah Sanders, the White House press secretary, said Tuesday, "The United States is grateful for their service and forever in debt for their sacrifice."
A Defense Department source told Newsweek on Wednesday that two U.S. Army soldiers are in critical condition, along with a third U.S. Army special forces soldier.
Newsweek requested additional information on the American contractor late Wednesday evening. The Pentagon said they had no information to provide at this time.
In what has been described by multiple Pentagon sources as a "massive explosion" the device was planted in a culvert near a tranche of Highway 1, a critical piece of Afghan roadway that runs through Ghazni and connects Kabul with southern Afghanistan. The blast was so massive that it threw the RG-33 mine-resistant light armored vehicle the special forces soldiers were riding in more than 150 feet.
Newsweek subscription offers >
The Defense Department said Wednesday that the incident is under investigation.
Amanullah Kamran, a provincial council member, told Stars and Stripes on Tuesday that U.S. military support was preventing the province from falling into the Taliban's hands. A resurgent Taliban force has been trying to regain a foothold in Ghazni since August when it launched a large-scale offensive weeks before the 2018 parliamentary elections.
U.S. Army Special Forces have had a consistent presence in Afghanistan since the beginning of the war, with battalions from each of the special forces groups rotating in and out with each passing year. A battalion from 10th Special Forces Group is scheduled to replace the Green Berets currently in Afghanistan sometime next year.
Last week, the top U.S. commander in Afghanistan, U.S. Army General Scott Miller, traveled to Ghazni to discuss the rapidly deteriorating security situation in the province.
Tuesday's attack brings the U.S. death toll to 13 this year. Twelve of those combat related, the most in a single year since the end of major U.S. combat operations in 2014 under President Barack Obama.
'De Oppresso Liber'
The Latin Green Beret motto: "De Oppresso Liber," means to, "To Free the Oppressed."
The phase is the driving force behind the existence of men like Ross and Emond.
Ross, the leader of the special forces team, was a Bronze Star recipient and had more than seven years of service in the U.S. Army. He was on his second tour in Afghanistan and had been married for less than a year.
On Facebook, his life seemed to focus on his love for her and his brown chocolate Labrador.
A fan of such classic rock bands as AC/DC and Creedence Clearwater Revival, his photographs center not on men jumping out of planes or wearing an abundance of tactical gear, but instead on the simpler things in life. Time spent at the beach or at the lake with his wife and dog.
"A husband. A son. A brother. A nephew. A cousin. An Uncle. A grandson. An American Soldier. A HERO. Andrew Ross was all of those. Loving, caring, kind, and just an all-around amazing man," wrote one of his family members.
"He sacrificed his life for our freedom. I couldn't be more proud of my cousin and everything he did. He was doing what he wanted, and what he loved to do. It's hard to find the words when there's so much shock and hurt going through your body," the family member added.
Ross was posthumously awarded a second Bronze Star Medal, Purple Heart, Meritorious Service Medal, and the Combat Infantry Badge, according to U.S. Army Lieutenant Colonel Loren Bymer, a spokesman for U.S. Army Special Operations Command.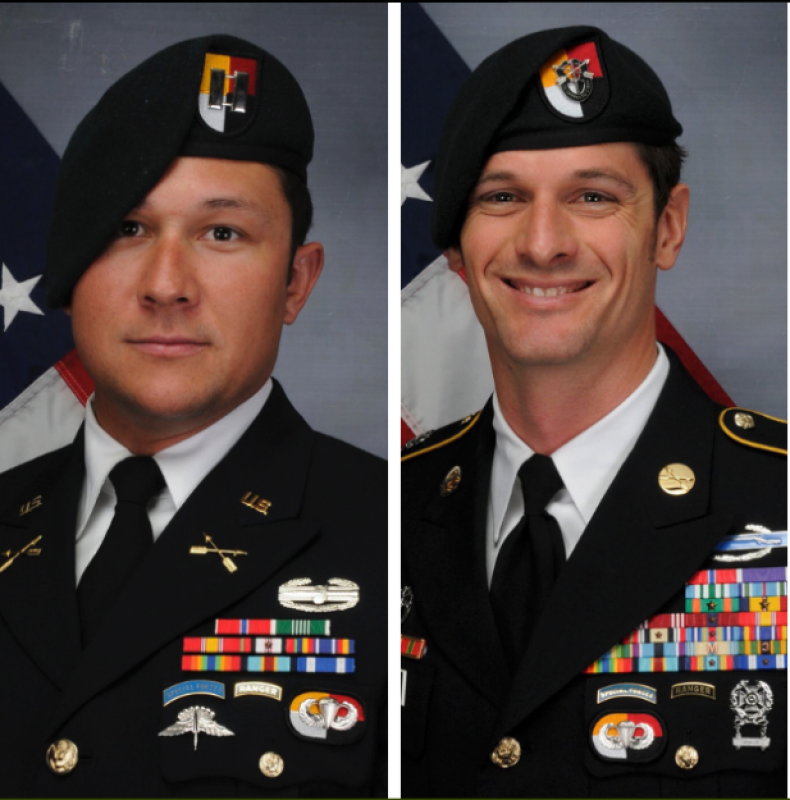 Emond was a former U.S. Marine scout sniper turned Green Beret. A native of Boston, Massachusetts, he had more than 21 years of service in uniform between two branches of the armed forces.
The married father of three children was a Bronze Star and Purple Heart recipient with two combat action ribbons from the Marine Corps and an Infantry Combat Badge from the U.S. Army, stemming from service in both Iraq and Afghanistan.
Emond was on his seventh and final overseas deployment. A Defense Department source told Newsweek his wife had just given birth to their third child before he left for Afghanistan.
He was preparing to submit his retirement package when he returned.
Emond was posthumously awarded his second Bronze Star Medal, a second Purple Heart and Meritorious Service Medal.
"Andrew and Eric were invaluable members and leaders in 3rd Special Forces Group and the special operations community. Our most heartfelt condolences go out to the families of these brave men," said U.S. Army Colonel Nathan Prussian, the commander of 3rd Special Forces Group (Airborne)
The Man in Blue
It was a little over a month after Elchin graduated U.S. Air Force boot camp in November 2012 when he wrote on Facebook, "Happy veterans day. a big thank you to all those that have paid the ultimate price for freedom many take for granted."
The newly minted airman from Beaver, Pennsylvania, a small borough, some 30 miles northwest of Pittsburgh, had no idea that one day it would be a grateful nation paying homage to him for his sacrifice.
A fan of both the Pittsburgh Penguins and Pirates, Elchin's musical taste centered on the Foo Fighters, Eminem and AC/DC among others.
For movies, Saving Private Ryan and Black Hawk Down are not surprising to see on his Facebook as they are familiar favorites among the active duty and veteran community, but the Toy Story franchise was perhaps Elchin's most cherished.
"Dude Toy Story 3...life changing," Elchin wrote in July 2010.
Like the American poet Robert Frost, Elchin took the road "less traveled by" and volunteered to undergo almost two years of training to become a combat controller in 2012.
Air Force Combat controllers are special operation airman that are certified Federal Aviation Administration air traffic controllers, specializing in both air and ground communications. These highly-trained airmen can be attached to various special operation units such as the Navy SEALs and Army Rangers.
Elchin became a certified combat controller in April 2014, after two years of grueling training. In October 2017, he completed Airman Leadership School and received the Distinguished Graduate Award for placing in the top 10 in academics and leadership.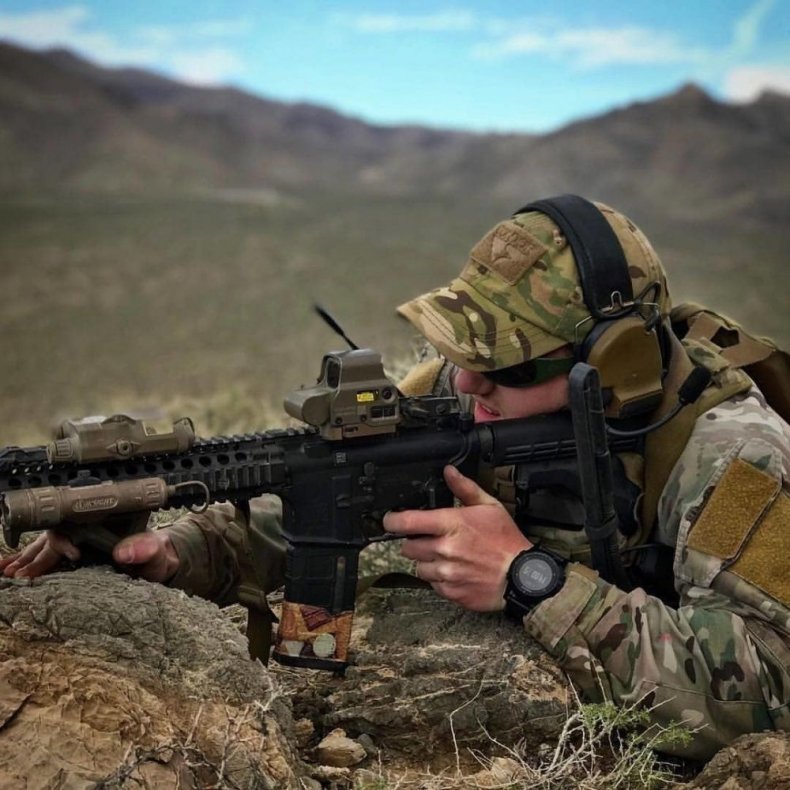 A photograph of then Senior Airman Elchin and his girlfriend shows him standing in his service dress uniform holding his Distinguished Graduate Award. The five ribbons and three warfare devices reveal his high caliber training and a young man still in the early stages of his military service.
The Airman Leadership School is required education for enlisted Air Force personnel planning to make a career out of the military. In June, Elchin proposed to his girlfriend at Walt Disney World, she said yes and then, a few months later, he left for Afghanistan—his first deployment.
"He was a kind, intelligent, brave young man, who gave his life for our country at the age of 25. He had so much potential and this world will not be the same without him in it," one of Elchin's relatives said on social media Tuesday. "You never think out of the insane amount of soldiers fighting for our country that one of the lost ones will be your relative. I still can't believe it's real."
The devastating news quickly spread across social media as family, friends and strangers began to change their profile pictures in a show of solidarity of honoring the fallen, honoring Elchin, as messages of condolences came one after another. After another.
The U.S. Air Force would posthumously award him the Bronze Star Medal, Purple Heart and Army Commendation Medal with Valor, according to a Pentagon press release.
On Tuesday, men in blue service dress uniforms donning red berets were out in the cold air of Pennsylvania. The men were standing in the front yard of the Elchin home situated on a quiet, snow-covered street.
The red berets signaled that these were no ordinary Air Force personnel, but Elchin's brothers, his fellow combat controllers. A family member posted photographs of the men in blue.
Outside the Elchin's home stands a flagpole with the American flag. What was occurring in the photographs was obvious.
The American flag was being lowered to half-mast.
Update: An earlier version of the story said a U.S. contractor had died in the blast. U.S. Army Colonel Dave Butler, a spokesman for U.S. Forces-Afghanistan said late Wednesday that the contractor was alive. Newsweek is examining how this reporting error was made.
Pentagon Identifies U.S. Service Members Killed In IED Blast in Afghanistan | U.S.