After Syria, the U.S. And Russia Are Now Clashing Over Afghanistan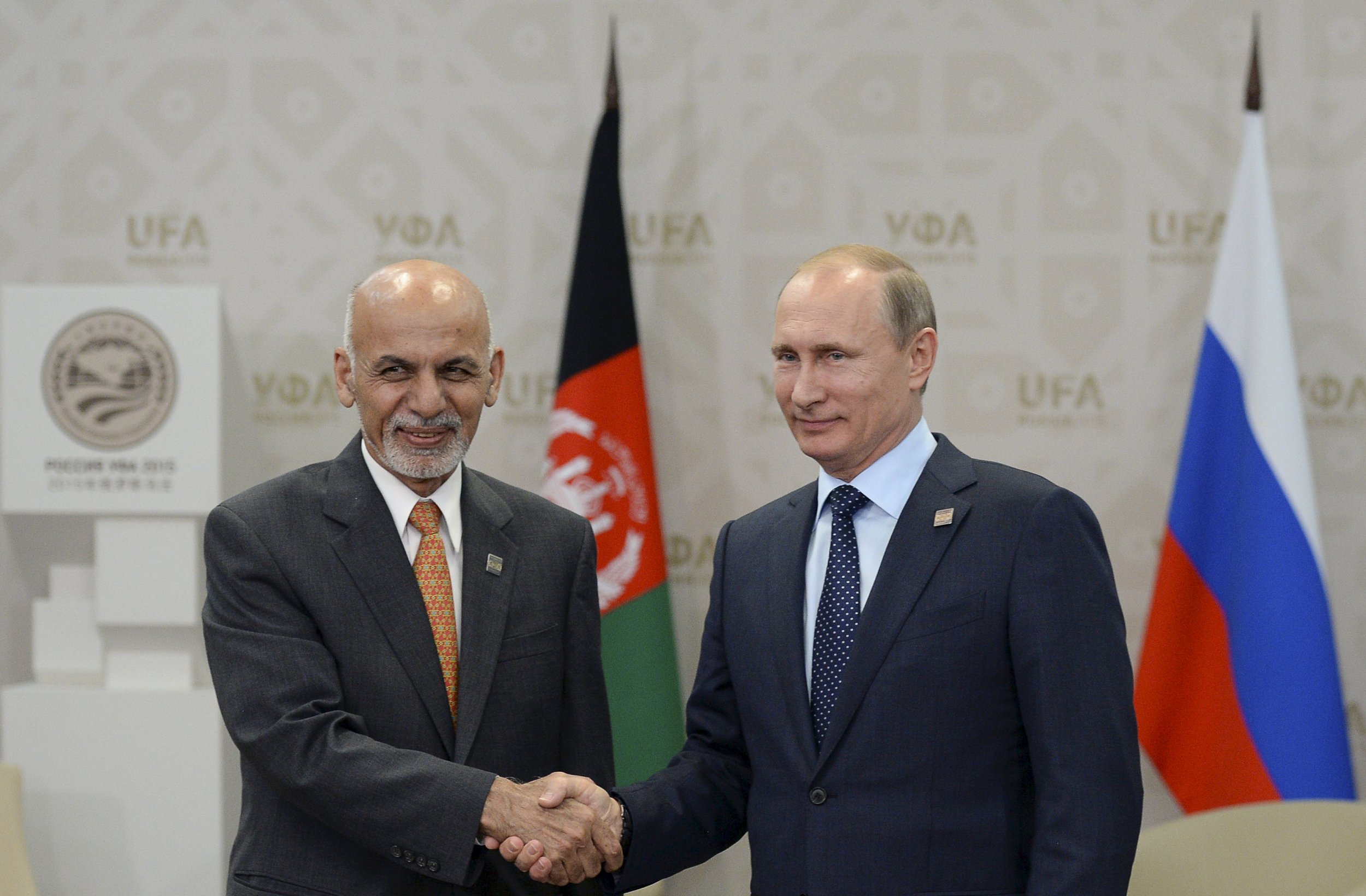 Tensions between Russia and the U.S. are again flaring up in the Middle East, but this time it's not about Syria or chemical weapons. Instead, the conflict is over a potential peace deal in Afghanistan that could bring an end to 16 years of war that has ravaged the country. The Kremlin is slated to hold a meeting Friday in Moscow aimed at brokering a resolution between the Afghan government and the Taliban. Washington has refused to attend, instead accusing Russia of arming Taliban fighters and undermining NATO's efforts to bring peace and security to the region.
The meeting is the third peace summit held by Moscow since December. At the first, Moscow only invited China and Pakistan to the table, angering both Washington and Kabul. At the second, in February, it invited Afghanistan, but excluded the U.S. Now, finally invited to the talks, the Trump administration says it questions Russia's motives.
Russia has denied giving weapons to Taliban fighters, while conceding that it did reach out to the militant group in its efforts to broker the peace deal. Russia has also called for an end to sanctions against Taliban leaders.
As a candidate ahead of the November elections, Trump said he would improve relations with Russian President Vladimir Putin, but his White House has already caught Moscow's ire after vowing to uphold sanctions against Russia, introduced after the country's annexation of Crimea from Ukraine, and, more recently, ordering an airstrike against the Syrian government on April 6 in response to a chemical weapons attack that killed more than 80 people. The bombing marked the U.S.' first military action against Syrian President Bashar al-Assad, a close ally to Russia. Moscow described the strike as an act of aggression.
Read more: Donald Trump's approval rating stayed pretty much the same after he ordered airstrikes in Syria
It's perhaps a sign of how bad things have become that the Kremlin, which once awarded Secretary of State Rex Tillerson its Order of Friendship, initially denied that Putin would meet with him during his official visit to Moscow on Tuesday and Wednesday. Officials were expected to discuss how to end Syria's nearly six-year civil war. Putin has met with other U.S. secretaries of state in the past.
Russia's relationship with the Taliban is of major concern to Washington. The Taliban controlled Afghanistan from 1996 to 2001 until the U.S.-led invasion that divided the nation. The militants now rule over roughly half of Afghanistan's population and Afghan President Ashraf Ghani has repeatedly urged Taliban leaders in recent years to agree to a peace deal.
Russia could be looking to regain influence in Afghanistan after its 1979 invasion and 10-year occupation of the Central Asian nation. Afghanistan is considered strategically important, particularly in relation to economic and national security concerns in nearby India, Pakistan and Iran, while Afghanistan has also claimed its mineral resources are worth around $3 trillion.
Moscow says its reason for getting involved in peace talks is to prevent instability from spilling over to central Asia. Russia's special envoy for Afghanistan, Zamir Kabulov, claimed last month that any accusations from the Afghan government and its allies over alleged weapons deals were being used to "justify their own failure on the battlefield." Russia has also said it's particularly worried about the presence of the Islamic State group, which the Taliban opposes. Despite the Kremlin's concerns, security experts say the group is not a significant threat to Afghanistan or the wider region.
In assisting the militants, Russia would also undermine NATO forces in the region at a time of growing tensions between Russia and NATO in Europe. Defense Secretary James Mattis told reporters at a press conference in London on March 31 that he was aware of Russian "activity" concerning the Taliban. "I'm not going to say at this point if that has manifested into weapons and that sort of thing, but certainly what they're up to there in light of their other activities gives us concern," Mattis said.
Another senior defense official was less cautious. "I think it is fair to assume [Russia] may be providing some sort of support to [the Taliban], in terms of weapons or other things that may be there," U.S. Central Command chief General Joseph Votel told members of Congress on March 29. "I believe what Russia is attempting to be [is] an influential party in this part of the world."