Afghanistan is officially the world's top religious persecutor, with Nigeria not far behind, according to Open Doors USA, a Santa Ana, California–based religious persecution watchdog organization that released its annual World Watch List on Wednesday.
The list, which rates countries on their levels of persecution of and discrimination against people of faith, said Christianity is the world's most persecuted faith, with more than 360 million believers at risk from radical Hindus or Muslims. Of that group, 312 million Christians suffer "extreme" levels of persecution, which is 1 in 7 Christians worldwide.
For the past two decades, North Korea has been the No. 1 violator of religious freedom, but this year, because of the Taliban's takeover, Afghanistan took the top spot, "making an [already] deadly situation for Christians worse," Open Doors' report said.
"Every Christian in Afghanistan is either in hiding or on the run," said Open Doors USA President and CEO David Curry. The major reason Christians are fleeing the country is to protect their families, he added, as the Taliban has been going door-to-door and snatching girls to marry off to Taliban fighters.
"Christian women," Curry added, "are the most vulnerable group in the world today."
On Wednesday, Open Doors held an online press conference buttressed by statements from undercover Christians in Nigeria and Afghanistan, along with appearances by Rashad Hussain, the U.S. State Department's new ambassador-at-large for international religious freedom, and Sam Brownback, the former ambassador-at-large. Open Doors said its top 11 violators are Afghanistan, North Korea, Somalia, Libya, Yemen, Eritrea, Nigeria, Pakistan, Iran, India and Saudi Arabia.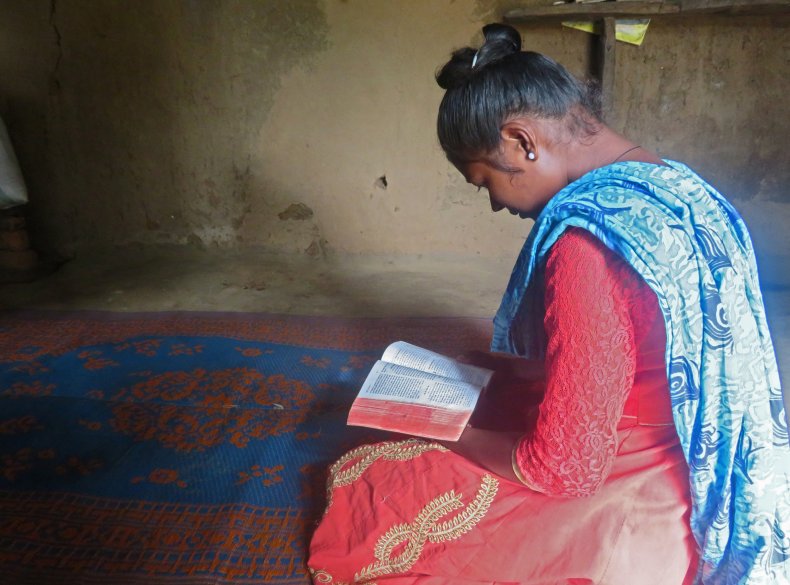 The survey period, which was from November 2020 to September 2021, rated countries on private, family, community, church and national freedoms, along with a violence index. North Korea actually did worse in 2021, the report said, but it lost its first-place spot only because Afghanistan had gotten significantly worse since the U.S. military withdrawal in August.
Looming on the horizon was China, No. 17 on the list. The world's most populous country is a formidable future threat because of its technical expertise at mass surveillance and what Hussain called its "genocide" against China's Uyghur Muslims.
China's potential for evil is so dire, Curry said, that the West must use the upcoming Beijing Winter Olympics to tell the country its human rights violations are unacceptable. While he applauded the Biden administration's diplomatic boycott of the Olympics, he urged believers of all types to shun the Olympics on TV.
"I am suggesting people not watch the Olympics," Curry said. "The Communist government wants the attention and revenue from the Olympics, and I think people of faith should just pass."
At issue is how China has blanketed the country with surveillance cameras monitored by artificial intelligence—i.e., facial recognition—to monitor those who enter houses of worship.
"So when you walk into a church, they know you're there," Curry said.
Asked by a reporter why China didn't have a higher score, he said the violence is muted—for now.
"They're not lining up people and shooting them," as in Somalia and North Korea, he said. "China has figured out how a government with centralized control can squeeze and punish people without them leaving their homes."
Up next, he added, will be virtual currencies available only to people with approved "social scores" that will be out of reach for Christians, Muslims and other faith groups. People with low scores are already prohibited from traveling, and they could be barred from housing or buying food in the future.
"There's a giant siren going on in China," Curry said, "and we need to pay attention."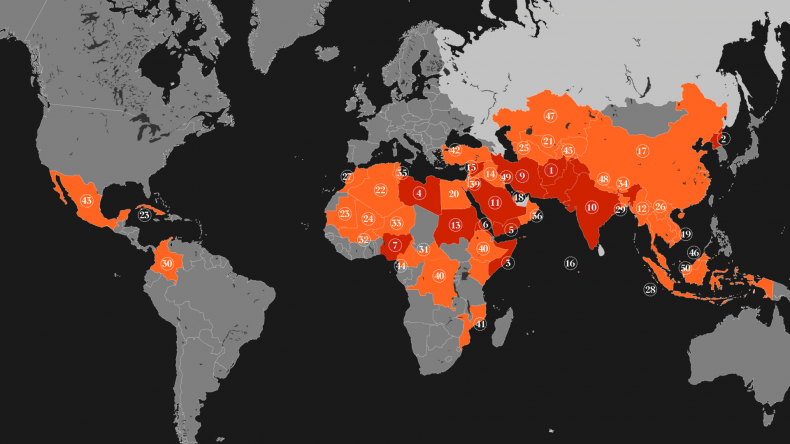 Nigeria, which ranked seventh, got condemned by Open Doors because of the government's neglect in protecting Christians against Muslim militant groups such as Boko Haram and Al-Shabab, along with armed Fulani Muslims.
"The Nigerian government has totally failed its people," Curry said, adding that 4,650 Christians have been killed while the government has done little or nothing to punish the perpetrators.
"Security is a big issue in Nigeria," he said. "Going to school has become a matter of life and death."
Open Doors criticized the State Department for removing Nigeria last month from a list of countries with "severe violations of religious freedom," a move that puzzled Democrats and Republicans alike.
"There was no rational reason why it was dropped except for politics," Curry said.
More alarming, he added, is that radical Islam has spread to other countries in the Sahel region of Africa, causing upticks in persecution in such countries as Mali, Niger, Cameroon and Burkina Faso. It is also creeping into more southern areas, such as northern Mozambique.
India, which was rated as the 10th worst country, was condemned for allowing Hindu radicals to go after its Muslim and Christian minorities while the U.S. government has said nothing.
"Mobs are attacking churches, prisoners are being imprisoned without trial.... They are cracking down on the Muslim faith as well," Curry said. "I don't think this is a good sign."
He added, "Even though [India] is a great international partner, we should not let our friends commit these abuses and we should call them on it."
As for other countries, Myanmar rose six spots to No. 12 on the list because of a military coup that has targeted Christian communities. Cuba entered the top 50 because of its restrictions on Protestant congregations, Saudi Arabia jumped from No. 14 to 11 because of its "extreme" repercussions against underground Christian churches, and Qatar rose 11 spots from last year because of an increase in church closures.
"Religious extremists are emboldened by passivity of the global community," Curry said, "and the tech expertise of China."