Afghanistan Wants Pakistan's Help to Revive Peace Talks With Taliban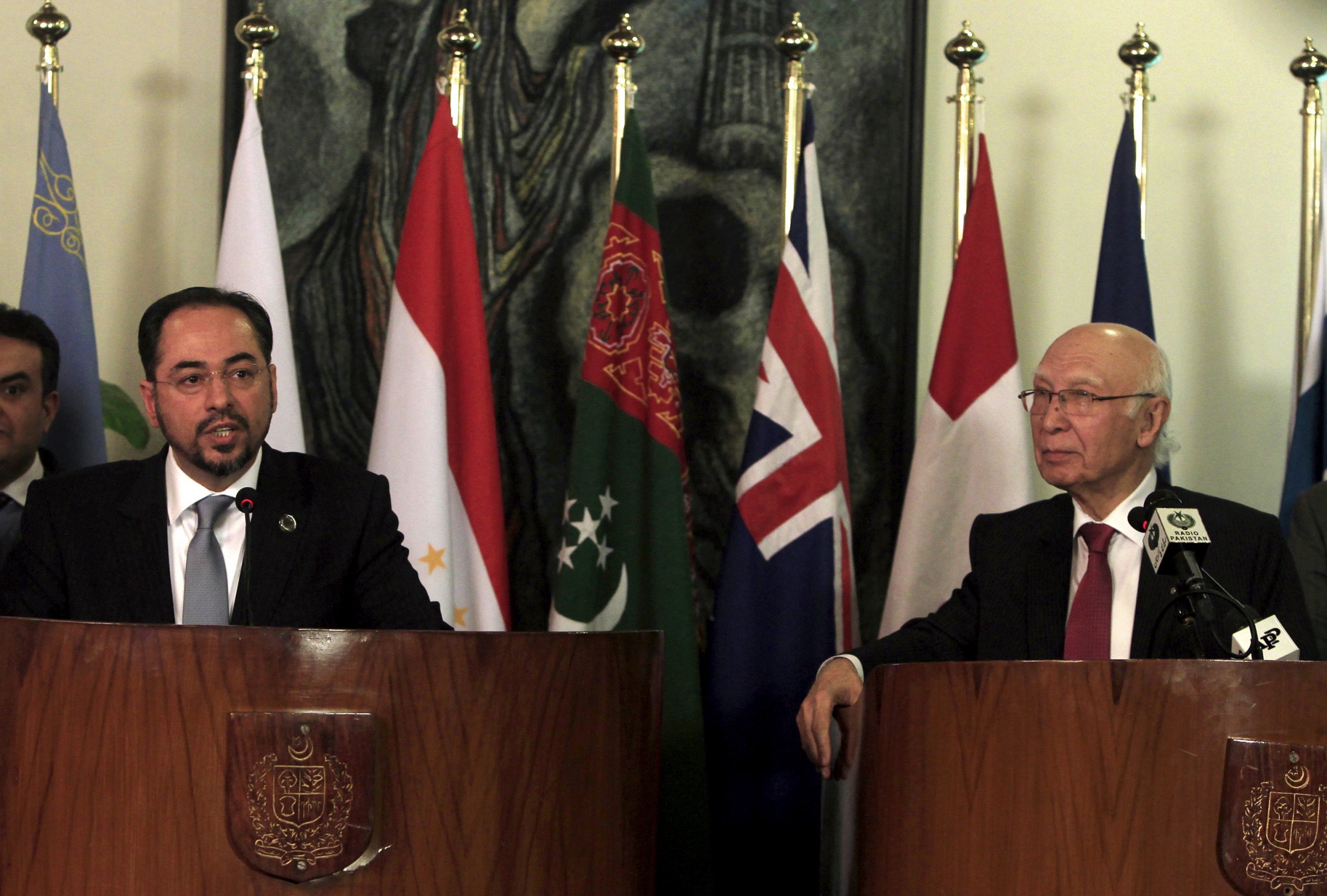 ISLAMABAD (Reuters) - The Afghan foreign minister urged Pakistan at a conference in Islamabad on Wednesday to help revive peace talks between his government and the Taliban, but news of a major Taliban attack in Afghanistan dimmed hopes of dialogue.
Cooperation between Afghanistan and Pakistan is essential to ending the insurgency by the Afghan Taliban, who have bases on both sides of the countries' porous border.
This year's annual "Heart of Asia" gathering, at which countries pledge support to Afghanistan, comes months after the first, inconclusive talks were held between the Afghan government and the Islamist militant Taliban.
Dozens of people were killed on Wednesday in fighting at the airport in the southern Afghan city of Kandahar after an overnight Taliban attack, and an important district in neighboring Helmand province fell to the insurgents.
Kandahar airport is one of the most heavily protected bases in the country.
Afghan Foreign Minister Salahuddin Rabbani said he hoped to see "positive moves in the coming weeks" regarding peace talks.
"We very much hope that Pakistan can play a very influential role and very important role in the peace and reconciliation process," he told a news conference.
Pakistani Prime Minister Nawaz Sharif stressed his commitment to "an Afghan-led and Afghan-owned reconciliation process" - a reference to the talks, hosted by Pakistan, that foundered in July after news leaked that Taliban founder Mullah Mohammad Omar had been dead for two years.
Omar's deputy, Mullah Akhtar Mansour, took over as leader but violent splits have emerged within the militant movement, lessening prospects for negotiations while Mansour seeks to consolidate his position, analysts say.
U.S. Deputy Secretary of State Antony Blinken, also at the two-day conference, said, "There is no time frame (for talks to restart), but there is a sense of determination to try to move forward and get the right people around on the same table."
Afghan President Ashraf Ghani came to power last year vowing to improve relations but ties cooled after a series of bomb attacks in Kabul this August.
Ghani blamed "regional and international terror groups" for the violence in his country.
"In the past, there has been the temptation to use non-state actors as instruments of foreign policy," he told the conference, a clear reference to Afghan assertions that Pakistan supports the Taliban to maintain influence in Afghanistan and block the influence of its rival, India.
Afghanistan and Pakistan accuse each other of supporting insurgencies across their border, which they both deny. The Afghan and Pakistani Taliban are separate but allied.
'WORLD IS WAITING'
Nuclear-armed neighbors India and Pakistan, whose rivalry has spilled over into Afghan politics, will resume dialogue and restart high-level talks last held in 2012, said Indian Foreign Minister Sushma Swaraj, who was also attending the conference.
Swaraj said it was time India and Pakistan displayed "the maturity and self-confidence to do business with each other and strengthen regional trade and cooperation".
"The entire world is waiting and rooting for a change. Let us not disappoint them," she said.
Later, alongside Pakistani counterpart Sartaj Aziz, she announced, "India and Pakistan have decided to resume dialogue."
Sharif also spoke of Pakistan's aim to repatriate the 2 million Afghan refugees in Pakistan, some of whom have been in Pakistan for decades.
"The massive cross-border movement of refugees constitutes a security risk," Sharif said.
In response, Ghani pointed out that an offensive by the Pakistani military against Pakistani Taliban has sent an influx of Pakistanis into Afghanistan.
"Unfortunately, recent events in Pakistan have forced us to host 350,000 to 500,000 refugees from Pakistan ... the refugee issue is a common issue, like all issues," Ghani said.