The longest war in U.S. history is set to finally end as the military prepares to leave Afghanistan within days, according to a report.
A U.S. official told Reuters on Tuesday, on condition of anonymity, that the military is set to leave the Central Asian country well before the September 11 deadline set by President Joe Biden.
The troop withdrawal from Afghanistan would not include forces that protect diplomats at the embassy who might be called on to secure Kabul airport. According to Reuters, the U.S. embassy could retain a presence of around 650 troops.
Reuters added the U.S. military stopped publically sharing the pace of the withdrawal effort once it had surpassed 50 percent completion, earlier this June.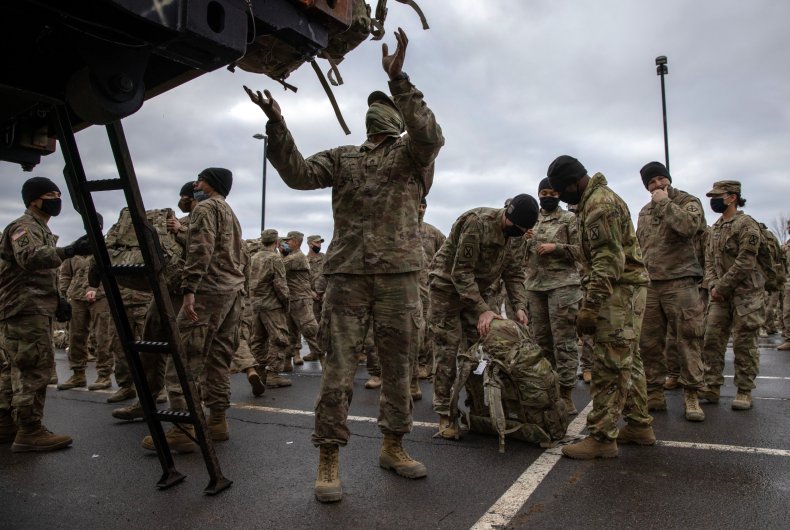 The ramping up of the U.S. withdrawal comes as European troops returned to their countries with little ceremony.
Germany announced the end of its deployment in a statement on Tuesday evening shortly after its troops left Afghanistan.
According to the Associated Press, Brig. Gen. Ansgar Meyer, who was the last commander of the German contingent, said: "We have worked long and hard to stand here today.
"As your commander, I can say for you: 'Mission accomplished.' You have fulfilled your task. The orderly return of the German contingent in the Resolute Support has been concluded successfully."
Italian soldiers also returned home with Italian Defense Minister Lorenzo Guerini paying tribute to his 53 countrymen who died over the past two decades.
The withdrawal of troops from Afghanistan comes as the Taliban continues to press its offensive across the country.
General Austin Scott Miller, who is overseeing the operation to leave Afghanistan, said he is fearful over the Taliban's rapid gains.
Speaking to reporters in Kabul, Gen. Miller said the situation in the country was "not good right now."
He continued: "A military takeover is not in the interest of anyone, certainly not for the people of Afghanistan."
In April, President Biden explained why he would commit to the withdrawal of American troops from Afghanistan.
He said: "I believe that our presence in Afghanistan should be focused on the reason we went in the first place: to ensure Afghanistan would not be used as a base from which to attack our homeland again. We did that. We accomplished that objective."
Newsweek has contacted the U.S. Department of Defense for comment.