Afghanistan Withdrawal 'Compromises the Security of All Americans,' John Bolton Warns
John Bolton, a former U.S. national security advisor, has warned President Joe Biden that he faces one "last chance to reverse his and Trump's erroneous withdrawal policy" in Afghanistan, where the Taliban is resurgent.
Bolton, who served in Donald Trump's administration from April 2018 to September 2019, made his assessment after five regional capitals fell to the militants since Friday. Three of those—including the strategically important Kunduz, a city of more than 350,000 people—were taken within hours of each other on Sunday.
"In Afghanistan, the Taliban has seized three more provincial capitals," he tweeted later that day. "Right now -- is literally Biden's last chance to reverse his and Trump's erroneous withdrawal policy. When the Taliban wins, it compromises the security of all Americans."
Fighting has escalated in recent weeks since Biden ordered the withdrawal of U.S. forces from the Central Asian country, a step soon followed by America's allies, before the 20-year anniversary of 9/11.
At one point, NATO had more than 130,000 troops from 50 nations in Afghanistan, with U.S. troops in the country topping 98,000.
That tally has declined greatly in recent years. By May 1, 2021—the original deadline for the withdrawal—there were about 9,500 foreign troops in Afghanistan, of which 2,500 were American.
More than 2,400 U.S. military personnel have been killed during the conflict.
The Afghan government, shorn of its international allies on the ground, will now solely rely on its own 350,000-strong, well-equipped military.
In a speech on July 8, President Biden defended the decision to leave, stating that America "did not go to Afghanistan to nation-build" but to end al Qaeda and kill Osama bin Laden, the so-called mastermind of the 9/11 attacks on the U.S.
"We achieved those objectives, that's why we went. We did not go to Afghanistan to nation-build, and it's the right and responsibility of the Afghan people alone to decide their future and how they want to run their country," Biden said.
He added: "I will not send another generation of Americans to war in Afghanistan with no reasonable expectation of achieving a different outcome," he added.
Battle lines were always expected to be redrawn following the West's withdrawal, however Bolton is not alone in his criticism.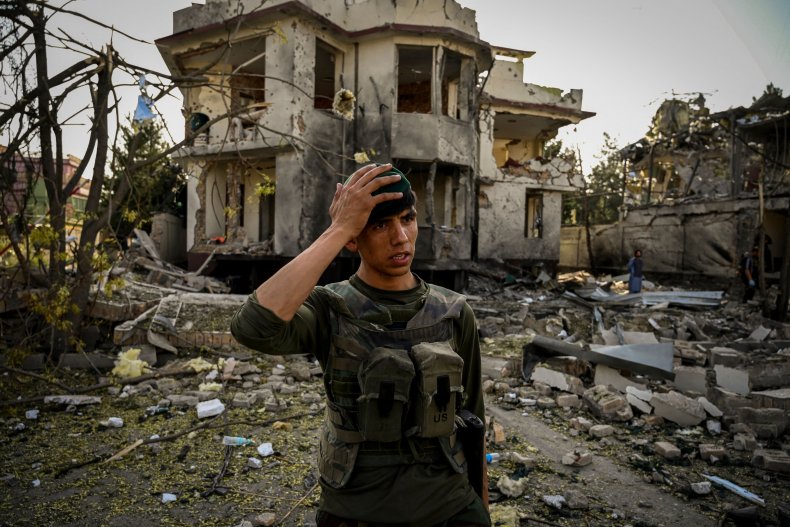 A former British general also spoke out over the weekend, insisting that removing troops risked a resurgence of terrorism in the region.
"We will run the risk of terrorist entities re-establishing in Afghanistan, to bring harm in Europe and elsewhere," Gen. Sir Richard Barrons told the BBC on Sunday. "I think this is a very poor strategic outcome."
The Biden administration has been contacted for comment.
Bolton has been an outspoken critic of aspects of both the Biden and Trump administrations' international policy.
Speaking on June 21, Bolton told Newsmax that Biden was pursuing the restoration of a nuclear agreement with Iran due to a "near-religious" fixation with the previous Democratic administration that struck the deal in 2015.
Bolton has previously called Trump's veto on the $740 billion National Defense Authorization Act (NDAA) "very destructive" and "terribly harmful" to national security.