With Afghanistan Won, A 'New' Taliban Seeks to Rebrand Itself
In sharp contrast to the group's bloody foray into Kabul a quarter of a century ago and the United States' thunderous invasion five years later, the Taliban's largely peaceful uncontested march into the Afghan capital today has proven for some as much of a shock as the rapid pace at which the nationwide offensive unfolded.
But with the country already won, the Taliban now has a new mission: shifting its image in the eyes of the world from that of a radical militia to one of a responsible governing force tasked with running a nation.
"The current posture of the Taliban is for a global audience in an effort to present themselves as a legitimate government who seeks to stabilize Afghanistan and fight terrorism," one Pentagon official supporting the retrograde efforts in Afghanistan told Newsweek.
Initial evidence of this effort can already be seen in the group's tolerance of the mass exit of fleeing Afghans, some of whom chose to risk and even give their lives clinging to departing U.S. military planes rather than live under Taliban rule.
"Their guarantees of security and safe passage for those who wish to depart Afghanistan is a strategic messaging campaign for Western powers and the U.N.," the Pentagon official said, "not for a domestic audience, who knows all too well the fundamentalist ambitions of the hardline group."
But while the triumphant Taliban's comparatively cool demeanor prevails for the moment in the face of chaotic scenes at Kabul International Airport, a second Pentagon official acknowledged that the U.S. military's lingering effort to support the exit is a precarious one.
"So far," the second official told Newsweek, "we are all just watching and hoping."
He referenced a meeting Monday between General Frank McKenzie, head of U.S. Central Command, and Taliban leadership, in which he urged them not to disrupt an already tumultuous end to two decades of U.S. presence in Afghanistan.
"I'd guess we get a few days and then they'll get impatient," the official said. "This may take longer than previously expected, as long as we can keep the security situation maintained."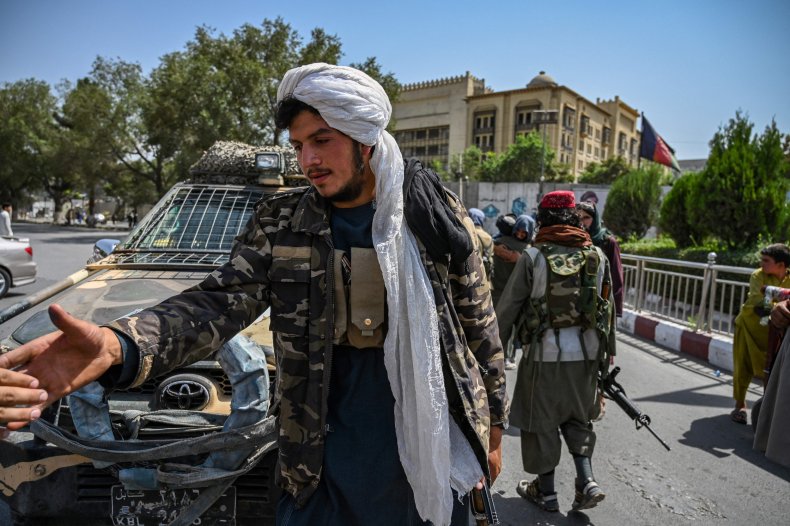 Born in the aftermath of the mujahideen resistance that, with support from the United States, Pakistan and Saudi Arabia, managed to expel a Soviet intervention from Afghanistan, the Taliban first took the country by storm in the 1990s. By 2001, it exerted control over the vast majority of Afghanistan, but the 9/11 attacks conducted by its Al-Qaeda ally drew a U.S.-led offensive that quickly turned the tables and decimated the group's control.
In the years since, however, a persistent Taliban insurgent managed to steadily retake territory as the U.S. and NATO forces struggled to shore up the Afghan security forces.
The Taliban's public relations campaign actually began quite some time ago. Not only did a shrewd diplomatic approach help the group secure a seat across from the U.S. under former President Donald Trump, launching a process that would result in a landmark peace deal and the eventual U.S. withdrawal, but it also brought the group to discussion alongside other regional foes such as Russia and Iran, which have managed to overcome their historical enmity to forge ties with the Taliban in recent years.
Once viewed as merely a proxy of Pakistan, the Taliban included the neighboring country as merely one of several stops for its representatives, who in recent months also traveled to Moscow, Tehran and China's Tianjin, as major powers came to terms with an impending shift in Afghanistan.
Now, with the eyes of the international community on them in Kabul, the Taliban, officially known as the Islamic Emirate of Afghanistan, is looking to make good on reassurances already offered in private talks.
"We assure all diplomats, embassies, consulates, and charitable workers, whether they are international or national, that not only no problem will be created for them on the part of IEA, but a secure environment will be provided to them, Inshallah," Taliban spokesperson Suhail Shaheen said in a tweet Monday, using an Arabic-language phrase that translates to "God willing."
And where instances of unrest have erupted, the Taliban has been quick to blame rogue actors and assert its services as the legitimate authority in Kabul.
In a message attributed to senior Taliban military official Mohammad Yaqoub and shared on social media, a warning was delivered to those accused of looting or seeking to enter the homes of officials of the former Afghan government.
While Afghan President Ashraf Ghani technically remains the internationally recognized head of state, his sudden exit from the country appears to have allowed the Taliban to virtually assume his position.
At the same time, other leaders, such as Abdullah Abdullah, the head of the High Council for National Reconciliation, former President Hamad Karzai and Islamic Party chief Gulbuddin Hekmatyar are heading to the Qatari capital of Doha to negotiate the country's political future with the Taliban, Al Jazeera reported Monday.
The uncertainty has the major powers wary, and top diplomats of the U.S., China and Russia all shared separate phone conversations among each other regarding the fluid situation in Afghanistan. U.S. Secretary of State Antony Blinken also held separate calls with his counterparts in India and Pakistan.
But at the White House, a defiant President Joe Biden spoke with certainty on one point: no regrets for having left a seemingly endless war.
"I know my decision will be criticized, but I would rather take all that criticism than pass this decision on to another President of the United States, yet another one, a fifth one," Biden said in a presidential address.
"Because it's the right one," he added. "It's the right decision for our people. The right one for our brave service members who have risked their lives serving our nation. And it's the right one for America."
This is a developing news story. More information will be added as it becomes available.