Afghanistan's First Female Mayor 'Terrified' of What's to Come With the Taliban
Azra Jafari made history when she became Afghanistan's first female mayor, but the progress she saw the country making during her tenure is crumbling before her eyes as the Taliban solidify their rule.
"We do not know what the Taliban are going to impose, but we know that the situation is going to get worse," Jafari told Newsweek. "It is total chaos. We are not sure what is happening."
Facing little resistance, the Taliban rapidly retook control of Afghanistan as the United States withdrew its troops. Amid memories of the group's previous crackdown on human rights, the Taliban's reclaiming of power drew worldwide concerns about the fate of women, journalists and other activists, as well as those who helped America during its two-decade war.
As Afghanistan's first female mayor, governing the city of Nili, and a member of the Hazara ethnic group, Jafari said she's "terrified" about her country's future.
A religious and ethnic minority in Afghanistan, the Hazara people have a long history of discrimination and persecution in the country. The Taliban declared war on the Hazaras after seizing power in the 1990s, and the targeted killings of Hazaras amount to ethnic cleansing, according to the office of the United Nations high commissioner for human rights.
With the Taliban back in power, Jafari said, she worries her family in Afghanistan could be killed just for being Hazaras, as they're Shia Muslims and the Taliban follow a strict form of Sunni Islam.
In addition, Hazaras are often seen as having embraced the previous, Western-backed government, and Jafari noted that Hazara women have been "liberally participating in society," including working in government, security forces and businesses.
"I worked as a mayor from 2008 to 2014. I saw changes, I saw energy and capacity for better life, and I saw hopes for a better future. But now it seems like all the progress is going backwards," Jafari said.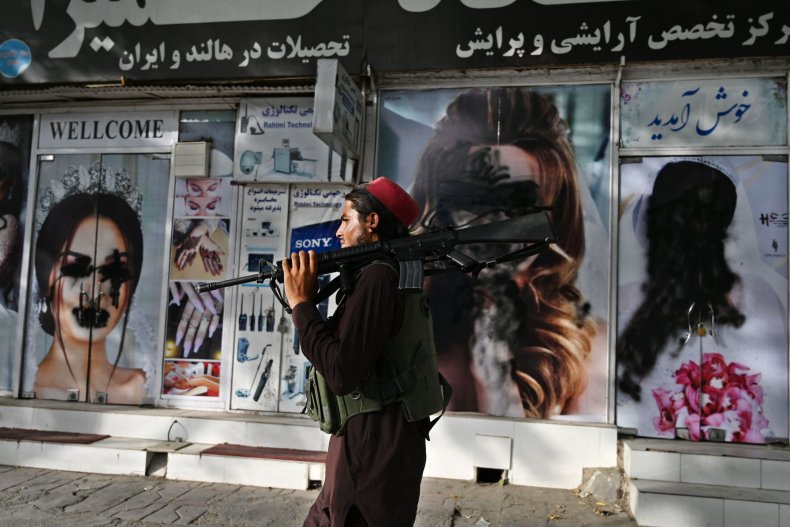 Women were relegated to second-class citizens when the Taliban previously ruled. They were required to have male escorts if they wanted to leave their homes, were not allowed to get an education and could not hold jobs. Breaking the rules, including not covering their face if they left the house, could result in public humiliation and beatings.
After 20 years of hard-fought advancements, Jafari fears that, under the Taliban, "women will be completely shut away from society."
At a press conference Tuesday, Taliban spokesperson Zabihullah Mujahid described the Taliban's takeover as a "proud moment" for all of Afghanistan. He spoke of an inclusive regime that won't seek retribution against those who "fought against us" and will be free of "discrimination against women."
Mujahid bookended his comments about society with qualifiers like "within the framework of Sharia" (Islamic law) and "within our cultural frameworks," offering a vague vision of the future.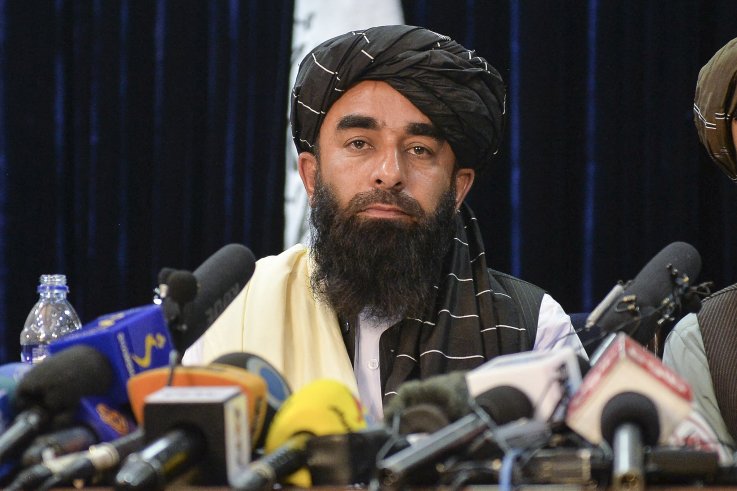 Taliban spokesperson Zabihullah Mujahid at Tuesday's press conference in Kabul, Afghanistan.
Hoshang Hashimi/AFP/Getty Images
His remarks were met with international skepticism, and Jafari said she doesn't believe the promises because women's rights are out of line with the strict Sharia law the Taliban follows. And she doubts they're willing to go against Sharia "just for women's rights."
The Taliban's comments about a peaceful world that respects the rights of all Afghans run contrary to many reports from the ground in Afghanistan. An Afghan woman in Kandahar told Reuters in early July that Taliban insurgents came into the offices of the Azizi Bank and escorted the nine women working there to their homes, telling them not to return to work. Instead, a male relative could take their place.
"It's really strange to not be allowed to get to work, but now this is what it is," Noor Khatera, a 43-year-old woman who worked at Azizi Bank, told Reuters.
As the Taliban took over areas of the country, they imposed laws requiring women to wear a hijab when they left the house and have a male escort, according to the Afghanistan Independent Human Rights Commission. The organization also reported women were barred from obtaining health services without a close male family member, known as a mahram, going with them.
Responding to the Taliban's press conference, the United Nations expressed concerns about the reports of human rights abuses it has received from Afghanistan. The U.N. is skeptical about the Taliban's comments about a new future for the country.
For her part, Jafari said it's difficult to believe life under Taliban rule will be significantly different from the last time they were in power. She sees Tuesday's promises are nothing more than part of a tactical strategy.
"The Taliban promising to keep women's rights are just empty words to calm down the media, so they can fully take over the Afghan government without any interference," she said.