Afghan Allies Are Dying to Come to the U.S. Before Troops Leave, Can Biden Save Them?
President Joe Biden is facing mounting pressure from lawmakers and advocates to address the plight faced by scores of Afghan nationals whose service to the United States has made them a target as the U.S. withdraws from its longest-ever war.
One such individual, an Afghan former interpreter whom Newsweek will call Ahmad, knows firsthand the risks that come with the job, one he began working with U.S. government-affiliated projects shortly after high school.
By 2013, already about 12 years into the U.S.-led war in his country, Ahmad was working directly with U.S. forces and, like many others, said that he "was thinking that the country is going in a way that everyone is going to have a bright future."
"I was never expecting U.S. forces to be there for 20 years," Ahmad told Newsweek, "and, you know, the condition is still the same."
In fact, the Taliban, officially the Islamic Emirate of Afghanistan, has managed to expand its control and influence across the country to the point where it may very well be in a better strategic position today than at any point since the 2001 invasion toppled its de facto government.
Also commanding a presence in the war-torn nation is the Islamic State militant group's Khorasan branch, also known as ISIS-K.
The U.S. peace deal, established last year under former President Donald Trump's administration, requires the Taliban to take steps toward ensuring peace with the Kabul-based Afghan government in exchange for the U.S. military exit, which was initially set for the beginning of this month.
Amid lingering violence, President Joe Biden postponed this date to the symbolic September 11th, the 20th anniversary of the 9/11 attacks that initially sparked the U.S. intervention against Al-Qaeda ally, then a close partner of the Taliban.
Assassinations, many of them unclaimed, continue to plague Afghanistan, while the U.S. arrangement now seeks to leverage the Taliban against Al-Qaeda and ISIS. Among the common targets are citizens like Ahmad who are accused of collaborating with the enemy.
"You can find a lot of cases in which interpreters or people who were working with U.S. forces got killed by the Taliban," Ahmad said, "and that is something that is not going to stop, you know, it will continue, especially when, when the U.S. leaves Afghanistan, it's going to be even worse."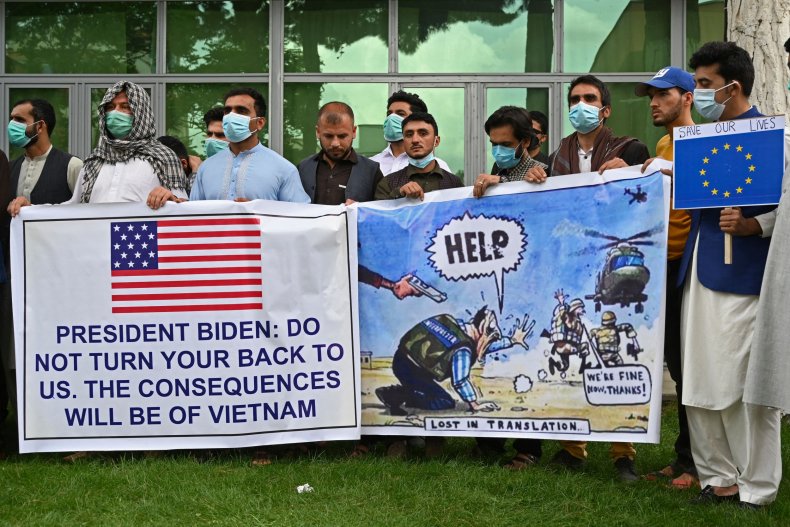 The Taliban did not immediately respond to a request for comment, though spokesperson Mohammad Naeem previously told Newsweek that U.S. commitment to the peace agreement "will help in solving problems," while a "lack of commitment not only does not help in solving problems, but also causes problems and increases them."
In many ways, Ahmad can be considered one of the lucky ones. He managed to get his ticket to the states years ago, a process he credits to connections among senior U.S. military personnel. Just recently, he became a naturalized citizen.
Others have not fared nearly as well.
One Afghan interpreter whom Newsweek will not name for his protection said he remains in hiding in his home country amid Taliban threats, as his case remains under review at the U.S. embassy in Kabul.
Like Ahmad, this second interpreter worked for the leading U.S. linguistics contractor, Mission Essential, formerly Mission Essential Personnel, based in Columbus, Ohio. He holds an award bearing the name of the company and citing an injury he sustained during an attack while supporting the Pentagon's mission more than a decade ago.
"I can't [go] outside from home because Taliban will kill me," he wrote in an urgent, recent appeal to No One Left Behind, a charity and veteran service organization that seeks to help interpreters resettle in the U.S.
James Miervaldis, an Army veteran and Pentagon adviser who serves as a board member for the group, fears this interpreter may join the growing list of those killed for their employment on behalf of the U.S. Through No One Left Behind's own research, he said his team was "able to identify over 300 interpreters and their family members who've been killed for their affiliation with the United States."
After analyzing the data again earlier this year, he said "we're losing about two interpreters a month."
Meanwhile, Miervaldis said he receives dozens of petitions a week from Afghans struggling to get crucial documents such as proof of employment from Mission Essential, which he said has declined to entertain requests from No One Left Behind.
Mission Essential declined Newsweek's request to comment for this article.
With limited options to help the Afghans seeking to relocate to the U.S., Miervaldis has taken the fight to the U.S. government, where he said he was initially optimistic about the prospects of the Biden administration addressing the issue.
The subject came up in a couple of White House press briefings, most recently last month, when Press Secretary Jen Psaki said the administration "will continue to provide and work with Congress to expedite and expand Special Immigrant Visas," or SIVs.
"We remain committed to working with and helping people who have served alongside and been important partners to our men and women serving on the ground in Afghanistan," Psaki said. "And we are, of course, maintaining — intend to maintain a diplomatic presence there as well to help with that."
In remarks sent to Newsweek, the State Department also addressed the matter.
"While we remain focused on the peace process, we also have a commitment to Afghans who served the U.S. government at great personal risk to themselves and their families, and we are processing Special Immigrant Visa (SIV) applications as quickly as we possibly can," the State Department said. "The State Department takes seriously our role in working with the interagency to manage the SIV program, and we are engaged at the highest levels to ensure we are serving SIV applicants as promptly as possible."
The comments also echoed assurances from both the White House and Secretary of State Antony Blinken that the departure of troops did not mean the end of Washington's diplomatic footprint in Afghanistan.
"While U.S. troops will leave by September, the United States will maintain a robust diplomatic presence through the U.S. Embassy," the State Department said, "and our teams in the Consular Section in Kabul and in Washington will continue processing SIV applications as expeditiously as possible, as the security situation in Kabul allows."
In a balancing act between ensuring the safety of SIV applicants abroad and the homeland, the State Department said it "constantly seeks ways to improve the SIV process while ensuring the integrity of the program and safeguarding national security."
This review is the subject of Executive Order 14013, adopted by Biden in February, about two weeks after he took office.
Four months later, the State Department said it "has identified process improvements and directed additional resources to the program, including by augmenting staff in Washington to process applications."
In addition to shoring up resources stateside, the State Department "also approved a temporary increase in consular staffing at the U.S. Embassy in Kabul to conduct interviews and process visa applications, which allowed the Embassy to address cases that were delayed due to COVID-19 related closures."
"We are constantly refining our processes in Kabul and Washington to maximize our ability to process SIVs, as much as resources, the security situation, and the health situation allow," the State Department said.
The figures, however, are daunting.
The State Department identified some 18,000 Afghan principal applicants in the SIV application process, of which around half are merely at the first stage, in which key documents need to be submitted for review by the chief of mission. Another 30% were awaiting the results of the review, while the remaining 20% had been approved and were moving forward through various stages of the immigration process.
The next quarterly report containing SIV data is due to be released early next month, and the State Department said it was "confident this and subsequent quarterly reports will show the progress we are making in our commitment to those eligible for SIVs."
But as weeks and months pass and the U.S. military exit draws near with no clear resolution for the hurdles Afghan applicants face, Miervaldis said his initial hopes for a timely solution were waning.
"The optimism is fading," Miervaldis said. "We have not heard significant comments from the administration in several weeks. With our drawdown coming up soon, the time for action, it really is the next couple of weeks."
Where motion has been detected is in the halls of Congress. Republican Illinois Representative Adam Kinzinger, himself a veteran of the U.S. war in Afghanistan, and Democratic Oregon Representative Earl Blumenauer introduced the Afghan Allies Protection Act this week, a measure that would "authorize 4,000 new Special Immigrant Visas (SIVs) for our Afghan partners," according to a statement sent to Newsweek.
"Unfortunately, delays in processing have caused the SIV applicant backlog to grow," the statement said. "With the announcement of the U.S. withdrawal by the 20th anniversary of September 11th, these delays have become life-threatening and Congress must act now."
Other lawmakers with military backgrounds have also spoken out.
"Upholding our commitments to our allies and partners is essential in protecting both the international standing and national security of the United States," Democratic Illinois Senator Tammy Duckworth said in a statement sent to Newsweek. "I'm deeply worried about the immediate and long-term impacts of leaving behind these Afghan interpreters who risked not only their own lives, but also the lives of their families, to help our troops carry out their missions."
She said she has "supported past efforts to clear the backlog in processing SIVs for our Afghan allies, and I am committed to working with my colleagues to find a timely solution that protects these individuals who are currently at risk of retribution."
Democratic Arizona Representative Ruben Gallego, who, like Duckworth, served in Iraq, recalled his own experience with local interpreters who he said "put their lives on the line to help us complete our missions."
"In Afghanistan, the local interpreters helped our troops at great and increasing personal risk as well," Gallego told Newsweek. "Now that the United States will be withdrawing our troops from that country, it is crucial that we help our Afghan interpreter friends attain their special interest visas and secure safe haven in the United States before time runs out."
The legislator said doing so was critical not only for humanitarian reasons, but also to demonstrate the commitment of the U.S. to those it worked with abroad.
"It's critical that we show the world that the United States sticks by our allies and keeps our promises, and that future allies know that we intend to safeguard those that help the United States," Gallego said. "We can't let our friends become targets."
He said he was working with other members of Congress as well as advocates of the cause "to propose solutions to the White House to remove application barriers and improve the speed and efficiency of the SIV process."
"It's time for us to help the Afghan people who helped us," Gallego said. "It's that simple."
But others warn that time is running out, and there's still not enough being done to remedy the burgeoning crisis.
Fred Wellman, executive director of the Lincoln Project political action committee, also recalls his experience serving alongside a local interpreter in Iraq. The interpreter was kidnapped and beheaded on camera in September 2004. A text to the contacts in his phone read "You're next."
The slain Iraqi's wife and children made it safely to the U.S., but tens of thousands of others now face similar dangers in Afghanistan. Wellman calls it "a matter of life and death" on which the Pentagon and the State Department are not moving quickly enough for unexplained reasons that drive him to suspect there may be "some sort of force at play that we don't know about."
As it turns out, such forces appeared to be revealed Wednesday as Joint Chiefs of Staff Chairman Army General Mark Milley revealed there "plans being developed very, very rapidly here" to evacuate a number of Afghans, "not just the interpreters but a lot of other people that have worked with the United States" as well, according to Defense One, which accompanied the top U.S. officer on a military flight from Colorado Springs to Washington, D.C.
The following day, CNN cited four administration officials confirming that such an evacuation was in the early stages of planning, but at the same time emphasizing that no formal request to develop a contingency plan has not been made by the White House.
Both U.S. Central Command and Operation Resolute Support referred Newsweek to the Joint Chiefs of Staff office, which has not yet responded to a request for comment.
As recently as Wednesday, the Pentagon appeared largely mum on the issue in the presence of reporters.
"What I would I would say is, and you know, we're a planning organization and we plan for contingencies all around the world," Pentagon Press Secretary John Kirby told reporters. "Non-combatant evacuations is a mission that the military often has to be ready for in many places around the world."
"So, without confirming specific options and details that are out there in the press space," he added. "I can tell you that we're always planning for the kinds of contingencies that we might need. It would be irresponsible for us not to."
Citing U.S. Central Command chief Marine Corps General Kenneth McKenzie, Kirby said "there's been no tasking of this kind, we're not at that stage and at that point."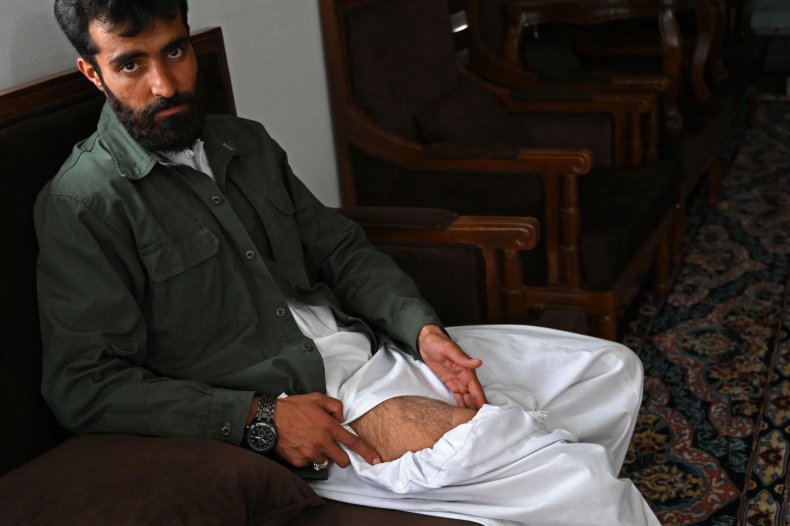 The lack of clarity has frustrated those desperate for answers both in the U.S. and Afghanistan.
"Where is the sense of urgency?" Kate Hoit, California director for the Vet Voice Foundation, asked. "We've been in Afghanistan for almost 20 years."
She referenced her husband's military experience with a translator, an Afghan named Mohammad, who she said "risked his life to support U.S. forces." He also risked his family's life, she noted, as she told the story of how his father was abducted, tortured and killed, and how his little brother was also kidnapped before being returned upon payment of a $35,000 ransom left on their father's grave.
It took three and a half years, relentless petitioning and an appearance on the popular John Oliver news entertainment show to finally push Mohammad and his family's petition through to the point where the could settle in northern California, where they still await asylum.
"Enough blood has been shed," Hoit said. "We need to support those who have supported us for so many years. This is quite literally a matter of life and death. Let's do the right thing, and do it now, not when it is too late for too many."
She urged U.S. policymakers to draw lessons from the Afghans scrambling for safe haven, just as she did.
"What I learned from Mohammad is that 'In Afghan culture, if somebody does something for you, you replace it by doing even more for them,'" she said. "So, let's do something more for them—let's uphold our promise. Let's get them out of harm's way and bring them to America."
Ahmad, who today enjoys his life in sunny Orange County, California and prides himself in paying taxes and never having received so much as a driving ticket, confirmed this line of thinking among his former colleagues.
"They are thinking about it as they are supporting their guest in their country," Ahmad said. "And I don't think it's about the U.S. wanting to help them or not wanting to help them, but in the bigger picture, the U.S. owes these people something."
"We interpreters, we just try to help you to accomplish your mission in Afghanistan, which was rebuilding the country and bringing peace and freeing women from the home prisons that they have," Ahmad said. "And since we did our part, I think the U.S. government should also do their part as well."