Afghans Protest Brutal Mob Killing of 'Innocent' Woman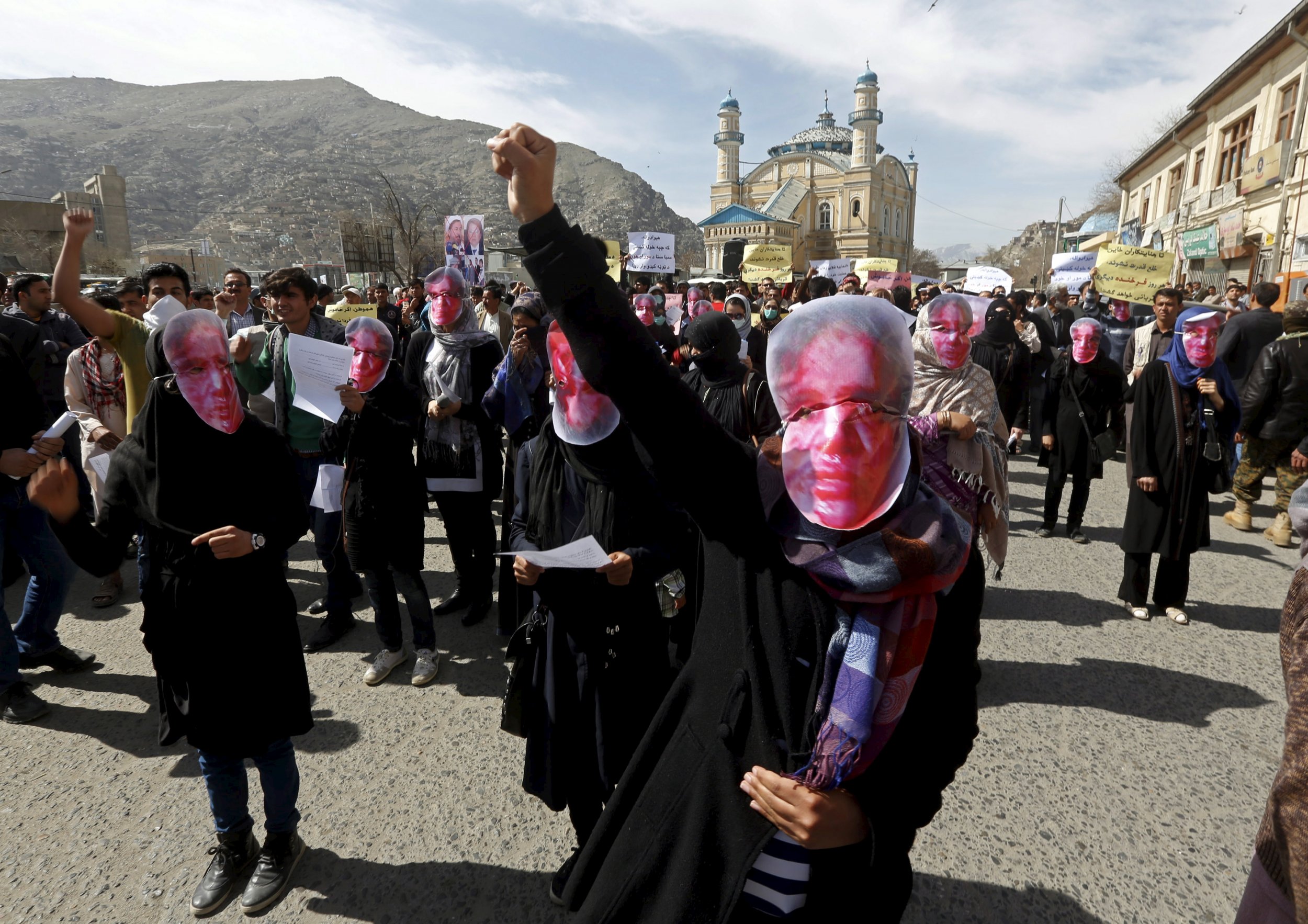 Hundreds of protesters have taken to the streets of Kabul today to call for justice after a woman was brutally killed by a mob who falsely accused her of burning a copy of the Koran.
Farkhunda, a 27-year-old known by one name, was thrown from a roof before being run over by a car and beaten with sticks and stones outside Kabul's Shah Doshamshera mosque last Thursday. The mob then set her body alight and dumped it in the Kabul river while police allegedly looked on.
A video widely circulated on social media showed the mob beating Farkhunda while she cries out in denial that she burnt a version of the Koran, at which point the mob continue to beat her before dragging her towards the river.
Today's rally saw protesters march the route of the attack against Farkhunda, from where it began to where she was thrown in the river. In solidarity with the religious scholar, a number of women on the march wore masks of her bloodied face while others condemned the government for failing to bring security to Afghanistan.
Noorulhaq Ulumi, Afghanistan's interior minister, told the Afghan parliament today that Farkhunda was innocent and had not burnt the Koran.
"The accusation against her is completely invalid. Farkhunda was a religious girl, she was not involved, she was innocent," he said. "It is very painful that we were not able to protect a pious young person. We hope this will not be repeated again."
In reaction to the outrage of Farkhunda's murder, Afghan president Ashraf Ghani, who is currently on his state visit to the U.S., has ordered an investigation into her death.
"No individual is allowed to make oneself a judge and use violence to punish others in degrading manners. Launching personal trials and choosing who to punish stands in clear contradiction to Sharia and Islamic justice," he said, while others within Afghanistan's political elite have condemned the killing.
"Farkhunda's brutal killing has catapulted the city and many more Afghans in the rest of the country," Shukria Barakzai, a member of parliament representing Kabul province and a longtime women's rights activist, told Al Jazeera.
"This is not a male or female issue, this is a human issue and we will not stop until the killers are brought to justice."
Afghan police have confirmed that their investigation has led to the arrests of 13 people involved in Farkhunda's death and the suspension of 13 policemen following reports that they didn't do anything to prevent the mob's actions.
Farkhunda was buried yesterday in a procession attended by hundreds, in which her body was carried by female activists, a move counter to traditional Afghan customs that dictate that men should carry the coffin. A number of women in attendance chanted: "Farkhunda is a daughter of Afghanistan! Today it is her, tomorrow it is us!"