Afghans Worldwide Plead for Support As Taliban Terrorizes Their Relatives
The last month has seen increasing rates of violence committed against the people of Afghanistan. Local news sources and journalists have documented numerous incidents of kidnappings, tortures, rapes and public executions in a country once again ruled by the Taliban.
In response, Afghan people across the diaspora are calling on the international community to increase its support, and asking that it prioritize the protection of their family members who are still living in the country.
Nilofar Ayoubi is a journalist, activist and entrepreneur who spent most of her life in Afghanistan. As the Taliban took control of the country last year she was forced to evacuate. Now a refugee, she continues to advocate for her people, despite the trauma and pain she's experienced after being targeted by its members and violently separated from her loved ones.
"A lot of refugees are facing really deep depressions, including myself," she told Newsweek, "because every night when I go to sleep there is a fear that tomorrow, something bad will happen to my family."
The United Nations Development Programme is calling the situation in Afghanistan a "humanitarian disaster," and estimates that as much as 97% of the population, already one of the poorest in the world, is at risk of falling below the poverty line.
Since the Taliban assumed full control of the government amid the chaotic withdrawal of the U.S. last August, it has engaged in numerous acts of violent retribution.
Additionally, it has implemented a range of restrictive policies that include banning women from working in government institutions, censoring independent media sources, and effectively banning the vast majority of Afghan girls from going to school — a ban which has lasted for nearly 150 days (as of April 1, 2022).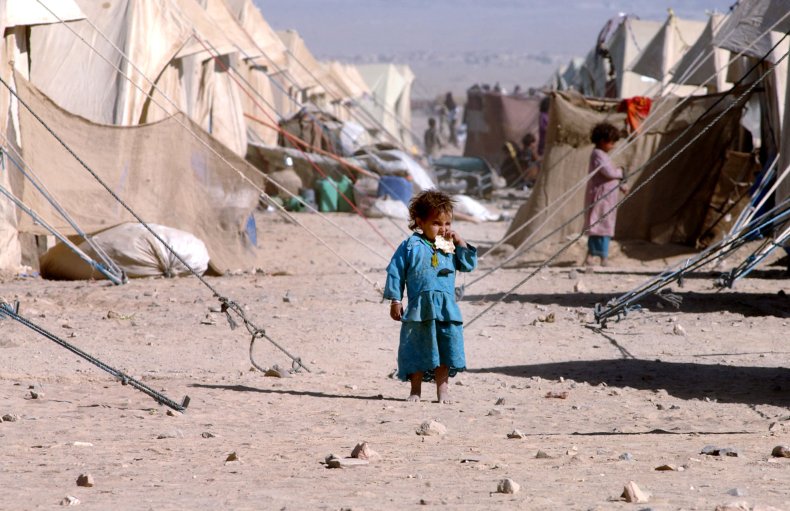 These policies have pushed a vulnerable population to the brink of desperation, and have contributed to an increase in exploitative practices such as child labor, the selling of vital organs and the arrangement of child marriages.
In January, chief Taliban spokesman Zabihullah Mujahid rejected the findings of a report from advocacy group Human Rights Watch of a worsening human rights crisis in Afghanistan, describing it as misinformation, according to Voice of America news.
Ayoubi has witnessed the violence firsthand.
During her evacuation, she was forced to leave her mother, brother, father-in-law and many cousins behind. She told Newsweek that due to her activism, the Taliban has directly targeted her relatives still living in Afghanistan.
"We as activists are under constant threat from the Taliban and our families face uncertain futures," she said. "But personally I cannot stay silent, and this has made it worse for my family."
Calling in from Poland, Ayoubi told Newsweek that since leaving Afghanistan, her brother has been tortured and her mother's home ransacked by members of the Taliban. She said that her nieces and cousins, along with millions of other young girls, have been banned from attending school altogether.
She said that stories like these are "gut-wrenching," but they are becoming more common every day.
"This war has not only killed people on the field," Ayoubi said, "but it has also killed us inside."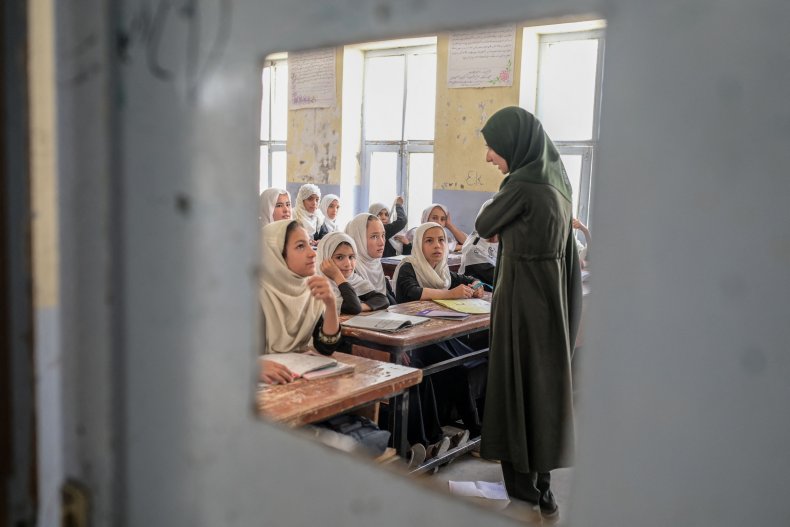 Thousands of miles away in central New York, Satar Mohammed, an Afghan activist and organizer, works directly with refugees who have recently arrived in the United States. With the help of his faith-based community organization, he provides them with support and connects them to key resources.
While much remains to be done in terms of meeting these refugees' economic and social needs, Mohammed is especially concerned about their mental health after being so violently separated from their families.
"There are people living here in Albany and Utica who I spoke to, who left their children behind just to get on the plane to come here," he told Newsweek. "How would you feel if your children were in a country, and you could not even reach them? Or if your children constantly had to replace phones because they are afraid to keep messages in there?"
A study published last June as part of a mental health initiative of the World Health Organization (WHO) revealed that nearly half of all Afghans suffer from psychological stress and mental health problems, with post-traumatic stress disorder being the most prevalent issue.
While these mental health issues go largely unreported, experts fear that rates of PTSD, depression and suicide have increased significantly not only among Afghans still living in their country or among refugees, but in the broader Afghan diaspora as well.
"Imagine a father knowing his wife and children are back in Afghanistan in danger 24/7," Mohammed said. "They both might commit suicide."
He noted that many refugees have faced similar experiences to Ayoubi.
"The Taliban are constantly looking for people," he said. "They recently shot one guy, his father-in-law and his brother-in-law with tank missiles. They also burned a woman alive because her husband is in America and her father was some type of general. She got killed and her brother did too."
As images of atrocities in Afghanistan are shared, Ariana Delawari, an Afghan-American living in California, said that she often feels anxious when she turns on the news or scrolls through her social media feed.
While she hopes for the international community's support, years of global ambivalence to the struggles of Afghans have tempered her faith for a quick resolution. She feels that after 20 years of American occupation, her people have been forgotten.
She compared the supportive way Ukrainian refugees are now being received by Western nations with the often prejudiced way Afghan refugees have been received during the past two decades.
"You see all of these Ukrainians getting let in and there is no problem with that," she said. "But then you see Afghans being discriminated against and treated horribly."
"Sometimes I literally tremble with rage and sadness, cry and have to take a nap," she added, "because I cannot believe that my people's lives mean so little to people who I know."
Mohammed shared similar thoughts.
"Ukrainians have been through war for almost a month," he said, "but Afghanistan has been in the war for the last 45 years. That's the entire lifetime of most Afghans!"
"My heart goes out to these people," he added, "but they have been treated much better than some of the other refugee groups that live here."
After decades of military interventions, Delawari, Mohammed and Ayoubi each insist that the international community, particularly the United States, has a deep responsibility to the people of Afghanistan.
"Women and girls have just lost all their rights to education," said Delawari. "So where are all of these people that wanted us to start a war 20 years ago because of the women and girls of Afghanistan. Where did they go?"
Ayoubi criticized U.S. policymakers, not only for their hasty withdrawal months ago but also for their sense of self-gratification about rescue efforts.
Weeks after the last American plane left Afghanistan, U.S. President Joe Biden praised these efforts as one of the largest airlifts in history, labeling it as an "extraordinary success."
But as an Afghan woman, with dozens of family members left in the country, Ayoubi shares a different perspective.
"Countries, especially the United States, say, 'Oh we evacuated this many people,' but that is not enough," she said.
"You cannot evacuate 40 million people from a country, you can only evacuate a couple of thousands," Ayoubi added. "And then what will happen to the rest?"