AFL-CIO Head Calls Out Facebook Over Suggestion Employers Block the Word 'Unionize' on Workplace Platform
AFL-CIO President Richard Trumka has demanded an investigation from Facebook and a public apology from founder and CEO Mark Zuckerberg after an online presentation touted the ability of employers to block the word "unionize" on the company's Workplace platform.
On Thursday, The Intercept's Lee Fang first reported that the company promoted the controversial feature during an internal presentation on Wednesday focusing on the Workplace platform, a product that allows office collaboration and communication in a manner similar to the popular and competing Slack platform.
The presentation reportedly touted the "benefits" of "content control," including the ability to blacklist certain words that employers concerned with their bottom line might want to exclude. The word "unionize" was singled out as an example of a word employers could block.
"Blacklisting is illegal. Employers censoring their employees' speech about unionizing is illegal," Trumka, the leader of the largest federation of labor unions in the U.S., tweeted on Friday. "@Facebook relentlessly presents itself as a champion of free speech, yet here it is marketing itself as a way for corporations to suppress the speech of their employees."
The Workplace platform launched in October 2016 and has been adopted by several large companies including Walmart and Starbucks, along with other entities like the government of Singapore.
However, the new feature reportedly sparked furious debate among Facebook employees upset that the product could be used to stifle efforts at organizing labor unions.
The company quickly backtracked after the presentation took place, with a posting to an internal message board on the following day seeing a company official apologize for highlighting the ability to block the word "unionize."
"While these kinds of content moderation tools are useful for companies, this example was poorly chosen and should never have been used," Facebook said in a statement obtained by Newsweek. "The feature was only in early development and we've pulled any plans to roll it out while we think through next steps."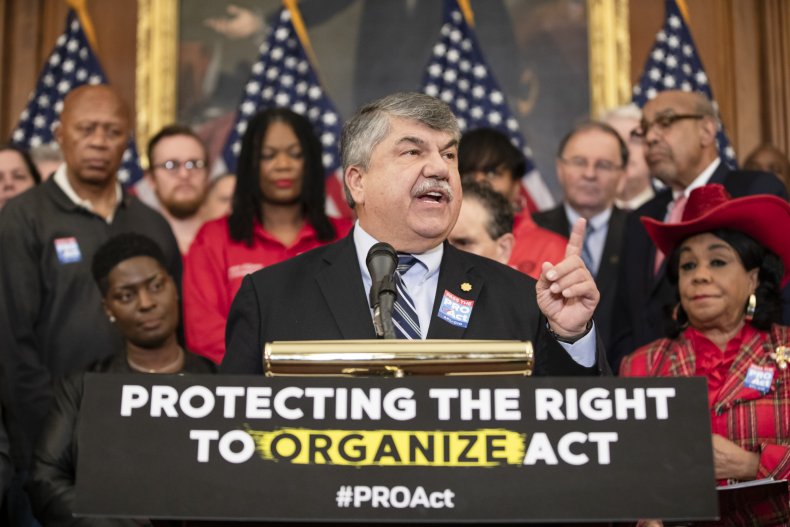 Regardless of the company's apparent reversal, Trumka demanded that Zuckerberg "personally apologize to working people." In addition, he insisted that Facebook immediately remove the feature, issue a full report after launching a "board-level investigation" and adopt improved labor standards itself.
"The @AFLCIO demands @Facebook embrace global labor rights standards for all its 48,000 workers and for its contractors who employ tens of thousands more," tweeted Trumka.
"That needs to start with committing to being neutral with respect to their employees' and contract workers' organizing efforts and recognizing their unions when they can show a majority of their co-workers have signed union cards," he added.
Mike Schroepfer, Facebook's chief technology officer, later responded to Trumka on Twitter and apologized for the "confusion around the intention" of the feature, which he said was meant to "combat bullying and harassment in the workplace."
"The example came from a working session on how to make sure this product isn't misused," Schroepfer said in a tweet that Facebook pointed out to Newsweek. "Given the feature hasn't launched yet we are taking the time to vet rigorously."
He did not concede to any of Trumka's demands but said that the company supports "the right to organize."
"Many of our vendors' employees are represented by organized labor - including shuttle drivers, security, culinary and maintenance workers," added Schroepfer. "Much of our construction is done by building and construction trade unions."
The company and Zuckerberg have recently been under fire for refusing to take any actions against controversial posts from President Donald Trump, including any that might otherwise be restricted due to violating policies against inciting violence.
Zuckerberg has insisted that the president's posts did not meet the company's standards for inciting violence, although a separate account posting word-for-word copies of Trump's posts was flagged for inciting violence earlier this week.
Update 6/13, 12:32 a.m.: This article has been updated to include additional tweets from Facebook CTO Mike Schroepfer.