Africa and the Future of Digital Currency | Opinion
The volatility of cryptocurrencies like Bitcoin, Etherium and Dogecoin continues to spur animated discussions in capitals around the world. Central banks, concerned over a possible loss of control over their own money supply, are actively engaged in studying digitally issued money, otherwise known as central bank digital currencies (CBDCs). Some governments are well beyond the talking stage.
China, for example, already pilot-tested a digital Yuan and is prepared to launch its CBDC on the national level over the next 12 months. According to the Atlantic Council CBDC Tracker, maintained by the council's GeoEconomics Program and Harvard University's Belfer Center for Science and International Affairs, more than 70 countries are currently conducting CBDC initiatives. In Africa, however, only nine of the continent's 54 countries have any sort of CBDC program on the drawing board. The lack of significant policy discussion of digital currency in Africa is disappointing because African countries can benefit enormously from the adoption of digital currencies. The failure to modernize African payment systems through CBDCs could be immensely debilitating to the continent.
Before exploring this issue, it is important to define what a CBDC actually is. Quite simply, it is sovereign legal tender—just like paper bills or coins— issued and backed by a nation's central bank. A CBDC is therefore equivalent to cash represented in a digital, rather than physical form. It is not a government version of a cryptocurrency like Bitcoin. It is also not a mobile payment platform operated by a cellphone company like Safaricom's M-Pesa that allows funds to be transferred between cellphones.
What Benefits do CBDCs Provide African Countries?
Extending and enhancing the benefits of mobile money. Africans have been the earliest and most enthusiastic adopters of cellphone-based payment systems, not only because many individuals lack access to formal banking services, but also because even those who do have bank accounts prefer not to carry large amounts of paper bills, not just for the sake of convenience, but also, understandably, for security reasons. So ubiquitous are African mobile payment platforms that, of the 1.04 billion accounts registered worldwide, nearly half are in Sub-Saharan Africa. However, there's a problem.
The various mobile payment solutions available to African consumers are not interoperable—or, at least, not without burdensome steps for the settlement of payments. Lack of interoperability will thus hinder growth. In the Democratic Republic of the Congo (DRC), despite some 30 million mobile money subscribers, the active usage rate remains low because users of Airtel Money cannot easily make payments to users of rival Orange Money without undergoing a complicated (and costly) reconciliation and settlement process. A digital Congolese franc, legally issued by the government, would resolve these issues.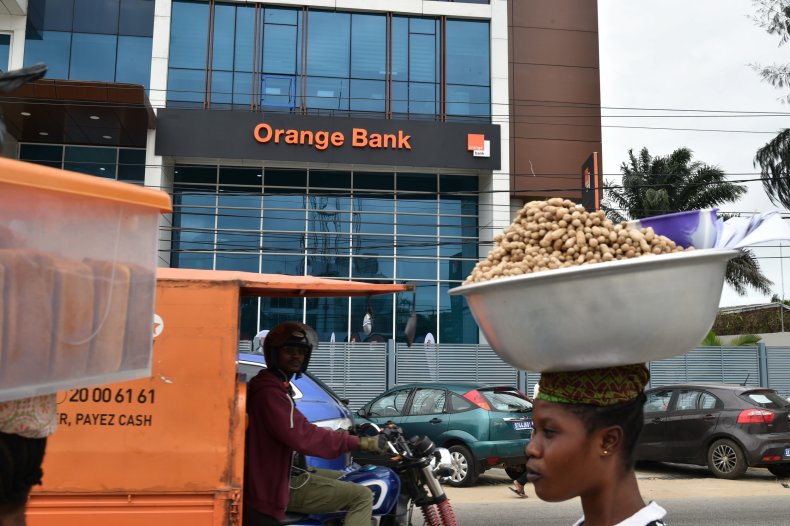 Optimizing revenue collection. Although tax regimes vary considerably across Africa, tax revenue as a proportion of GDP is considerably lower than for other regions of the world. The Organisation for Economic Co-operation and Development (OECD) data for 2019 indicated that the continent's governments, on average, have a tax-to-GDP ratio of 16.5 percent, compared to the OECD average of 34.3 percent and the Latin American and Caribbean average of 23.1 percent. Because it is hard for African governments to collect taxes domestically, they rely heavily on import tariffs. One United Nations study estimated that import tariffs accounted for 25 percent of African government income, compared with global averages of 1 percent in highly developed countries, 5 percent in middle income countries and 6 percent in low-income countries. Import tariffs hurt the poor by making products much more expensive. Rather than rely on punitive tariffs as the main source of government revenue, we believe that the creation of a legal digital currency would help Africa considerably. A digital currency could, in theory, be "programmed" to charge a very small sales tax on all transactions. In lieu of tariffs, a modest sales tax that actually gets collected digitally could finance government expenditures like teachers' salaries, police, health care and infrastructure. Social insurance and individual income taxes are also easier to monitor with digitalization.
Protecting sovereignty. Africans fought hard for independence; and in recent times, some countries have fought even harder for monetary sovereignty. It has been less than a year since the French cabinet agreed to stop forcing the foreign reserve centralization of eight of France's former West African colonies in order to allow those countries to launch a regional currency along with the rest of the Economic Community of West African States (ECOWAS). But even with this victory in hand, could a new hegemon take over from the French?
Enter China: with an impressive digital currency initiative, powerful financial payments firms such as Alipay, and an overwhelmingly dominant smartphone market position in Africa. Will China exploit these advantages and push the development of African digital currencies using Chinese technology standards? Judging from China's track record on the continent, including exerting political and diplomatic leverage through predatory lending practices, it's hard to imagine a scenario where China wouldn't press its advantages.
Tracing illicit flows. A CBDC would definitely improve the ability to track money flows and help African countries recover some of the estimated $88.6 billion that leaves the continent each year in illicit capital flight, a sum that is almost equivalent to the combined total annual inflows of official development assistance and foreign direct investment. Digital currencies can also help track financial flows in conflict minerals, arms and drugs.
Africa still needs to tackle several issues before launching a successful CBDC, including the continued buildout of telecommunications and other infrastructure, as well as improving access to national identity documents (and the creation of secure digital identities). But just as Africans adopted quickly and with alacrity to mobile payment systems, they may likewise lead with digital currencies. The recent Paris summit on reviving African economies—which included more than 20 African heads of state, top European officials and heads of international financial institutions—underscored that the focus has shifted from a health crisis to economic revitalization. As the continent emerges from the COVID-19 pandemic, we approach a critical moment for Africa's governments and other stakeholders to focus on this next challenge.
Erik Bethel is a distinguished fellow at the Chamber of Digital Commerce. Previously, he represented the United States at the World Bank from 2018-2020.
J. Peter Pham, a distinguished fellow at the Atlantic Council, served as U.S. Special Envoy for the Sahel Region of Africa with the personal rank of ambassador from 2020-2021. He previously served as U.S. Special Envoy for the Great Lakes Region of Africa from 2018-2020.
The views expressed in this article are the writers' own.