Africa Leaders Urge Putin to End Ukraine Blockade on Critical Food Supplies
On Friday, Russian President Vladamir Putin welcomed Senegalese President Macky Sall, chairman of the African Union, to his residence in Sochi.
The two discussed bilateral trade, economic partnership, and the rising issue of food insecurity, which has been exacerbated by Russia's invasion of Ukraine.
"It is for the sake of this friendship that I am here, among other things," Sall said at a joint press conference with Putin. "We have high hopes for cooperation between Russia and the African continent, but we are also here to talk about the [Ukraine] crisis and its consequences."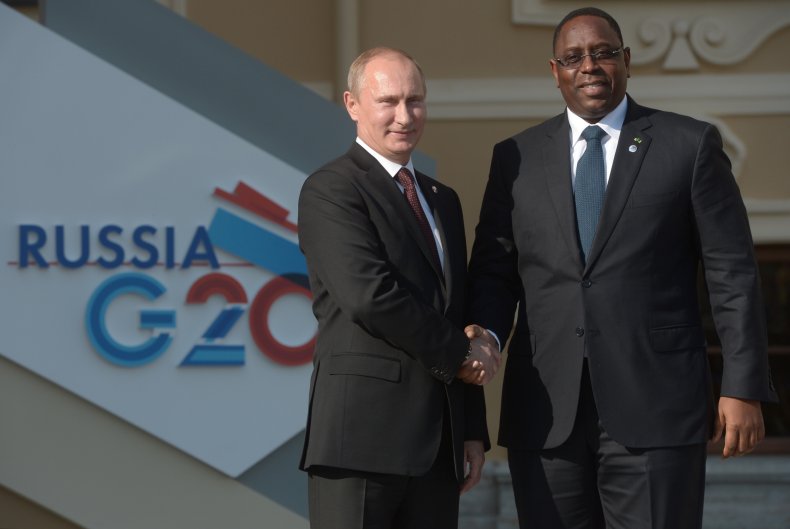 Russia and Ukraine account for more than 40% of Africa's total wheat imports. In countries like Tanzania, Rwanda and Senegal, that number rises to more than 60%, while in Egypt it is 80%.
Somalia and Benin rely on Russia and Ukraine for nearly their entire wheat supply.
Shortages of wheat, fertilizer, and cooking oils have led to significant price hikes in some of the poorest countries in the world that are most vulnerable to famine.
"Africa has become the collateral victim of a distant conflict, that between Russia and Ukraine," said Moussa Faki Mahamat, the African Union Commission chairperson.
According to the United Nations Food and Agriculture Organization's Food Price Index, the price of a "food basket" in May 2022 has risen 22.8% above its value in the corresponding month last year.
The World Food Programme warned that acute hunger might increase by 17% globally if the war continues, with the sharpest increases expected in countries in East, West, and Southern Africa.
Without a timely reprieve, they expect the number of people experiencing acute food insecurity in these regions to rise by nearly 21%, affecting almost 174 million people.
"Many countries in Africa were already in a food crisis," said Lena Simet, senior researcher on poverty and inequality at Human Rights Watch. "Rising prices are compounding the plight of millions of people thrown into poverty by the COVID-19 pandemic, requiring urgent action by governments and the international community."
Sources close to Sall's office expect the Senegalese leader to use this opportunity for face-to-face discussions with Putin to advocate on behalf of his continent, and to urge him to lift Russia's blockade on the key Ukrainian port of Odesa to let desperately needed food supplies flow.
This visit "is part of the efforts of the current chairmanship of the Union to contribute to the lull in the war in Ukraine, and the release of stocks of grain and fertilizer whose blockage particularly affects African countries," his office said in a statement.
But, Kremlin officials are painting a different picture. Instead of a visit to discuss the food crisis, they have labeled it as a referendum on the West.
Putin insists that the root cause of these shortages is Western sanctions. He says that the blockade on Ukrainian ports can be lifted on his end, but only after such sanctions are revoked.
European Commission President Ursula von der Leyen vehemently disagreed.
"It is a complete misinformation from Russia's side," she told reporters. "The only reason why we are struggling now with a food crisis is because of this brutal, unjustified war against Ukraine."
While experts agree that ending this shortage is critical to health and development on the African continent, many are skeptical that Friday's meeting will produce results that can alleviate the growing food crisis.
Accusing Russia of "using food as a weapon of war" on Tuesday, the president of the European Council, Charles Michel, said opening the Black Sea maritime route "should be the first priority ... but we are not certain it will work."
Bram Peters, food system advisor at Cordaid, agreed that the problem of food shortages goes far beyond the war in Ukraine and Putin's blockade.
"Ultimately, we must strengthen the global food infrastructure," he told Relief Web, "and Africa must receive help from the international community to adequately address the problem."
"The Ukraine crisis shows how imperatively we have to transform our global food system to a system that provides good food for all," he added. "Currently, we are producing enough to feed the world, yet leave millions on the brink of famine."
"Food production is not the biggest issue," Peters said. "There is enough food. The biggest issue is pricing and access."