African Penguins Die Under Unknown Circumstances at Florida Aquarium
The Florida Aquarium announced Thursday that seven of its African penguins have died and that the necropsy results are inconclusive. Officials from the Tampa, Florida center said in a press release that the causes of death are unknown and "under examination."
The aquarium's veterinarian team is conducting further tests to identify a cause of death, and officials said they remain "cautiously optimistic" about the health of the remaining penguins.
Tim Binder, senior vice president of animal care and health at the aquarium, said in a statement that the facility's penguins are being closely monitored while the deaths are investigated.
"The Florida Aquarium will leave no stone unturned in our efforts to understand this tragic course of events," Binder said. "Unfortunately, we may never know the cause of death."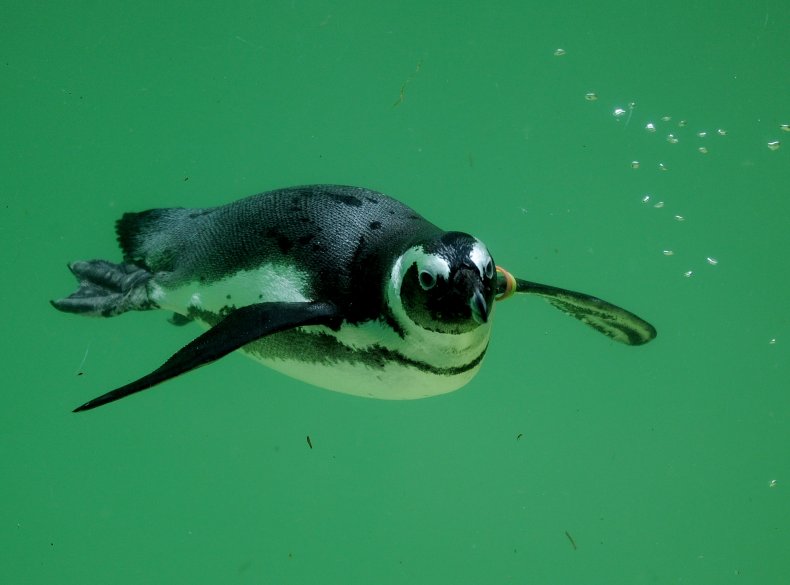 African penguins are also called Cape penguins or South African penguins. The birds are known, as well, as "black-footed penguins" and "jackass penguins," the latter due to sounds they make similar to a donkey's brays.
The species of penguin has been listed as an endangered species since 2010, according to the International Union for Conservation of Nature's criteria. There are believed to be less than 25,000 pairs remaining in the wild.
Since they do not require a habitat with low temperatures, African penguins have become common in zoos around the world. They are also said to adapt well to captivity and breed easier than other penguin species. Their average lifespan is 10 to 27 years in the wild, but they can live up to 30 in captivity.
The Florida Aquarium has kept a colony of African penguins under its care since 2006 in hopes of conserving the species. It does not have a public habitat where guests can observe the penguins, but caretakers take the animals out into the aquarium twice a day during guest tours.
In March, the aquarium launched a fundraising campaign to build a penguin exhibit. A letter sent out to potential donors said the aquarium hoped to raise $350,000 by April so it could open the exhibit by July. No official announcement has been made in regards to the plan.
"These are especially trying times for The Florida Aquarium," the center noted in the media release about the penguins.
The mysterious deaths of the penguins marks the second time in a matter of months that multiple animals have died at a local zoo or aquarium.
In late May, 12 stingrays at ZooTampa died. A post-mortem investigation at ZooTampa found that the water became "supersaturated" with oxygen, which gave the stingrays a fatal gas bubble disease.
Newsweek contacted the Florida Aquarium for further details but did not hear back in time for publication.