Africa's Best Footballer, an Ex-Warlord and a Former Model All Want to be Liberia's Next President
In the early 2000s, Liberia was a byword for civil war, chaos and child soldier as conflict raged in the West African country.
Beginning with a rebellion in 1989 led by American-educated warlord Charles Taylor, Liberia suffered 14 years of brutal fighting as the country was carved up into fiefdoms. At least 15,000 children were forced into brutal warfare and many women suffered rape and sexual violence.
Enter Ellen Johnson Sirleaf, Africa's first elected female head of state. The so-called Iron Lady of Africa won the landmark 2005 election and came into office at perhaps the most fragile point in Liberia's history.
Now—after two six-year terms in office—she is preparing to stand down, leaving behind a legacy that includes both a Nobel Peace Prize for restoring stability to the country and a struggling economy, smashed by an Ebola epidemic and an ingrained culture of corruption.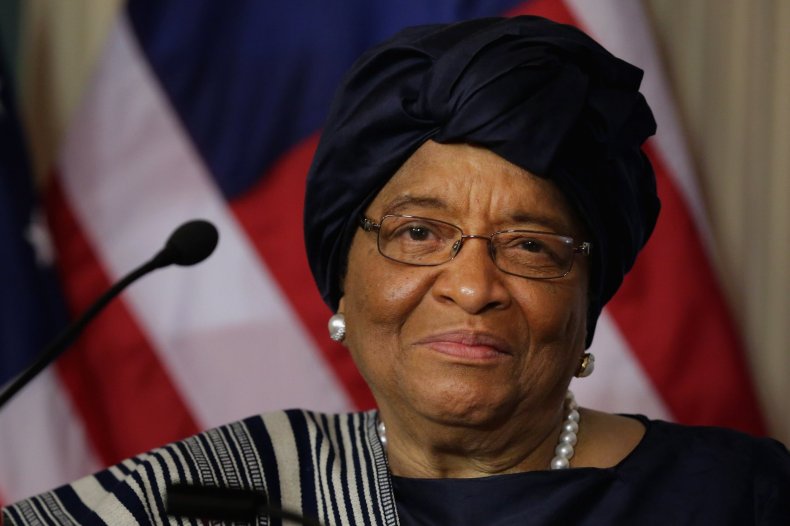 Ahead of the general election on October 10, Newsweek spoke to some of those who want to follow Sirleaf, including Africa's greatest footballer, a former warlord, and an ex-model who is the sole female candidate to succeed Africa's Iron Lady.
The Chosen Successor: Joseph Boakai
After 11 long years in the shadows, Joseph Boakai believes that now is his moment to shine. Liberia's vice-president has stood dutifully by Sirleaf's side throughout her two terms in office, remaining in the background as she has won international recognition for bringing peace to the West African country. And Boakai is looking to capitalize on that stability with a message of continuity to Liberians.
"The people in Liberia know who Joe Boakai is; how long he has served this country with integrity, with honesty...and they want that leadership that is trusted, corruption-free and [which] they are counting on," Boakai, 72, told Newsweek in April.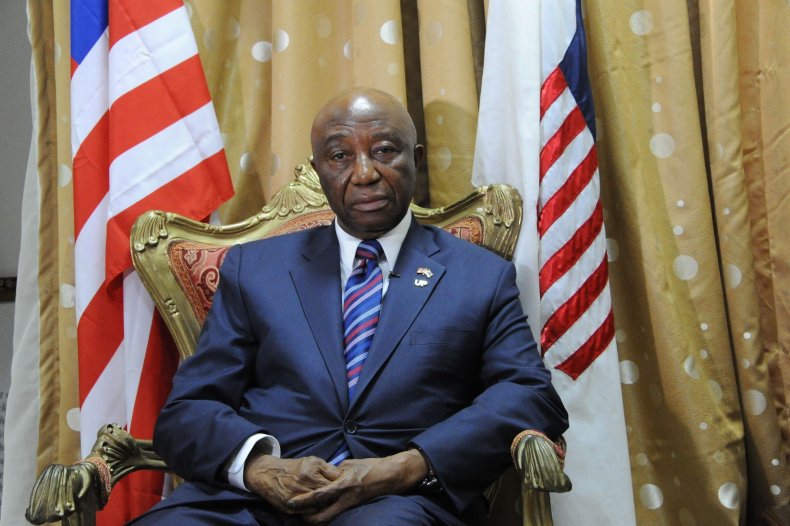 Despite his role as annointed successor, Boakai says he would have done some things differently—"half of [Sirleaf's] ministers would be gone," he says—and he declines to take responsibility for Liberia's failure to overcome endemic corruption during Sirleaf's time in office.
Liberia is currently ranked 90 out of 176 countries in Transparency International's annual corruption index, and Sirleaf herself has said that she underestimated how "deep-rooted" corruption was in the country. "My role is to advise the president, the president's role is to take responsibility to implement," says Boakai.
Should he not win, Boakai says he has no intention of using force to overturn the result—a residual fear in a country that is still recovering from two periods of civil war. In 1997, Charles Taylor came to power with the campaign slogan: "He killed my ma, he killed my pa, I'll vote for him."
"If I'm not elected—but I know I will be—I'll go to my agriculture. I'm a farmer, I have a farm, I believe in farming for Liberia and living a quiet life," says Boakai.
The Football Legend: George Weah
Widely regarded as the continent's greatest ever footballer, George Weah, 51, is the only African player to have ever won FIFA's Ballon d'Or, the sport's highest individual award. The retired striker had an illustrious career with European clubs and was a protégé of Arsenal manager Arsene Wenger when the pair were at French side AS Monaco in the early 1990s.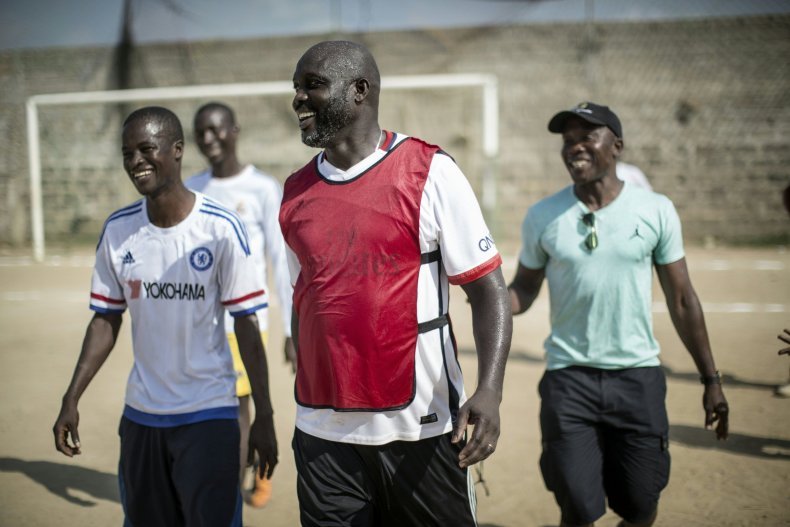 But Weah has been unable to turn his sporting prowess into political success. In the 2005 election, Weah triumphed in the first round only to be defeated by Sirleaf in the second. (Weah claimed that the election was rigged, but most international observers said it was largely free and fair.) Then in 2011, Weah ran as an opposition vice-presidential candidate, but Sirleaf and her running mate Boakai were again successful. Despite criticisms over a lack of political experience, Weah won an election in 2014, defeating Sirleaf's son to claim a seat in the Liberian senate.
King George, as he is affectionately known by supporters, is considered a leading candidate ahead of October's vote. And he's not short of confidence. "I'm a winnable candidate, I'm the choice of the people, and my opposition will say anything to defame me," Weah told Radio France Internationale in a May interview.
The Lone Woman: Macdella Cooper
An American-educated former model, Macdella Cooper fled Liberia at 13, when a rebel fighter in Charles Taylor's forces tried to take her as his wife. When fleeing Liberia for neighboring Ivory Coast with her two brothers, Cooper recalls the brutality of the conflict. "We saw lots of people leaving their elders along the roadsides. We saw dead bodies, dogs eating [the] flesh of dead people," Cooper, 40, tells Newsweek.
After two years in Ivory Coast, Cooper migrated to the United States and lived in New Jersey, where she forged a career in fashion. She turned her hand to humanitarian work in 2004, founding the Macdella Cooper Foundation to educate orphans in Liberia, where she is now based.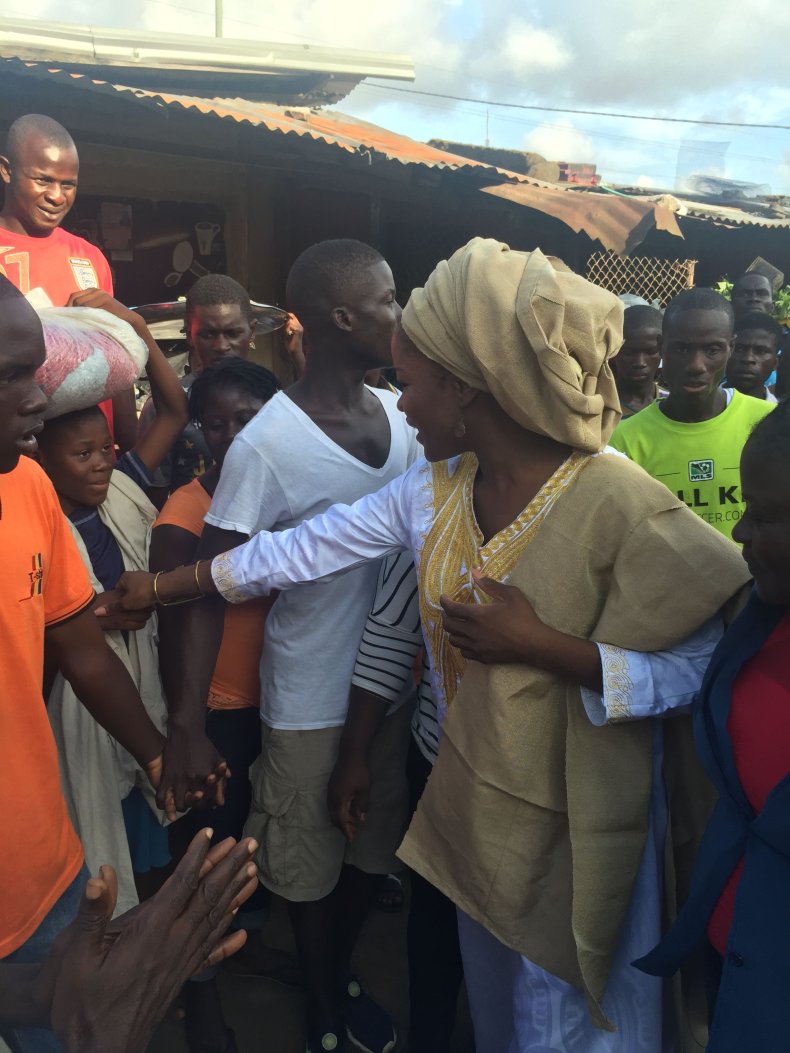 Much attention has been focused on Cooper's role as the only female candidate running to succeed Sirleaf. But despite having no political experience, Cooper says she is ready to fill the shoes of Africa's first elected woman president. "She came to sustain peace in Liberia...Now it's time for the change maker to come in. Macdella Cooper is your changer maker," says Cooper.
Cooper adds that she is not fazed by having less experience than some of her opponents, such as Boakai or Weah—who she used to work for and who is the father of one of her children. "If I thought [Weah] was a suitable candidate for this country, I wouldn't be in the race myself," says Cooper. "There are some good guys in the race, but I still don't know what their agenda is for Liberia."
The Former Warlord: Prince Johnson
Prince Yormie Johnson's role in Liberia's first civil war is immortalized in a notorious video clip. The grainy footage shows Johnson—the commander of a rebel faction that seized Monrovia in 1990—sat in a leather chair and drinking beer. His troops have surrounded Samuel Doe, Liberia's then-president, and proceed to mutilate him, cutting off his ear. Doe died from his injuries.
When Liberia's truth and reconciliation commission published its final report on the conflict in 2009, Johnson's name was number one on a list of 98 "most notorious perpetrators" recommended for prosecution. The commission also advised that Johnson should be barred from holding public office for 30 years. (A similar recommendation was made for Sirleaf, who admitted initially supporting Charles Taylor's overthrow of Doe.)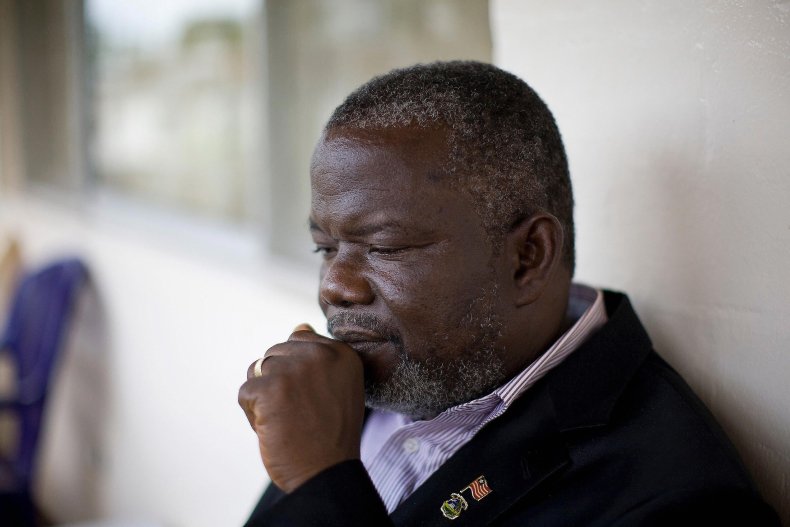 But by that time, Johnson was already a senator. Having spent over a decade in exile in Nigeria after Doe's death—where he reconciled with the Doe family and became a pastor—Johnson had returned to Liberia in 2004 and won a Senate seat in 2005. In the 2011 vote, Johnson ran for the presidency and came third, receiving almost 140,000 votes.
Johnson has previously accepted responsibility for Doe's death, telling the BBC in 2006: "The commanding officer takes responsibility for what his unit does. Anything happened to Doe, I was responsible."
But he has also denied killing civilians during the war and said it was time to move beyond his past. "We kill in combat; when you fight war, you kill," Johnson told New Republic in 2011. "We shouldn't be dwelling—killing, killing, killing. Killing shouldn't be the basis here."
The Coca-Cola Magnate: Alex Cummings
Alex Cummings is used to working with big budgets: The 60-year-old is a former executive vice-president at Coca-Cola. In 2016, the drinks company's revenue was almost $42 billion. By contrast, Liberia's entire GDP stood at $2.05 billion in 2015.
According to the former businessman, his role managing one of the world's most successful companies has prepared him for taking charge of one of Africa's slowest-growing economies. "I believe that, without being immodest, I've almost been in training for this role," Cummings told Newsweek in a December 2016 interview.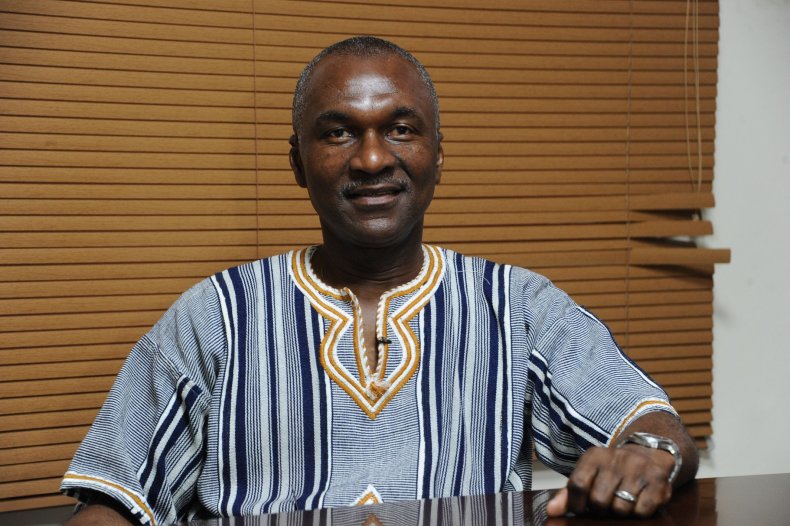 Born in the capital Monrovia, Cummings was educated in Liberia before attending graduate school in the United States. He has spent most of his adult life in the U.S., but says he has not abandoned his roots. When Liberia was struck by the Ebola virus, Cummings visited Sirleaf in Monrovia in September 2014 and announced an expansion of Coca-Cola's investment in the country.
A political novice who only stepped down from Coca-Cola in 2016, some have speculated whether Cummings will be able to triumph over more familiar, experienced figures in Liberia. But Cummings himself says that his removal from Liberian politics is actually an advantage—he says supporters call him "Clean Hands" for his distance from political corruption in the country—and says that the state house would enable him to use his business acumen for the good of the Liberian people.
"You can be a prominent businessman, you can be a philanthropist," he says, "but if you want to impact all 4.2 million Liberians, the presidency is the way to do it."
The Nearly Man: Charles Brumskine
Charles Brumskine is not sorry to see the back of President Sirleaf. The 66-year-old has twice been thwarted by her in his bid to become president, at the 2005 and 2011 elections. "I'm happy that President Sirleaf is not in the race this time," Brumskine, the leader of the opposition Liberty Party, told Newsweek in April. "She has certainly been a strong opponent. It should be easier for me now."
A Supreme Court lawyer who earned a master's degree in Texas, Brumskine rose to political prominence in the 1990s as an ally of Taylor, the rebel leader who overthrew the government and sparked the first civil war. (Brumskine was based in the United States during the war and maintains he had no involvement in it.)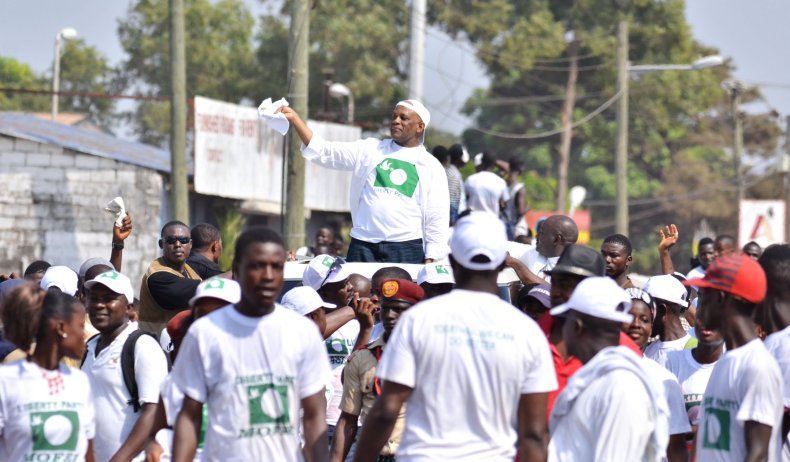 After his election as president in 1997, Taylor appointed Brumskine as leader of the senate. But cracks soon appeared in their relationship, and Brumskine fled Liberia. "Mr. Taylor thought we were taking too much of what he perceived as his power away from him. So the country became too small for both of us, and I had to leave," he says.
Brumskine later pushed for the conviction of Taylor, who is currently serving a 50-year prison sentence in the U.K. for war crimes in Sierra Leone.
Brumskine says that Sirleaf has done well to overturn Liberia's status as a "pariah state." But he adds that more must be done to ensure the country does not relapse into ethnic violence. "The potential for conflict is always there. We are hoping that the probability would be close to zero, but being a post-conflict nation, we want to leave nothing to chance," he says.