Teacher Bans Afros, Dreadlocks Before Choir Concert, Middle School Apologizes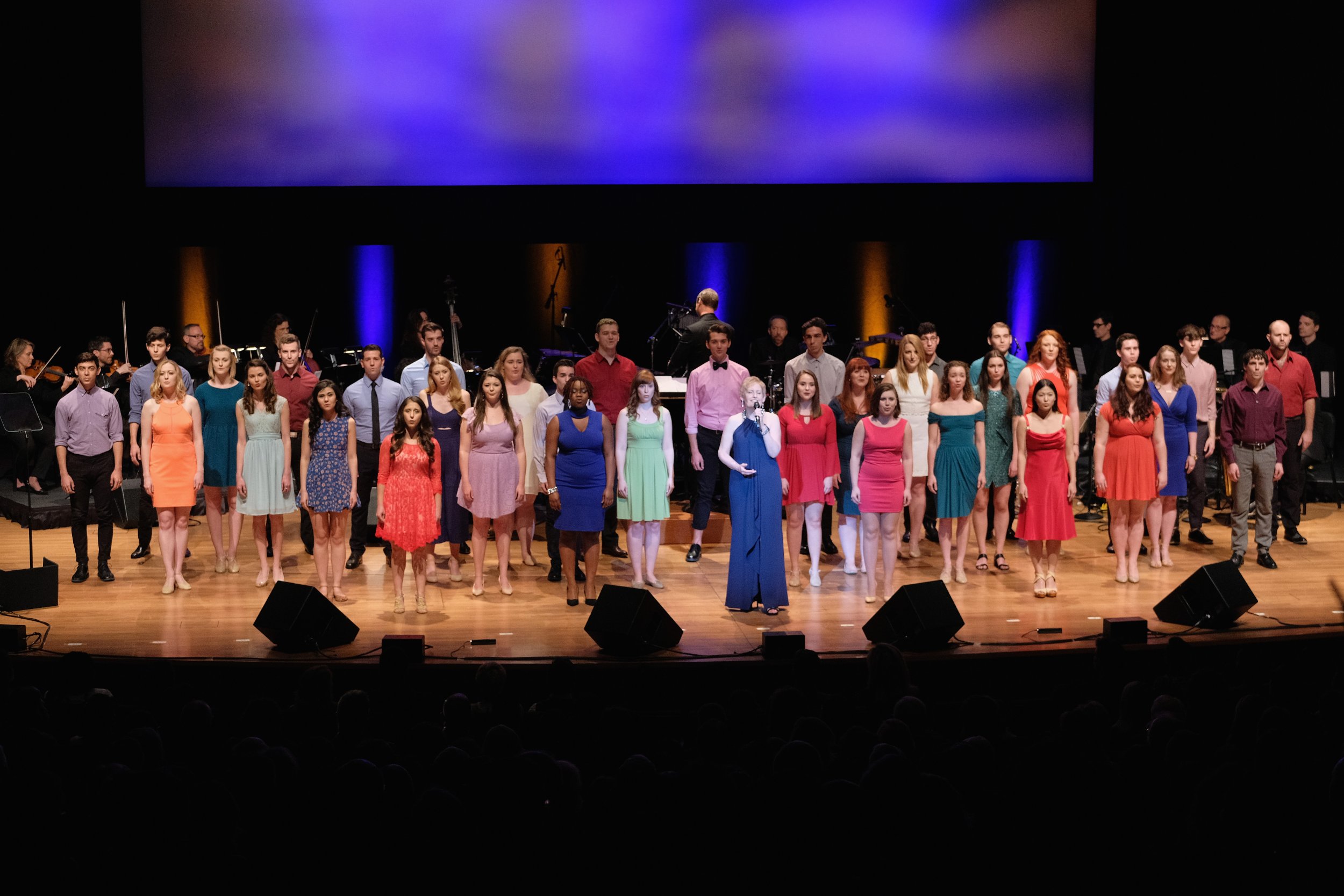 Parents of students at a Cincinnati middle school were incensed by a letter sent home saying that Afros and dreadlocks would be banned from an upcoming winter concert, and that girls should visit a cosmetologist the night before the event.
First-year Pleasant Run Middle School vocal music teacher Steven Reeves sent the "2018 Winter Concert Attire" letter home describing what hairstyle and grooming standards would be acceptable. Male students set to perform in the chorus were informed that "mohawks, 'Barber Designs' and Large Afros" would not be permitted. Female students were "strongly encouraged" to visit the cosmetologist and to "style their hair in a simple bun or conservative hair style."
Northwest School District Superintendent Todd Bowling issued a statement addressing complaints in a Facebook post Monday alongside a note of apology from Reeves.
"We sincerely apologize for the frustration the original language caused or breakdown in relationship that resulted from the original set of guidelines. The original student presentation guidelines were not approved and not reflective of how we feel in any way," wrote Bowling.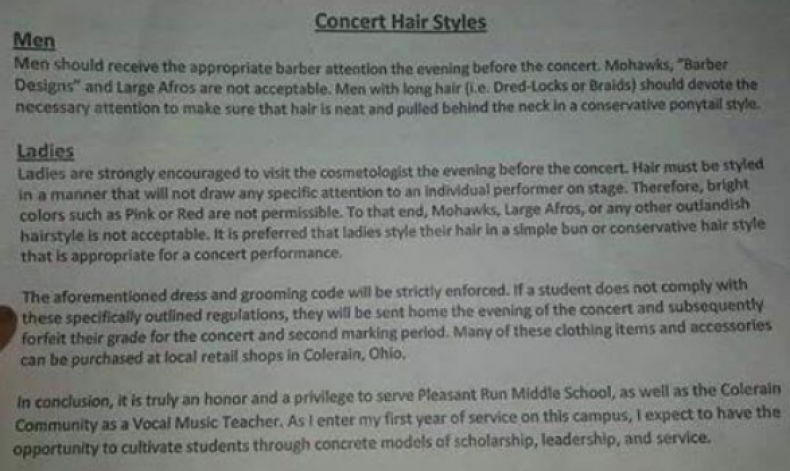 Reeves, who is black, sent the letter to parents of the Pleasant Run Middle School students who were in the vocal ensemble. Reeves wrote he "expects to have the opportunity to cultivate students" during his tenure at the school, the Cincinnati Enquirer first reported.
Reeves responded to the backlash in the school district's Facebook post Monday:
Along with a revised dress guideline for the upcoming and future chorus concerts, I wanted to send a note of apology for any negative feelings that were created due to the previous dress guideline communication. The wording and expectations were insensitive and were a mistake. My hope in the foreseeable future is to mend relationships that have been broken with students, parents, and the Pleasant Run Middle School community. If you would like to meet with me to discuss concerns going forward, please do not hesitate to reach out to get something scheduled.

Since I have been a part of the Pleasant Run Middle School community for only a short time, I would like to take the opportunity to introduce myself. Prior to this year, I served in Dayton Public Schools in Ohio as well as Orange Public Schools in New Jersey. I also served briefly at Central State University of Ohio. The students at PRMS have already made a wonderful impression on me. They are fantastic.

The revised guidelines for the upcoming concert require students to wear a white top and black pants or skirt. Students are encouraged to look their best the evening of the concert. The choir is now asked to report to Northwest High School at 5:30pm on December 13, 2018. I hope to see all of you at the concert. Your students are working so very hard. I believe you will really enjoy their performance.
Reeves' letter said the rules will be "strictly enforced" and offending students will be sent home and subsequently forced to forfeit their grade for the concert within the second marking period. The letter claims the rules are intended to keep any specific student from drawing particular attention to themselves as opposed to the chorus as a whole.
But others in the Cincinnati community considered the initial letter a racist attack on the school's black students.
"Them sending home something like this is sending a message that it's not OK to show up in our natural state," parent Marlicia Robinson told WKRC-TV. "My daughter wears an Afro to school on a regular basis. That's her regular hairstyle; she has a lot of hair. It's going to be large. That's just what her hair does, that's what our hair does as black people."
"WOW..but living in Cincinnati all these years this mindset/ideology doesn't surprise me at all...why not just tell the black kids not to come," wrote another resident, Brian Keith, in a Sunday Facebook post.
Administrators with the Northwest School District issued a response Sunday: "Today we were made aware of guidelines sent home to students for the upcoming chorus concert. This message was not approved by PRMS administration and does not reflect our views at all. PRMS apologizes for the letter. We will address this issue on Monday morning and new communication about the concert will be sent home Monday afternoon."