After 102 COVID-Free Days, New Zealand Detects 4 New Cases, Reimposes Lockdown Restrictions
New Zealand officials have reported four new coronavirus cases after going more than 100 days without finding any, they announced Tuesday.
"I know that this information will be very difficult to receive," Prime Minister Jacinda Ardern said during a press conference. "We had all hoped not to find ourselves in this position again, but we had also prepared for it."
Ardern informed New Zealanders the entire country would be activating a resurgence plan in an effort to track down the cases' origin, which is currently unknown.
Dr. Ashley Bloomfield, New Zealand's director-general of health, said during the press conference that the first new case came from a person in their 50s who tested positive after exhibiting symptoms. Three of the person's six other family members also tested positive, Bloomfield said.
The family lives in South Auckland, and the person who initially tested positive had no recent history of overseas travel, suggesting the cases originated from community transmission, Bloomfield said.
Health officials are working to trace anyone who the family members had come into contact with, requiring that these people must get tested and self-isolate for 14 days, regardless of whether their test comes back positive.
"We have been saying for some weeks it was inevitable that New Zealand would get another case of community transmission. This is a tricky virus," Bloomfield said. "We have been working on the basis that it could be at any time, and been preparing for that time. That time is now."
Bloomfield added that the country's health system was "well prepared" for a possible resurgence of cases, but asked all New Zealanders to reinstate practices such as stringent hand hygiene, mask wearing and physical distancing.
He encouraged everyone to get tested for the virus if they could, and said that "high-risk" people working at the country's borders and in coronavirus isolation facilities would undergo mandatory testing in an effort to determine where the new cases originated.
Ardern announced that all of Auckland, the country's most populated city, would be moving to Alert Level 3, New Zealand's second-highest level of coronavirus response measures.
As of noon Wednesday, Auckland residents are asked to remain home except to purchase essentials, such as medicine and food. All non-essential businesses would be closed, including schools, the prime minister said. Traveling into Auckland for non-residents will also be banned. The Level 3 restrictions will last until midnight Friday.
The rest of the country will go into Alert Level 2 for the same period of time, meaning that residents are asked to social distance and mass gatherings are limited to 100 people, Arden said.
"One of the most important lessons we've learned from overseas is the need to go hard and go early, and stamp out flare ups to avoid the risk of wider outbreak," Ardern said. "As disruptive as it is, a strong and rapid health response remains the best long-term economic response."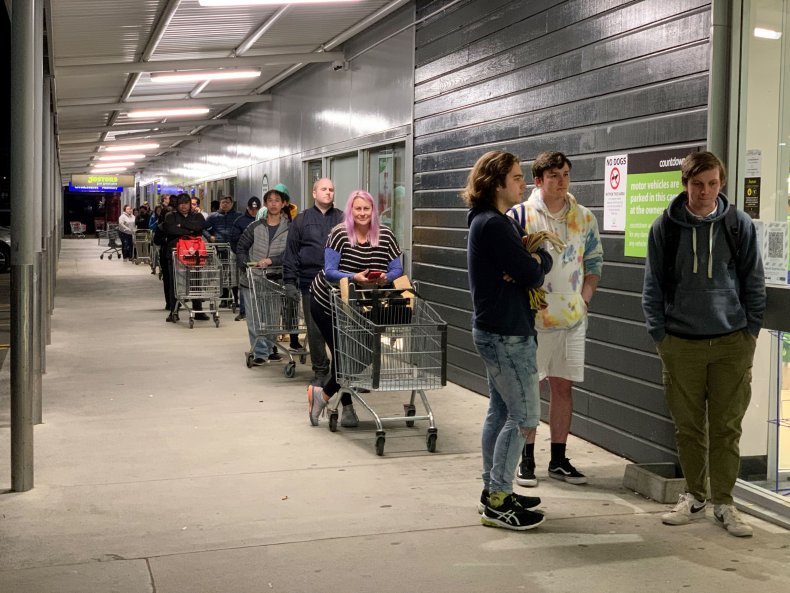 The new restrictions are a stark change for New Zealanders, who previously enjoyed living in a country with no reported coronavirus cases since May 1. As of August 11, New Zealand's Ministry of Health has recorded 1,570 total confirmed and probable cases since the crisis began. The country has reported 22 deaths.
Ardern and other government officials had a response strategy of "go hard, and go early," closing the country's borders to foreigners March 19 and imposing a nationwide lockdown March 23, which initially shut down beaches, banned driving outside residents' neighborhoods and closed restaurants, even for to-go orders.
Arden had announced all restrictions would be lifted June 8 after almost 40,000 coronavirus tests taken within a period of 17 days hadn't produced one positive result, CNN reported. Before Tuesday's announcement, the country had gone 102 days without a single new reported coronavirus case.
The prime minister spoke of New Zealand's success during her announcement Tuesday.
"Together we've beaten the virus before, and with fast action and by acting together, we can do so again," Ardern said. "We have come too far to go backwards."
Newsweek contacted the Ministry of Health for comment, but did not hear back in time for publication.