After 11 Months in Office, How Biden's Approval Rating Stacks Up Against Trump's
Nearly a year into his presidency, President Joe Biden's approval rating is still higher than Donald Trump's was at the same point in his presidency, but it remains underwater ahead of the 2022 midterms.
Biden's first year in office has been beset by inflation, a chaotic military withdrawal from Afghanistan and a still raging pandemic. The president was elected in part to get control of the nation's coronavirus crisis, but Americans are souring on his ability to handle it as cases and hospitalizations once again surge across the country, a situation that may get only worse with the Omicron variant.
A new Ipsos/Reuters poll, released Saturday, found 48 percent of Americans approve of the job Biden is doing as president. That includes 81 percent of Democrats, 39 percent of independents and 17 percent of Republicans.
While not a rave review of the president, Biden's approval rating across all demographics is higher than Trump's was after almost a year in office.
A Reuters/Ipsos poll from December 2017 found 35 percent of Americans approved of the job Trump was doing as president. That included 76 percent of Republicans—less than the support Biden now has from his own party—31 percent of independents and 10 percent of Democrats.
Voters want Biden to prioritize the economy and the pandemic more than any other issues, according to the Reuters/Ipsos poll. Democrats, at 42 percent, want the pandemic to be the president's top concern, while a majority of Republicans believe he should prioritize the economy.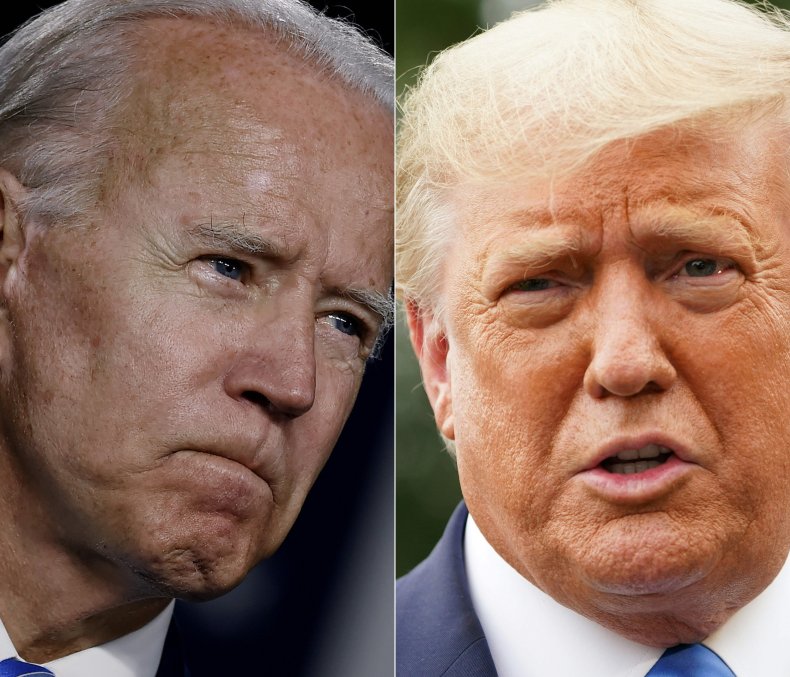 The two issues go somewhat hand in hand, as the pandemic has had an adverse effect on the nation's economy. Supply chain problems are partially being fueled by a lack of workers and other disruptions because of the pandemic, which has also exacerbated problems with inflation. While the White House initially tried to write off the rising prices as transient, inflation has plagued the country for months, driving up the cost of goods in nearly every sector.
Biden still has majority approval for his handling of the pandemic, but just barely, and the numbers are largely being driven by members of his own party. Only 48 percent of independents approve of Biden's handling of the pandemic, which could be a problem for Democrats in the upcoming midterms.
The president's party often loses seats during midterm elections, and Republicans need to secure less than a dozen seats in the House and one in the Senate to reclaim control of both chambers. Biden has struggled to move his legislative agenda through Congress because of Democrats' slim hold on the Senate, and Republicans in control would make it difficult for him to be an effective president in his last two years.
Americans across the board are even less confident in Biden's handling of the economy, often a top issue for voters. Only 70 percent of Democrats back his approach to the economy, and less than 40 percent of independents approve.
The pandemic wasn't an issue when Trump first took office, and Americans reportedly wanted him to prioritize health care and terrorism the most, followed by the economy. Only 36 percent of the people polled in 2017 approved of Trump's handling of health care, and 42 percent approved of his approach to dealing with the Islamic State militant group (ISIS).
Forty-one percent approved of how he handled the economy, 1 percentage point less than Biden's overall approval rating on the economy.
Despite leaving office with some of the lowest approval ratings in history, Trump maintains a strong hold on his base of voters and has been teasing a return to the presidential campaign trail. Hypothetical matchups between Trump and Biden often put the two neck and neck. In his attacks on the president, Trump has homed in on the serious problems Biden has faced in his first year.
On Tuesday, Trump attempted to cast doubt in the minds of voters who cast their ballot for Biden in 2020, questioning how his promise to tame the virus is "working out." His remark came with the news that Omicron has become the dominant coronavirus variant in the United States. With Trump's sights set on helping Republicans win in the 2022 races, he's likely to continue the attacks in the coming months.