After 12% Spike in LA Homelessness, City Opens 39 Tiny Houses as Temporary Homes
Following a 12 percent spike in homelessness across Los Angeles last year, the city has debuted a village of tiny homes to provide temporary shelter to individuals who have been living on the streets.
The Chandler Street village, located on a one-acre plot of land in North Hollywood, has 39 tiny houses for homeless people. Each home is 64 square feet and includes two beds, heat, air conditioning, windows and a small desk.
The village was developed and funded by Los Angeles and is operated by Hope of the Valley, a nonprofit. The project was spearheaded to help relieve the city's growing homelessness problem.
In 2020, reports said there were 66,400 homeless people in Los Angeles County, up by more than 12 percent in 2019, according to the Associated Press. The coronavirus pandemic worsened conditions, forcing some homeless shelters to cut capacity and leave more individuals on the streets in order to maintain social distancing.
Besides the tiny homes, counselors will be present at the Chandler Street village to provide residents with mental health treatment, legal aid and assistance with job searches.
"Here we have services," Hope of the Valley CEO Ken Craft said, according to the AP. "Here people can start to chart a path out of homelessness."
The homes are red, white and blue, with bright yellow pathways between them to help the village fit into the surrounding area.
Each unit costs $7,500, but the total cost of the project ended up being about $5 million, with money spent on water, power and sewer lines at the site.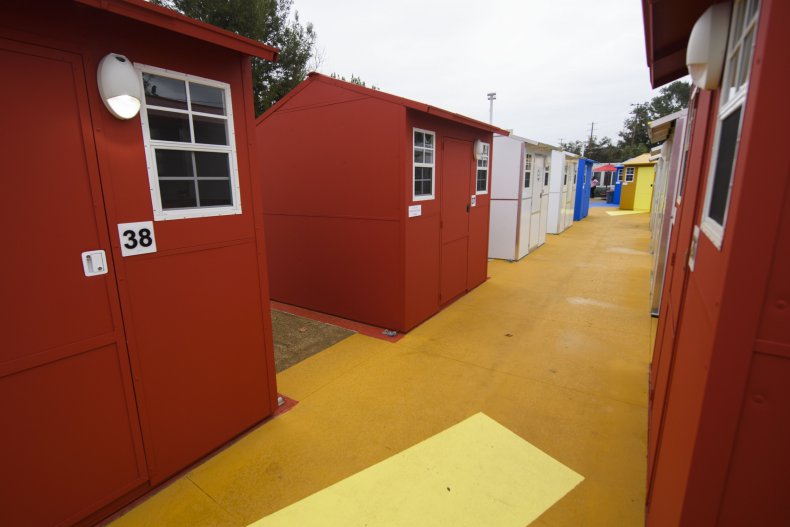 For more reporting from the Associated Press, see below.
Tiny homes have been promoted as the solution to all kinds of housing needs—an affordable option in expensive big cities and simplicity for people who want to declutter their lives. They are increasingly used as shelter for homeless people in other California cities, including San Jose and Sacramento, as well as nationally in Seattle, Minneapolis and Des Moines, Iowa.
City Councilman Paul Kerkorian, whose district includes North Hollywood, said officials zeroed in on the abandoned, awkwardly shaped slice of land across from the park.
"It was ideally suited for this use and not much else," Kerkorian said.
The goal for Chandler Street residents is to stay a few months and then transition to more permanent housing. Ted Beauregard, one of its first residents, plans to be out by mid-April.
The 63-year-old found himself homeless for the first time when the pandemic ground his fledgling construction contracting business to a halt. "I'm using this as a steppingstone," he said of his tiny house.
In the meantime, he appreciates having a roof overhead and a place to store his belongings. He admires the construction of his temporary home, which he likens to Army barracks.
"I look at it like I live in a gated community, across from beautiful parkland," he said, gesturing through the fence toward the green fields across the street.