Questlove, Spike Lee Welcome D'Angelo Back from 14-Year Hiatus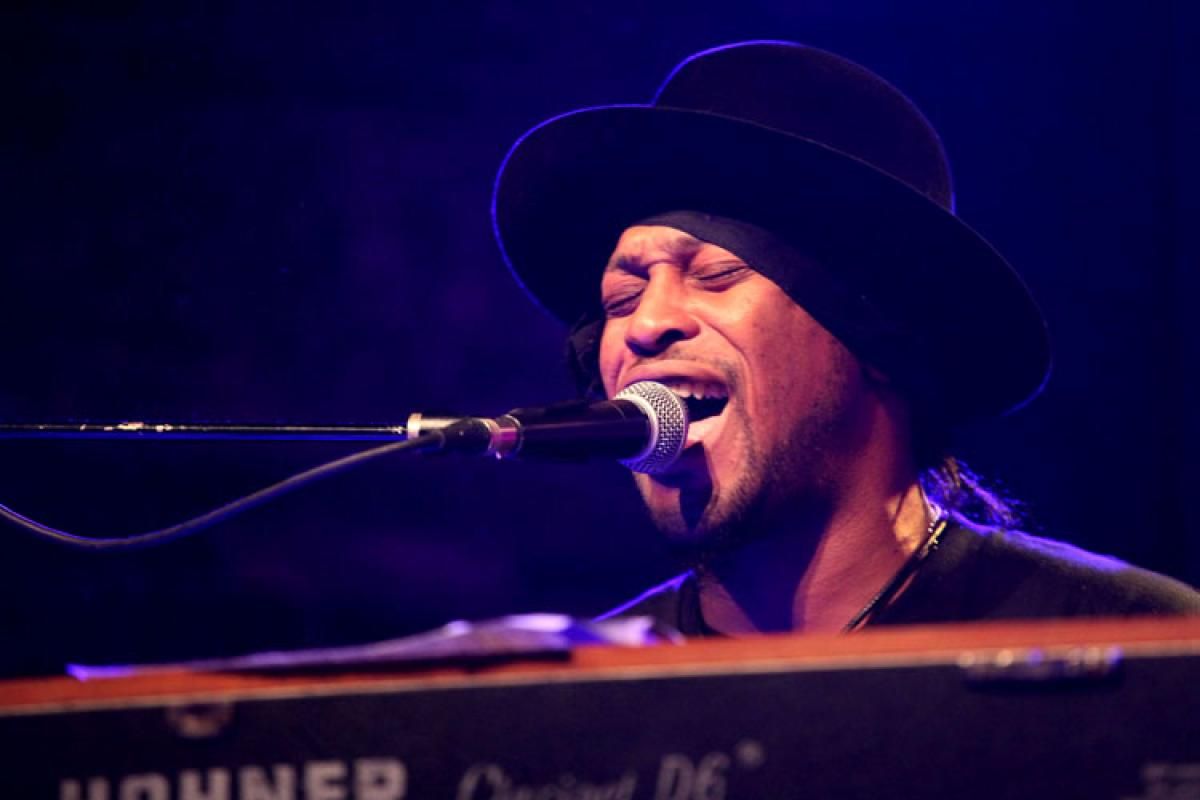 Reviewing D'Angelo's performance back in 2000, self-proclaimed Dean of Rock Critics Robert Christgau dubbed him "R&B Jesus." Fourteen years later, the moniker is more apt than ever; Black Messiah, the artist's long-awaited follow-up to the groundbreaking Voodoo, has arrived to save us.
The album premiered this past Sunday afternoon in the penthouse bar at New York's Dream Hotel, its panoramic views of Manhattan at sunset obscured by black curtains, drawn by black-clad waitstaff, as soon as Black Messiah began playing. The listening party was DJ'd by longtime D'Angelo collaborator Ahmir "Questlove" Thompson, who spun Sly and the Family Stone and J Dilla mixes as music magnates, and Spike Lee, mingled in anticipation of an album they had known was coming for over a decade. Playbill-sized lyric booklets made for spellbinding reading material for those seated on couches toward the back of the room.
Black Messiah had been the topic of industry rumors for years, making the Friday afternoon announcement of the album's completion nearly unbelievable, a Beyoncé-style reveal for an album that had been "almost done" for half a decade. A weekend release of the song "Sugah Daddy" (his first solo release in 14 years) gave credence to the possibility, its neck-bobbing groove immediately recalling D'Angelo's previous work, updated with a fresh piano- and guitar-centric coat of paint.
D'Angelo's previous albums displayed a musicality uncommon in R&B music at the time. He nearly defined a genre: His debut Brown Sugar inspired the term "neo-soul," and Voodoo's throwback, funky sound ratified the descriptor, later becoming the genre's most famous recording. Studio sessions for Black Messiah began shortly after the end of the Voodoo tour, but D'Angelo's withdrawal from the public eye—Spin reported in 2008 that the sex-god status gained from his video "Untitled (How Does It Feel?)" was a major factor that soured the singer's relationship with his audience—put a hold on one of the most hotly anticipated albums of the early aughts. Prior to a GQ feature in 2012, where the singer spoke of his childhood, dealing with addiction and getting his career back on track, D'Angelo had been largely silent since the turn of the century.
Black Messiah may have benefited musically from the downtime. In the intervening years, D'Angelo has evolved into a dedicated guitar player, moving beyond his songwriting roots on the piano and into a more funk-rock-inspired style reminiscent of Prince and the edgy guitar stylings that laced George Clinton's work with Funkadelic. In the 2012 GQ interview collaborator Questlove compared D'Angelo's playing to that of Frank Zappa, saying "he used 10,000 Gladwellian hours to master the guitar," and on Black Messiah it shows.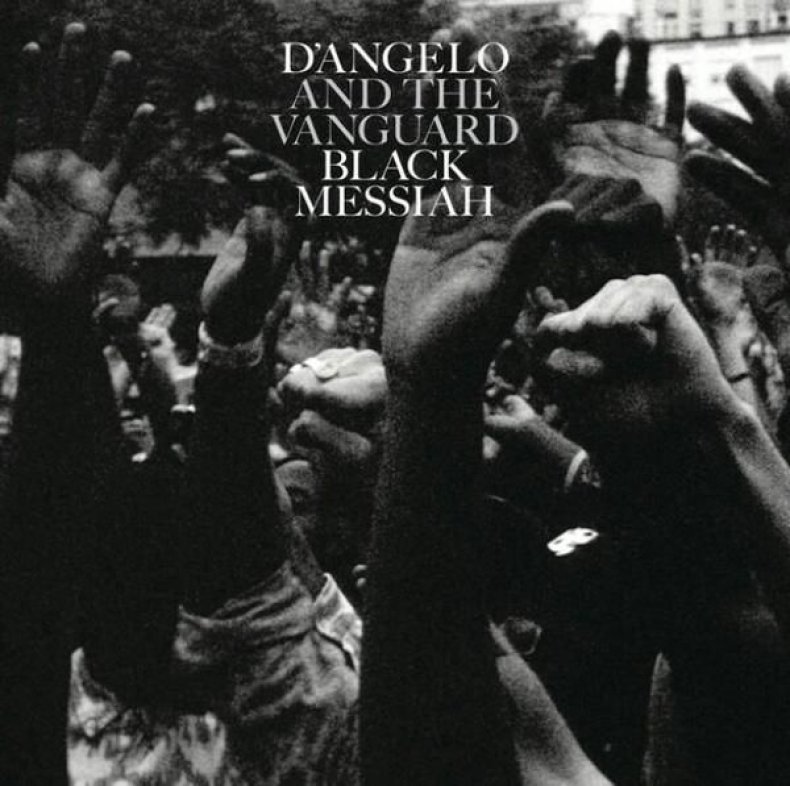 After a brief European tour and a handful of festival appearances in the past couple of years, D'Angelo is back up to speed. A few tracks on Black Messiah share the same irresistible groove of Voodoo—in fact, the same rhythm section performs on a sizable part of the album, with a few others added to his new "Vanguard" band—but many more display a forward-thinking, sometimes psychedelic, hard-edged take on soul music. The music of Marvin Gaye, Curtis Mayfield, Sly Stone and Prince that inspired that past album are alive and well on Black Messiah.
Black Messiah is a lofty title, one that D'Angelo himself addresses in a written statement preceding the album's lyrics in the booklet distributed at Sunday's event. The religious overtones will likely prove unavoidable for a musician once thought of as a savior when it came to the superficial R&B of the late 1990s, but D'Angelo's thematic focus is distinctly contemporary and certainly empowering. "It's about people rising up in Ferguson and in Egypt and in Occupy Wall Street and in every place where a community has had enough and decides to make change happen," D'Angelo writes. "Black Messiah is not one man. It's a feeling that, collectively, we are all that leader."
Whether the message will land with audiences still has to be determined. But unlike Voodoo's gritty sexuality, much of the new album's lyrical content is politically oriented. Black Messiah features couplets such as "All we wanted was a chance to talk / 'stead we only got outlined in chalk," off of "The Charade," and mentions of climate change in "Till It's Done (Tutu)" offer a bulwark against criticism that the album's message should necessarily be dated because its production began at the turn of the century. It falls short of Public Enemy-level diatribe, but the political consciousness is admirably current.
The music, too, feels updated; D'Angelo reportedly plays many of the guitar parts on the album, evident in the choppier funk chords sharpening the silky edges of his previous work. And where a sparer sound came to define Voodoo, string arrangements accent several of Black Messiah's tracks, with swirling synths, Spanish guitar and sitar making appearances as well. The sonic diversity is especially impressive given the fact that the album was recorded directly to two-inch tape, a conscious choice by D'Angelo and an offshoot of the relentless perfectionism his close associates point to when discussing the long wait for Black Messiah.
The album's second side begins with a clever acknowledgment of D'Angelo's situation as an artist in "Back in the Future (Part I)." He longs for "the way it was," but is acutely aware of how he is being seen, especially in light of his infamous and steamy "How Does It Feel" music video: "So if you're wondering about the shape I'm in / I hope it ain't my abdomen that you're referring to." Though that may be the image he left his fans with, 14 years of anticipation may have had its intended effect: Those wondering about D'Angelo were doing so for musical reasons, and the Black Messiah has finally arrived.