After $1.75 Million in Fines, NFL Threatens Maskless Coaches With Suspension
Despite already handing out $1,750,000 in fines, the National Football League (NFL) is continuing to lay out new penalties for sideline personnel, including coaches, who do not properly follow the league's face mask protocols.
The NFL's executive vice president of football operations, Troy Vincent, warned team executives, general managers, head coaches, athletic trainers and public relations directors across all 32 teams that further violations could result in suspensions or forfeitures of draft picks.
The league has already fined five head coaches and their respective franchises for failing to ensure their faces remained covered during Week 3 games.
Pete Carroll of the Seattle Seahawks, Vic Fangio of the Denver Broncos, Jon Gruden of the Las Vegas Raiders, Sean Payton of the New Orleans Saints and Kyle Shanahan of the San Francisco 49ers were each fined $100,000. Each of their teams was also fined $250,000.
But as coaches continued to disregard the NFL's mask mandate despite the six-figure disciplinary measures, the league took further steps in hopes to get them on board.
"While we saw significant progress in Week 3 with compliance from club personnel, wearing of protective equipment is still not universal, and this lack of compliance creates unnecessary risk to game-day participants," the memo, obtained by the Associated Press, read.
"We will continue to address lack of compliance with accountability measures that may also include suspensions of persons involved, and/or the forfeiture of a draft choice(s)," Vincent wrote on Wednesday.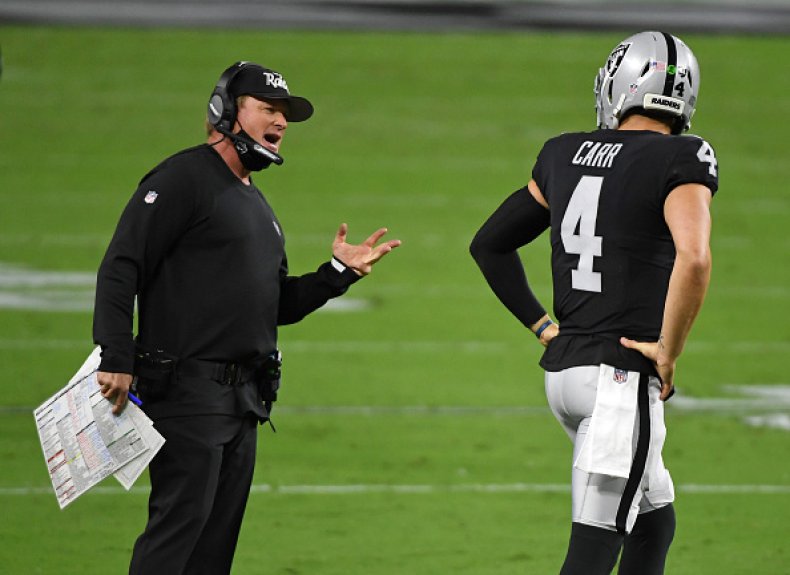 Gruden, who has already received a fine, struggled to keep a mask on during Sunday's game against the New England Patriots.
In a postgame interview, Gruden said the mask interfered with ability to communicate with his players.
"I'm doing my best. I've had the virus. OK? I'm doing my best. I'm very sensitive about it, but I'm calling plays. I just want to communicate these situations. I apologize," he said on Monday. "And if I get fined, I will have to pay the fine. I'm very sensitive about all of that, and I apologize."
Newsweek reached out to Gruden for comment but did not hear back before publication.
Payton also previously tested positive for the coronavirus and was the first NFL figure to publicly acknowledge the diagnosis back in March, tweeting, "Appreciate the well wishes. I'm feeling better and fortunate to not have any of the respiratory symptoms. 4 more days at home. #BEATCovid."
The NFL returned for the 2020 season less than a month ago but the league is already dealing with its first outbreak. On Tuesday, three players and five team personnel from the Tennessee Titans tested positive for COVID-19. A fourth player tested positive on Wednesday.
"We are only through Week 3 of the season. If we are to play a full and uninterrupted season, we all must remain committed to our efforts to mitigate the risk of transmission of the virus," Vincent wrote in the memo.
"A failure to adhere to the negotiated protocols or to government directives can have an adverse impact on both other players or staff members of your club, and of other clubs as well," he added. "Selective or inconsistent compliance threatens to undermine fan confidence in our health and safety protocols and the competitive fairness and integrity of the NFL season."
Shanahan said the outbreak among the Titans showed the rest of the league how their actions could cut the season short.
"It happened to the Titans this week and you see what happens, and once that happens, you do have to shut things down and that is a huge deal. If you let that get out of hand, that would be very tough for our league finishing the season," told Newsweek.
"Last week was the first time that I did it every single play, kept it on throughout the whole game. It's not the most fun thing, as everyone realizes, but it's definitely worth it and something we need to do," Shanahan added. "I feel a lot safer in the games and a lot safer in this building with us getting tested every day and everyone else in here."
Newsweek reached out to the Seahawks, the Broncos, the Saints and the NFL for comment but did not hear back before publication.
This story was updated on October 1 with comments from Kyle Shanahan.