After Two Deaths During Kenosha Protests, Trump Sending Federal Troops to 'Restore Law and Order'
President Donald Trump said Wednesday he will send federal troops into Kenosha to assist local law enforcement after a third night of violence in the Wisconsin city left two people dead.
"We will NOT stand for looting, arson, violence, and lawlessness on American streets," Trump tweeted. The president added that his staff recently spoke with Wisconsin Governor Tony Evers, who agreed to accept the federal troops in his state, according to the tweet.
"TODAY, I will be sending federal law enforcement and the National Guard to Kenosha, WI to restore LAW and ORDER," Trump said in a second post on Twitter.
The president did not specify the size of the federal force that he and Evers agreed upon. Newsweek reached out to Evers' office for comment but did not receive a response in time for publication.
The governor's office said in a news release that Evers approved on Wednesday evening 500 members of the Wisconsin National Guard to assist local law enforcement. "The governor is continuing to work with other states in facilitating additional National Guard and state patrol support," the release said.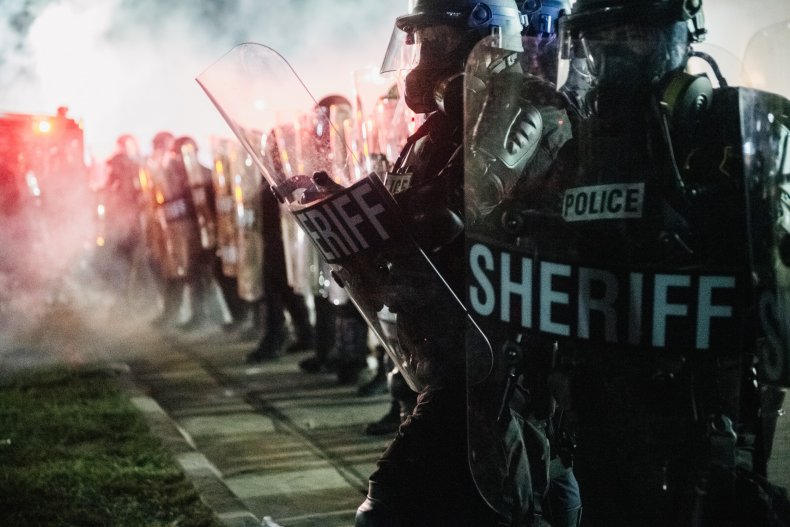 Protests began in Kenosha on Sunday night after a video that showed the shooting of Jacob Blake, a 29-year-old Black man, began circulating on social media. According to attorney Ben Crump, who said Monday he plans to represent Blake, the man was shot in the back several times by police as his three children watched.
The following days of protests in the city have been marked by violence. On Tuesday night, two people died and another person was seriously injured in a shooting that occurred shortly before midnight in one of the protest areas. The alleged shooter was arrested on Wednesday and is expected to appear in court on Friday.
Evers was quick to speak out against Kenosha police after Blake was shot on Sunday. At the time, the governor said that Blake was "not the first Black man or person to have been shot or injured or mercilessly killed at the hands of individuals in law enforcement in our state or our country." In the days afterward, the governor has reiterated that residents have the right to protest but has repeatedly pleaded with demonstrators to do so peacefully.
On Tuesday, Evers said in a tweet that Monday night's protests "put individuals, families and businesses in danger" and declared an official state of emergency in Wisconsin.
Evers first called in the Wisconsin National Guard to help local police monitor the protests on Monday. He said the National Guard troops should help law enforcement protect important infrastructure but should not block peaceful protest efforts or media coverage of the events. He increased the Wisconsin National Guard's presence in Kenosha to 250 members on Tuesday after Monday night's violence. That force was expected to double on Wednesday night, following the fatal shootings on Tuesday.
In a statement that Evers' office shared following the news of the alleged shooter's arrest, the governor said the suspect "must be held responsible" and once again called upon protesters to demonstrate peacefully.
"We cannot let the hateful actions of a few designed to create chaos distract us from our pursuit for a more fair, equitable and accountable state and country for Jacob Blake and the many others who deserve justice," the governor said. "We must work to find strength in each other and our communities to rebuild and move our state forward, together."
This story has been updated with additional information and background.