After 250 NJ School Teachers Seek Leave of Absence, District Cancels In-Person Learning
Many school districts throughout the country are facing a tough decision as the academic year approaches, as the coronavirus pandemic continues. One district in New Jersey decided to switch from hybrid learning to entirely remote learning after 250 teachers requested a leave of absence for the 2021 school year.
The Freehold Regional High School District, NJ.com reported, will have no in-person classes when school resumes on September 10. Superintendent Charles B. Sampson shared a letter on the district's page this Wednesday, detailing the decision.
Sampson began the note by mentioning how the district was preparing for a reopening for months with hybrid learning in mind. New health and safety standards were put in place, which included "temperature scanning devices, personal protective equipment, reconfigured classrooms, touchless fixtures in bathrooms and high touch areas, and effective cleaning equipment."
The original plan for the Freehold Regional High School District had students attending in-person classes two days a week, alternating on Wednesdays based on their last name, and working online the remaining two days. A survey conducted among parents in the school district noted that 82 percent of parents supported a hybrid model for instruction.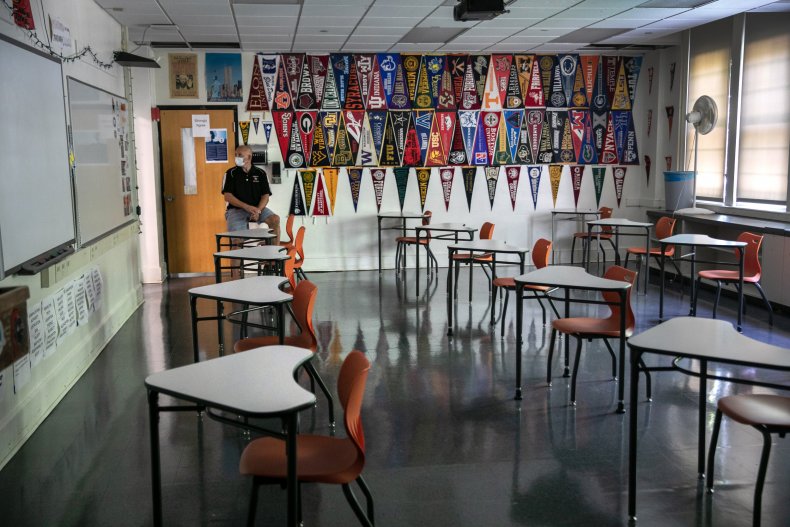 However, 250 employees were seeking a leave of absence due to COVID-19 concerns, which left the superintendent with a new issue.
"Unfortunately, a significant number of employee workplace accommodations and leave requests will not allow us to adequately staff our buildings in a manner that provides for effective teaching and learning to occur in our Hybrid Schedule," Sampson continued. "We now face a staffing challenge making opening in the hybrid Schedule impossible at this time."
Sampson also mentioned Governor Phil Murphy's Executive Order No. 175, which allows school districts to delay resuming in-person learning for the school year and begin with full-remote instruction. When safety and health issues are resolved, the districts can then resume hybrid learning.
"In allowing this remote choice, he opened the door to a cascading series of events that placed intense staffing pressures on schools committed to opening as they struggle to remain open as neighboring districts shutter their doors," the superintendent wrote. "This poorly developed plan has had the distinct impact of forcing many districts to adopt a remote option regardless of community sentiment. This approach has also pitted school districts and communities against one another."
In order to successfully shift to hybrid learning by October 19, the district would need 1,300 in-person teaching staff onsite.
The Freehold Regional High School District's website also has a link for job applications. "Apply today for immediate consideration," the site reads. "Substitute and Tenure track positions are available. Excellent pay and working conditions. All applications will be personally reviewed." Whether or not these applications became open due to the increase leave of absence requests remains unclear.
Newsweek reached out to the Freehold Regional High School District and did not receive comment at the time of publication.