Eight years after it was introduced in the Senate, a bill to revamp the way the U.S. military handles sexual assault cases and other crimes has finally gained enough co-sponsors to pass.
The Military Justice Improvement and Increasing Prevention Act, a sweeping overhaul of the military's justice system, has been backed by 61 members of the upper chamber—one vote greater than the filibuster threshold.
Senator Kirsten Gillibrand, who first introduced the legislation in 2013, celebrated the milestone in a Twitter post on Thursday.
"When I first introduced the #MJIIPA in 2013, I started keeping a whip list on a giant whiteboard as a giant reminder of the work needed to pass the bill," the New York Democrat wrote. "Today, we finally hit over 60 co-sponsors. Justice for survivors of military sexual assault is finally within reach."
As of Thursday, 41 Democrats, two independents and 18 Republicans had signed on as co-sponsors, according to The Wall Street Journal.
The bill would change how the military prosecutes sexual assault and other serious crimes by, for the first time, moving cases out of the chain of command to independent, trained military prosecutors.
It would also provide new prevention provisions, such as better training and education for officers, as well as increased security measures.
The Pentagon had long pushed back on the proposal, arguing that taking such matters out of the commanders' hands would cause a breakdown in unit cohesion. The Pentagon had also once argued that commanders did a better job than prosecutors of representing military victims' interests.
But last month, a panel created by Secretary of Defense Lloyd Austin agreed that decision-making on sexual assault cases should be taken out of the chain of command.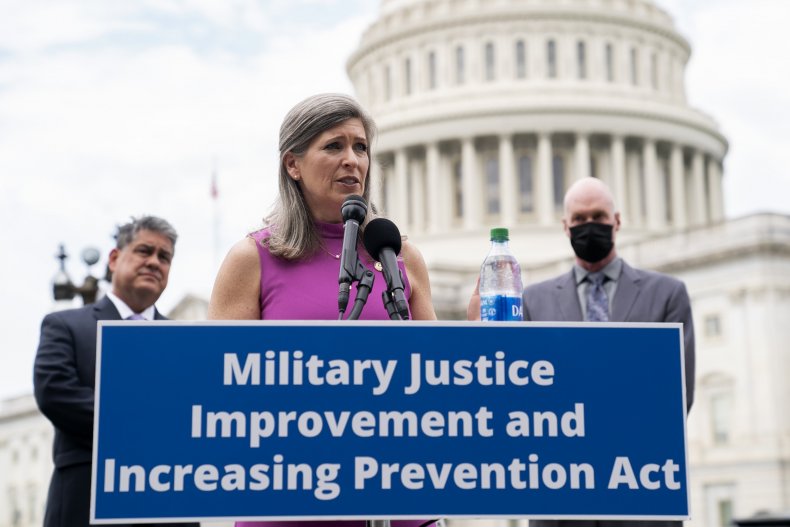 The bill also picked up steam after Gillibrand partnered with Republican Senator Joni Ernst, a combat veteran and sexual assault survivor.
"Gaining this overwhelming support for our bill is a critical step in making it law," Ernst tweeted Thursday. "I'm grateful to my colleagues for their support to strengthen our fighting force and ensure all servicemembers are treated with the dignity and respect they deserve."
The bill will need to pass both the House of Representatives and Senate before it can be sent to President Joe Biden's desk for signing, but lawmakers from both sides of the aisle have said they think passage is assured.
The number of sexual assaults reported in the military has been on the rise in recent years. The most recent report from the Department of Defense estimated that around 20,500 service members, 13,000 women and 7,500 men had experienced some form of sexual assault in 2018.
In 2019, the number of reported sexual assaults the department tracked increased by 3 percent. The 2020 report has not been released yet.
Newsweek reached out to Gillibrand's office for comment but did not receive a response before publication.