After Alleged Traffic Guard Attack, Violent Suspect Refused Arrest So Police Let Him Go
Police in Burlington, Vermont apprehended an assault suspect Thursday they had initially let go because of his history of unpredictable violent attacks.
When law enforcement officers tried to arrest Matthew Kaigle, a 33-year-old white male on Wednesday after he was accused of attacking a traffic guard, "Kaigle refused to exit his vehicle after being told multiple times he was under arrest," according to a police report. "Officers did not pursue Kaigle due to his unpredictable and violent history."
In this most recent incident, Kaigle was allegedly involved in an altercation with two construction traffic flaggers. Kaigle reportedly yelled at one of them while being stopped in traffic and then drove to a market. He soon drove back to the construction site and became "verbally aggressive," local news station NBC 5 reported.
Kaigle allegedly slapped one of the traffic guards and tried to punch another construction worker who had come over to try to help, according to police. He was also accused of threatening the workers with a hunting knife he brandished at the scene.
He was stopped in his white Chevy truck by police soon after, but reportedly refused to exit his vehicle to be arrested, and eventually simply drove away. At this point, police declined to pursue him. According to Burlington police, the suspect was apprehended without incident on Thursday night.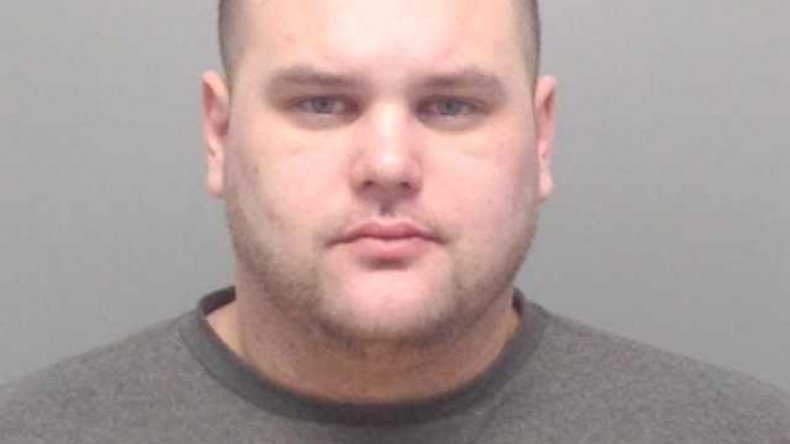 In an email with Newsweek, Burlington Police Chief Jon Murad said: "As police, our first job is to keep people safe...In this instance, the choice not to pursue was based on the nature of the alleged crime, the fact that the BPD had identified the alleged perpetrator and felt confident it could locate him again, and an evaluation of the risks of initiating a vehicle pursuit involving a person who has displayed erratic and dangerous behavior in the past."
Murad said Kaigle was apprehended on Thursday night and would be arraigned Friday.
Police have since said Kaigle "displayed many violent tendencies toward other members of the public" recently, causing multiple parties to refuse to cooperate with investigations against Kaigle out of "fear of retaliation."
Kaigle has had several dozen encounters with law enforcement this year, according to police, and has been accused of assault and hate crimes multiple times. His convictions include felony charges and multiple offenses for violating court orders or parole.
Police say Kaigle threatened someone with a sledgehammer earlier this year. And at the end of July, Kaigle was arrested for attacking and beating two separate people in one day. In one of the incidents, he allegedly made racially motivated verbal attacks before the beating.
Updated 09/04/2021, 2:28 p.m. ET: This story has been updated to correct an inconsistency in Kaigle's stated arrest status.