After Bernie Sanders Leads Trump by Widest Margin in 2020 Poll, President Says 'Dems Will Never Allow Him to Win'
President Donald Trump on Thursday reacted to Senator Bernie Sanders leading the Democratic 2020 primaries in recent polls by claiming that the party "will never allow him to win."
In a poll conducted by SurveyUSA, 52 percent of voters surveyed said they would vote for Sanders, while Trump only garnered 43 percent. As previously reported by Newsweek, Biden landed at 50 percent, placing him in a statistical tie with billionaire Michael Bloomberg who received 49 percent in the poll. Senator Warren came through with a three-point lead over Trump, coming in at 48 percent.
"Crazy Bernie takes the lead in the Democrat Primaries, but it is looking more and more like the Dems will never allow him to win! Will Sleepy Joe be able to stumble across the finish line?" Trump tweeted.
Trump may have been referring to Sanders' outsider image. Sanders is seen by his supporters as an antiestablishment candidate versus more moderate voices in the current race like former Vice President Joe Biden or former South Bend, Indiana mayor Pete Buttigieg.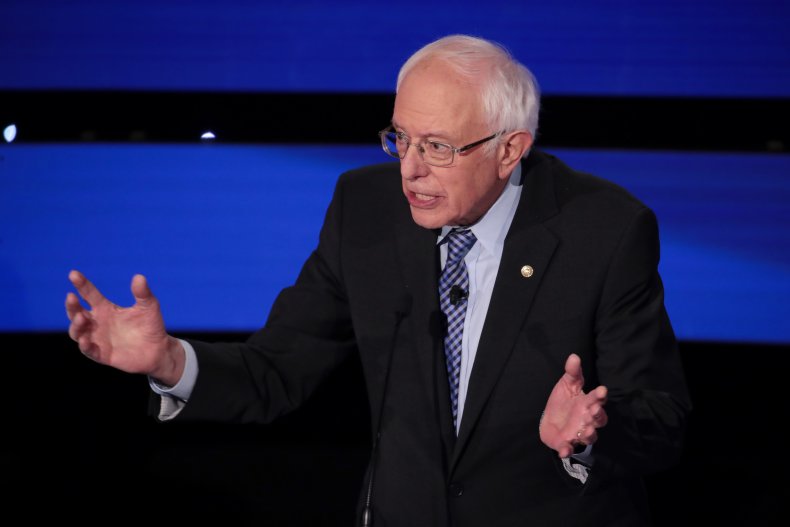 His outsider status was highlighted by recent comments from former presidential candidate Hillary Clinton. In an upcoming documentary, Clinton said of Sanders "Nobody likes him," referring to his fellow senators.
"Nobody wants to work with him, he got nothing done," Clinton said. "He was a career politician. It's all just baloney and I feel so bad that people got sucked into it."
In response to Clinton's comments, the #ILikeBernie hashtag trended as Sanders' supporters professed their admiration for the candidate. Other politicians came forward as well, including Rep. Ilhan Omar (D-Minn.) and fellow presidential candidate Tom Steyer.
Democratic presidential Tulsi Gabbard of Hawaii, who is currently suing Clinton for defamation, took Clinton to task for her comments.
"This isn't high school," Gabbard told WMUR. "We're talking about real challenges that our country needs to address, and the need for real leadership to focus on them, not on what's going on in Washington and the schoolyard cliques, or whatever else it may be."
Sanders responded to Clinton's comments by telling ABC News reporters in January, "On a good day, my wife likes me," before pivoting to speaking about the Senate impeachment trial of President Trump.
Newsweek reached out to the Sanders campaign for comment but did not receive a response in time for publication.