After Biden Campaigned on 'Master Plan' to Fight COVID, McConnell Targets His Vaccine Pace
President Joe Biden is under Republican fire for taking a similar path as his predecessor, Donald Trump, when it comes to the pandemic.
Biden campaigned heavily on being the leader America needs amid a crisis such as the pandemic and having a plan that would control outbreak and return American life to normalcy. However, his initial vaccine timeline fell in line with Trump's, and some have called out Democrats for being hypocrites amid his decision to halt travel from South Africa, where a concerning new strain has been found.
Senate Minority Leader Mitch McConnell on Monday criticized Biden for pushing his "master plan" on the campaign trail and then changing tune once taking office.
"But now that they're in office, President Biden has said, quote, 'There's nothing we can do to change the trajectory of the pandemic in the next several months.' And his administration is apparently content to maintain the same vaccine pace they inherited," McConnell said.
Newsweek reached out to the White House for comment but did not receive a response in time for publication.
Biden's initial goal was to administer 100 million doses of the vaccine within his first 100 days in office, amounting to 1 million doses per day. Some greeted the 100 million doses in 100 days goal with skepticism, given that the Trump administration failed to meet its goals, but 1 million doses per day has proved to be doable.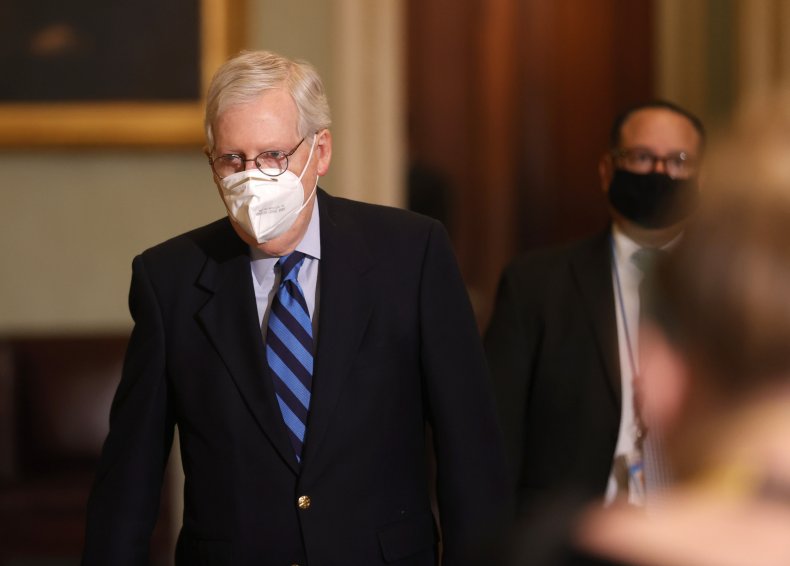 On January 13, 14 and 16, the U.S. breached the 1 million per day threshold, according to data compiled by Bloomberg News, reaching a record daily high of 1.6 million on Biden's inauguration.
"They're claiming the exact same number can be either a total catastrophe or a smashing success, depending on whether Democrats are in power," McConnell said on the Senate floor.
Biden, who's pushed back on criticism that his goal wasn't ambitious enough, raised his daily goal to 1.5 million doses on Tuesday, just hours after McConnell's speech.
"I think with the grace of God, the good will of the neighbor and the creek not rising, as the old saying goes, I think we may be able to get that to 1.5 million a day, rather than 1 million a day," Biden said.
To achieve either of the targets, Biden said, there must be enough of the vaccines, syringes and equipment, as well as enough people to administer the vaccine. To that end, Biden said, he was going to expand the pool of medical professionals who can administer the vaccine, as well as pharmacy availability.
Biden said that getting people vaccinated will be one of the "greatest operational challenges" America's ever faced, but it's also considered key to ending the pandemic. Up to 90 percent of Americans must be vaccinated to reach herd immunity, according to Dr. Anthony Fauci, director of the National Institute of Allergy and Infectious Diseases.
Given the new strains that have emerged from South Africa and the United Kingdom, Fauci said Thursday, vaccinating people is more important than ever.
"Viruses don't mutate unless they replicate, and if you can suppress that you can actually avoid the diminutive effect by the mutations," he added.