After Nashville Blast, AT&T Reports Major Service Outage, Including on Emergency Lines
AT&T reported a widespread internet outage after an intentional explosion occurred outside of one of its buildings in Nashville, Tennessee on Christmas morning.
The service outage has reportedly affected 911 access and non-emergency lines, hospital systems, and other systems including ATM's and card readers in the Nashville area and Middle Tennessee. On Saturday, a Walmart spokesperson confirmed to Newsweek that some of its stores in the area were affected by the internet outage.
"Due to an AT&T outage in the area, some of our stores are experiencing temporary internet outages. We are actively working with local personnel to get our stores back online and apologize for any inconvenience this may cause" a Walmart spokesperson said on Saturday.
AT&T said on Saturday that its teams are working nonstop to restore power across the area.
"Our teams continue to work around the clock on recovery efforts from yesterday morning's explosion in Nashville. We have two portable cell sites operating in downtown Nashville with numerous additional portable sites being deployed in the Nashville area and in the region," the company said in a statement.
AT&T added that "challenges remain" to restoring power and said that a fire reignited inside the building overnight and led the building to be evacuated.
"Currently, our teams are on site working with safety and structural engineers. They have drilled access holes into the building and are attempting to reconnect power to critical equipment. Technical teams are also working as quickly as possible on rerouting additional services to other facilities in the region to restore service," the company said.
"We continue to be grateful for the work of first responders as they respond to this event and help protect our team working to restore service for our customers."
The outage occurred after an RV exploded outside of an AT&T building around 6:30 a.m. local time Friday morning.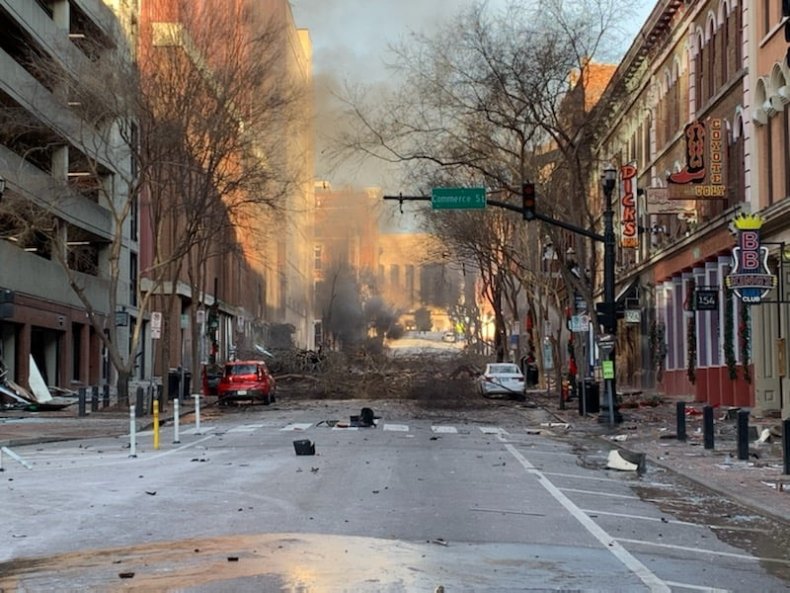 Before the incident took place, a recorded announcement coming from inside the RV warned that an explosive device was set to denote, authorities said in a press briefing on Friday.
So far, three people have been hospitalized with injuries and at least 41 buildings have been damaged by the blast. Though authorities believe the explosion was "intentional" they have not yet identified any suspects or motives involved in the incident.
Authorities do not yet know if the explosion was meant to target AT&T specifically.
The investigation is being led by local police and personnel at the Federal Bureau of Investigation (FBI), alongside others at the Metro Nashville Police Department and Bureau of Alcohol, Tobacco, Firearms and Explosives.
A White House Spokesperson told Newsweek Friday that President Donald Trump had been briefed on the explosion.
"President Trump has been briefed on the explosion in Nashville, Tennessee, and will continue to receive regular updates. The President is grateful for the incredible first responders and praying for those who were injured," said White House Deputy Assistant Judd Deere.