After Bomb Blasts, A German City Rallies to Support Opposition Fans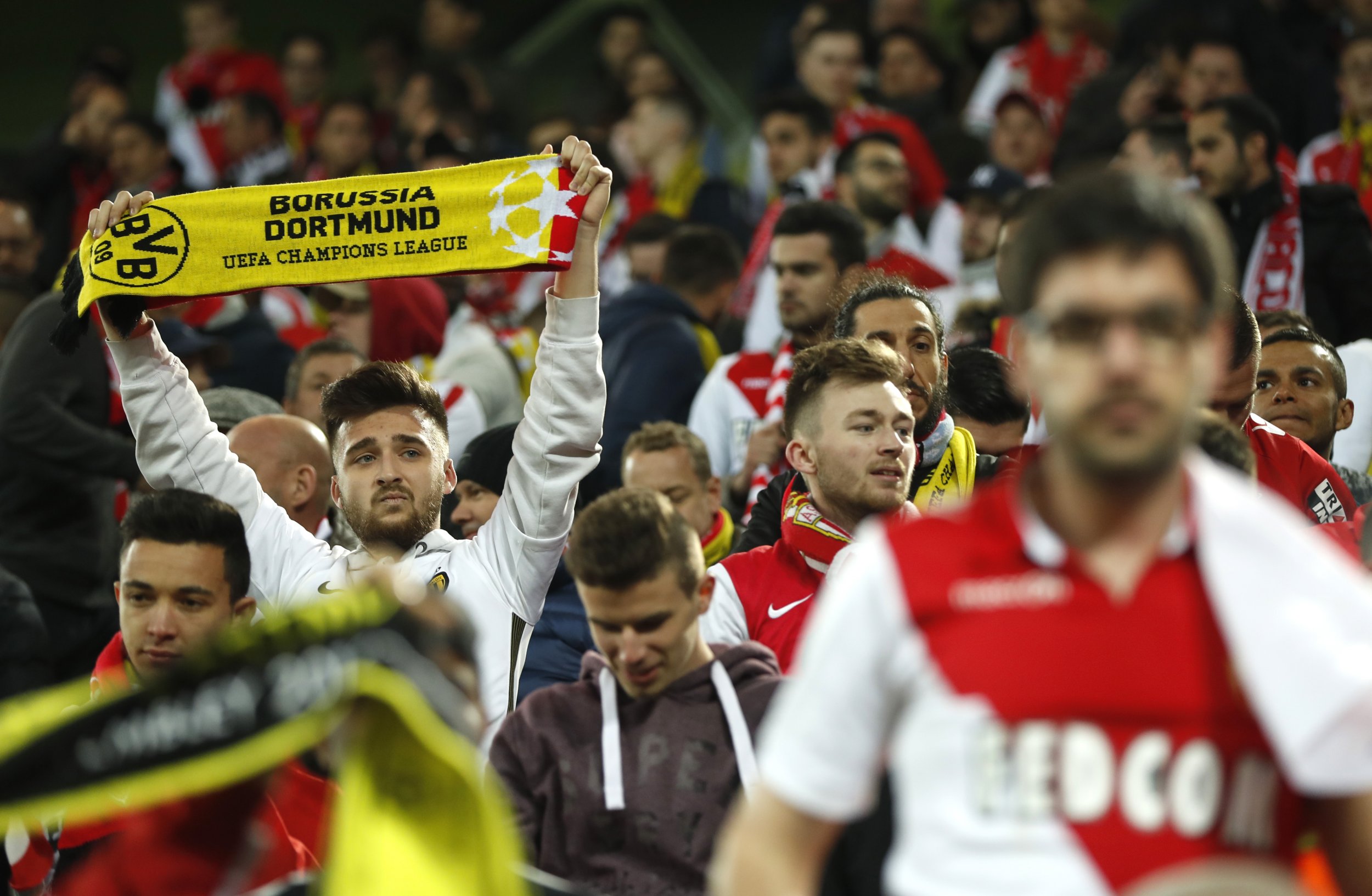 As the fans of A.S. Monaco landed in the German city of Dortmund on Tuesday, they anticipated a classic Champions League duel between their Les Rouges et Blancs, or the Red and Whites, and Die Schwarzgelben (the Black and Yellows) of Borussia Dortmund. They expected goals: the latter is the second-highest scoring team in Europe's top competition. They received neither.
Three devices detonated in close proximity to the Borussia team bus some six miles from the club's home ground, the 80,000-seater Westfalenstadion , as it transferred players to the game. The explosions smashed the bus windows on one side and Spanish international Marc Bartra broke his wrist in the force of the blast.
Authorities postponed the game shortly before the 8.45 p.m. kick-off time, as security forces led the club's top stars, including Patrick Aubameyang, to safety. Prosecutors said Wednesday they had arrested an "Islamist" suspect in connection with the attack and were investigating a "terrorist link."
Read more: Germany arrests "Islamist" suspect over Borussia Dortmund bus attack
But the cracking of Borussia's bus windows also ended up shattering football rivalries on Tuesday night. Dortmund natives quickly opened their homes to stranded Monaco fans, offering them free accommodation.
On Wednesday, Borussia's chief executive Hans-Joachim Watzke said his team, set to play the rescheduled game on Wednesday evening, would do so "for everyone… to show that terror and hate can never determine our actions." This attitude had already spread between locals and rival Monaco fans alike.
After Monaco fans—a 3,000-strong contingent already packed into their section inside the Westfalenstadion —were captured on film chanting "Dortmund! Dortmund!" in solidarity with the club after the attack, the hashtag #bedforawayfans began to trend on Twitter. Borussia urged the help itself, tweeting for residents to help "Dear supporters of AS Monaco."
Citizens of the city, with a population of almost 600,000, posted messages offering a roof over the heads of hundreds of Monaco fans left in the city with a valid ticket to the game, but nowhere to stay for the night. Many took the locals up on their offer.
The act won praise across Europe. French sports newspaper L'Equipe wrote "All together!" after Dortmund's offer of help Monaco fans. Britain's Guardian newspaper wrote "Dortmund and Monaco fans unite." Twitter user Ivan Casanova wrote: "Watching and reading hashtag #bedforawayfans is the most wonderful thing I've seen during this hard 2017. How could I not love you, soccer?!"
Thomas Thiel, a 32-year-old German journalist, posted a tweet late Tuesday: "If someone still needs a place to sleep for tonight in Dortmund, don't hesitate to contact me." Monaco fans contacted him almost immediately, he says. One group wrote: "Hey, can you help us? We are lost in Dortmund and we need a place to sleep," Thiel recalls.
After arranging a meeting point, five fans who had traveled by bus from Nantes—wearing scarves and flags, and "a bit drunk"—greeted Thiel at a junction in the "Kreuzviertel" area of Dortmund, a 20-minute walk from the city center. He gave them each a bed for the night.
"They only wanted to have a decent sleep," he says, adding that they turned down his offer of a beer. "They were quite sleepy so it was not a problem."
Read more: Dortmund defender Marc Bartra undergoes operation after getting injured in bus explosions
Thiel says "a feeling of solidarity" urged him to spontaneously open his doors to the Monaco fans. "I think if I imagine myself to be in such a situation that I would be glad if some local guy would help me," he says. "It wasn't a big deal."
It was an act that many other Dortmund citizens took upon themselves, something that Thiel attests to the spirit of the western Ruhr region, where the city is situated. "It says we are a city that is very hospitable and when we are in times of crisis we stand together and do it the Ruhr area way," he says. "I think that it's just very common here to help other people on short notice and without many questions."
The next morning after a round of coffee, he prepared to head to work—but not before the Monaco fans handed him a red and white scarf. It was one final moment of camaraderie between Thiel and the Frenchmen he had sheltered, a memento of a night now etched into the history of Dortmund, and the club it adores.