After Brandon Bernard, Four More Executions Are Scheduled Before Biden's Inauguration
After Brandon Bernard was executed on Thursday night, four more executions are expected to be carried out before President-elect Joe Biden's inauguration, bringing the total number of federal executions to 13 under the Trump administration come January.
A day after Bernard was executed in Terre Haute, Indiana, 56-year-old Louisiana trucker Alfredo Bourgeois is expected to be executed by lethal injection for murdering his 2-year-old daughter, JG, in Texas in 2002. The Department of Justice (DOJ) said Bourgeois "abused, tortured, and beat to death his young daughter."
Like Bernard, Bourgeois' execution will take place at the Federal Correctional Complex in Terre Haute.
Three more inmates are set to die just a week before Biden is expected to take office: Lisa Montgomery, the first woman on death row in 60 years, who is scheduled to die on January 12 for the 2007 kidnapping and killing of Bobbie Jo Stinnett; Cory Johnson, who was convicted for multiple murders as part of a drug gang and is slated to be executed on January 14; and Dustin John Higgs, who is scheduled to be executed on January 15 for his role in the murders of three people.
After 17 years without any federal executions, the Trump administration reversed course in July, carrying out three executions in four days after the Supreme Court shut down various challenges. If Bourgeois' execution is carried out Friday, the Trump administration's revival of federal executions would have resulted in 10 of the 17 total executions conducted nationally this year.
The Trump administration's rush to execute prisoners before Biden's inauguration has been widely criticized, especially since the president is on track to carrying out five executions during the lame-duck period while Biden ran on an anti-death penalty platform. Bernard's execution was the first execution to be carried out during the presidential transition period in 130 years.
Biden spokesman TJ Ducklo told The Washington Post that the president-elect "opposes the death penalty, now and in the future, and as president will work to end its use." Biden's website details a criminal justice plan that "will work to pass legislation to eliminate the death penalty at the federal level, and incentivize states to follow the federal government's example."
U.S. Attorney General William Barr announced last year that federal executions would resume after a nearly two-decade lapse. He also noted that the Justice Department will use a new lethal injection protocol that involves replacing a three-drug lethal combination with one drug, pentobarbital.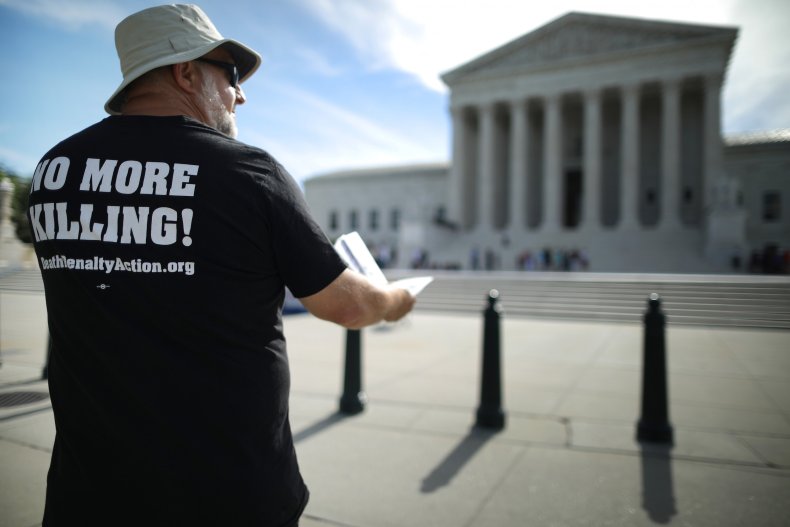 Bernard was executed on Thursday over the killing of two youth ministers, Stacie and Todd Bagley, in 1999 when Bernard was 18 years old. The gunman, Christopher Vialva, was executed for the same killing in September, while three other Texas gang members involved in the crime received lesser sentences.
This week, Bernard's case was put in the public eye by high-profile celebrities like Kim Kardashian West, who detailed a phone call with Bernard just hours before his death.
"Just spoke to Brandon for what will likely be the last time," she tweeted Thursday. "Hardest call I've ever had. Brandon, selfless as always, was focused on his family and making sure they are ok. He told me not to cry because our fight isn't over."
Bernard's attorneys argued that his execution was a "stain on America's criminal justice system" and noted that five jurors who sentenced him to death now regret their verdict. His attorneys note that Bernard embraced religion and took part in youth development programs to help troubled kids avoid the same situation.
His last words included an apology to the victims' families.
"I'm sorry," he said. "That's the only words that I can say that completely capture how I feel now and how I felt that day."
Following his execution, Todd Bagley's mother, Georgia A. Bagley, thanked President Donald Trump, Barr and the DOJ for bringing her family closure after the tragic murders.
"Without this process, my family and I would not have the closure needed to move on in life," she said in a statement provided by the Bureau of Prisons. "It has been very difficult to wait 21 years for the sentence that was imposed by the Judge and Jury on those who cruelly participated in the destruction of our children, to be finally completed."