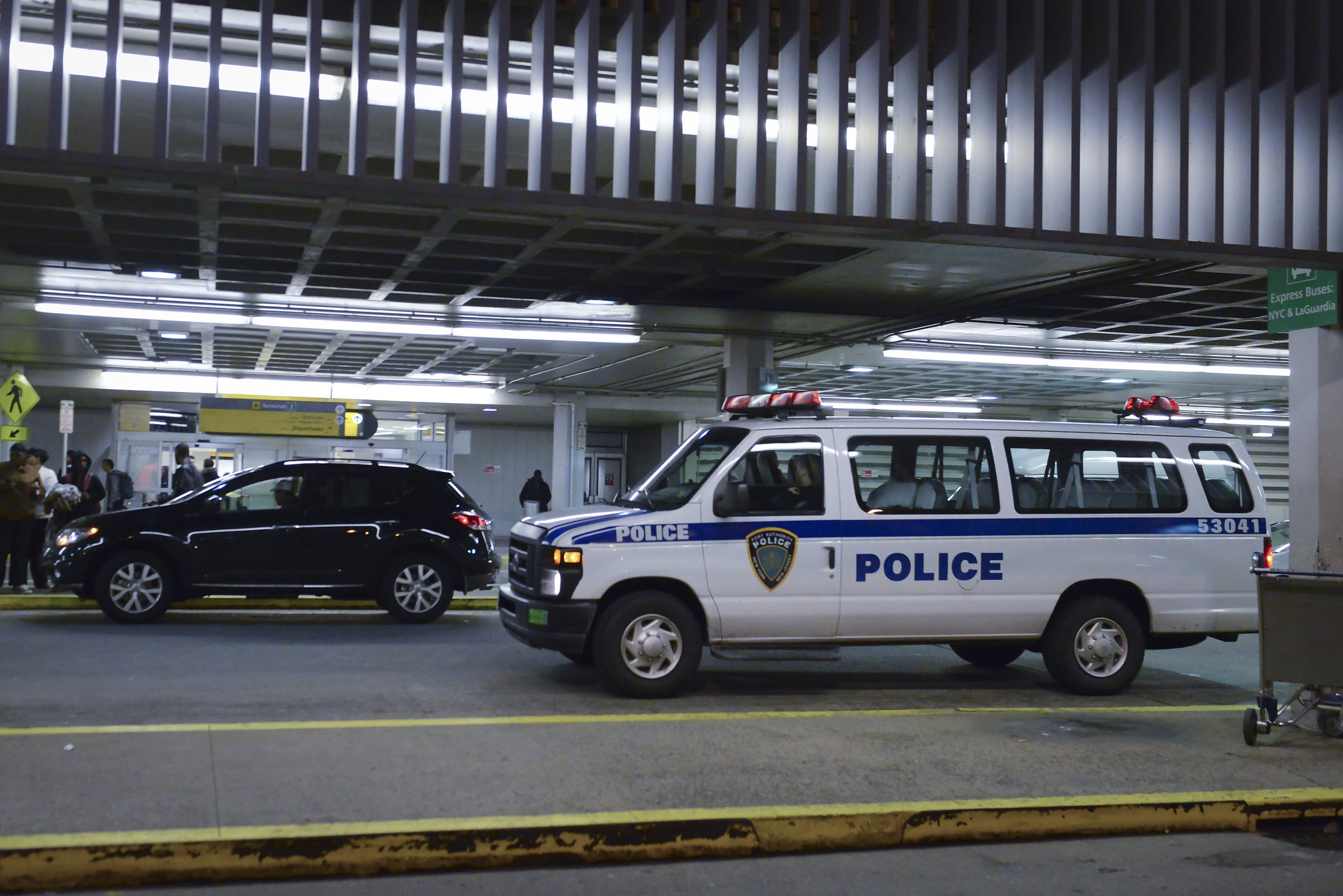 NEW YORK (Reuters) - Travelers passing through New York's John F. Kennedy International Airport this week witnessed a show of force following the Brussels airport attack: U.S. Army soldiers in khaki camouflage bearing assault rifles, police officers in black bullet-proof vests and private security guards directing traffic in neon-yellow vests.
The variety of uniforms is a sign of the overlapping jurisdictions that determine which federal, state or local agency—or even airline—is responsible for security on any particular patch of turf. That could make sweeping security changes at JFK or other major U.S. airports difficult in the wake of the deadly Brussels attack.
At JFK, the police department of the Port Authority—itself run jointly by two states, New York and New Jersey—primarily controls law enforcement. U.S. Customs and Border Protection checks identity documents while the Transportation Security Administration, part of the Department of Homeland Security, handles screening at security checkpoints.
Less visibly, the Federal Bureau of Investigation is often on the premises along with other national agencies such as the Department of Agriculture and the Bureau of Alcohol, Tobacco, Firearms and Explosives. Airlines have their own uniformed security personnel. The Port Authority can also call in the New York Police Department if something goes wrong.
The show of force may reassure travelers, but the patchwork of agencies could be a barrier to changes in security procedures, such as making airline terminals a single security zone.
Some have suggested that as a way to prevent attacks such as the one at a check-in area at Brussels' main airport on Tuesday, part of a series of explosions that killed at least 31 people.
JFK is not unique, and other major U.S. airports share similar complexities.
"It's gotten a lot worse. There are a lot more law enforcement agencies involved now than there used to be," said Robert Mann, an aviation industry consultant, who described the complicated choreography of security at airports as "ballet."
The airlines and the airport operators dislike disruption, and are counting costs minutely, while security agencies tend to want complete control, said Mann. "There is a natural tension between all of these parties, and it's brought to a head every time you try to make a change."
Even the smallest adjustments require effort.
"Prior to redeveloping Terminal 5 at O'Hare, we engaged with all of our stakeholders including TSA, as a major element of the redesign was reconfiguring the security checkpoint," said Rosemarie Andolino, recalling her experience as commissioner of the Chicago Department of Aviation. She is now chief executive of the U.S. unit of Manchester Airports Group.
Lines of demarcation differ from region to region. At O'Hare and Midway airports, the Chicago Department of Aviation has a police force whose officers carry collapsible batons but not firearms, which are instead wielded by city police on Chicago airports' premises. At Reagan and Dulles airports in the Washington metro area, airport police carry guns.
Even if JFK were to be reorganized, the intense bureaucratic upheaval may not provide a model for other airports.
"If you've seen one airport, you've seen one airport," said Mark Crosby, director of public safety and security at Portland International Airport, suggesting that one solution does not fit all.
A spokeswoman for the Port Authority, which operates New York's airports, said "coordination is critical" when it responds to a security event, and it runs regular drills with security partners. She declined to comment on whether the multiplicity of agencies at JFK might hinder change.
FOLLOW ISRAEL
The Brussels attackers exploited the fact that security is more focused on preventing attacks on airplanes rather than in airports. In Western Europe and the United States terminals are easily accessible public spaces. That is not the case in countries where attacks are more common.
At Israel's Ben Gurion Airport, at times suggested as a model for tough security, private security companies trained by the national security agency Shin Bet profile passengers, use bomb-detecting devices and question individual travelers, under the watch of police at the airport's entrance.
But that approach has limitations, and may just shift the target to another location at the airport, experts said.
"Wherever your security checkpoint is, you're still creating a target for bad people [that] you're never going to eliminate," said Crosby. "People love to cite the Israeli model. They created it more like a military facility in Iraq. But as we know, those still get attacked."
Meanwhile, there are security limitations in the existing apparatus.
TSA is "working on moving toward high-speed baggage screening, but it's not something TSA can do on their own," James Norton, a homeland security consultant and former DHS official, said. "Airports have to be a part of the conversation and see that they have the infrastructure and funding to support it."
That brings in airlines, whose airport usage fees typically fund half or more of an airport's budget. Because of that, airlines effectively have veto power over airports' capital spending plans, said Crosby.
The attacks of September 11, 2001, which put in motion the creation of the TSA, focused airlines' attention on security. But air carriers can still be reluctant to spend beyond what is required by U.S. law, said Crosby.
Airlines stressed that security is a priority.
"One of the reasons we are in the safest period of aviation is that when it comes to safety and security, we are never done," said trade group Airlines for America. "We continuously work with federal and local authorities...to ensure we are as prepared as possible to protect passengers, crew and aircraft."
There is no suggestion that the Port Authority is not able to co-ordinate the many agencies operating under JFK's roof. But the situation on the ground can be confusing.
At JFK on Wednesday, a group of heavily armed Port Authority officers said they had no problem with a Reuters cameraman filming the curbside scene.
But minutes later, a private security guard ordered the Reuters journalists to leave the terminal and walk across the street to an outdoor parking lot.