After Charlottesville Attack, Trump Retweets Meme of Train Running Over CNN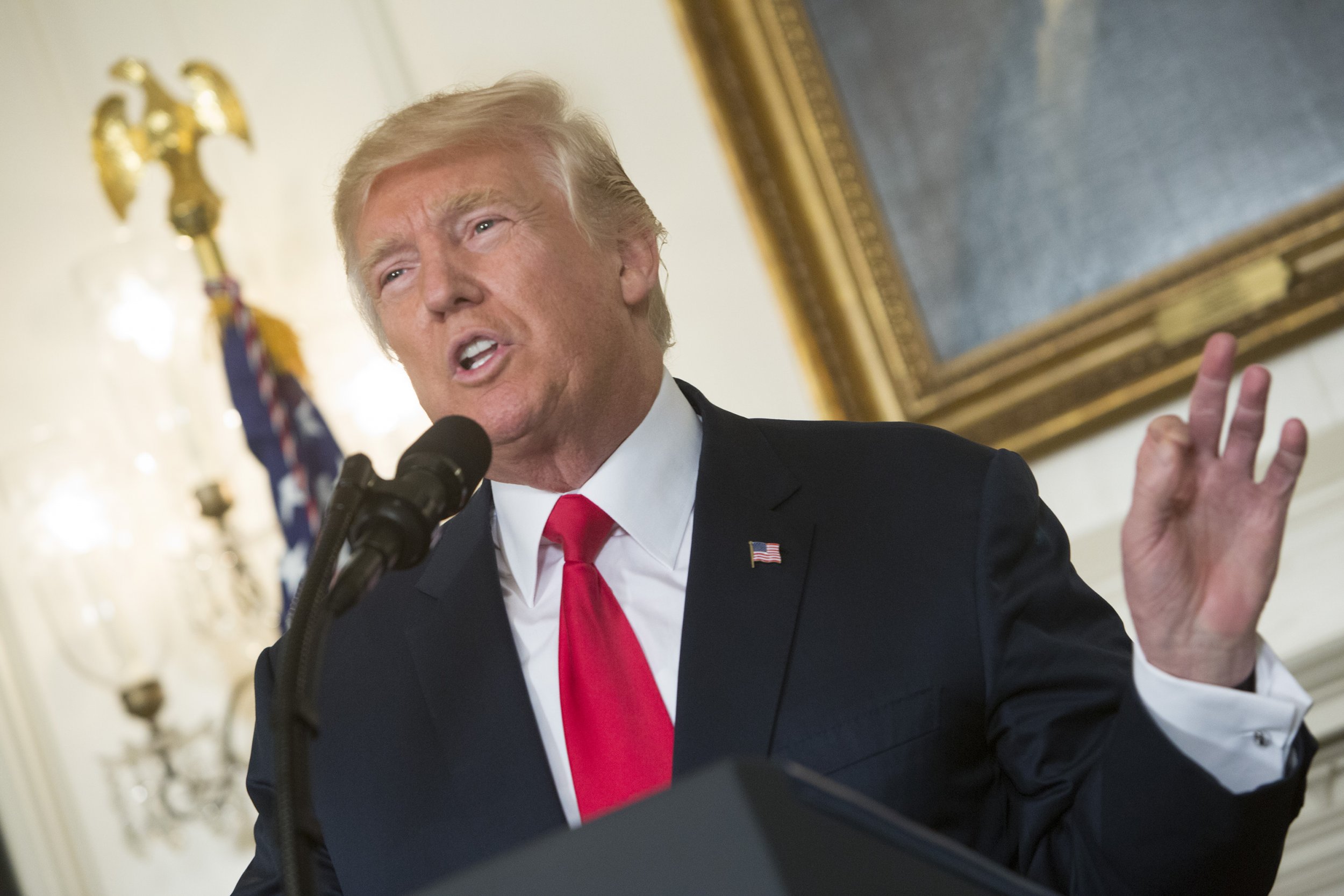 President Donald Trump retweeted an image of a "Trump train" running over a figure with its head replaced by the CNN logo, just three days after the death of Heather Heyer at a counterprotest against a white supremacist march in Charlottesville, Virginia.
Trump deleted the retweet within minutes, which appeared to suggest that he knew the image was insensitive in nature after the vehicle-ramming attack in Virginia. Users shared screenshots of the tweet by a user that read, "Nothing can stop the #TrumpTrain!!"
The original image has a donkey, the Democratic Party's symbol, instead of the CNN logo, and it appears to have been created by cartoonist Gary Varvel at The Indianapolis Star, according to his author page. It remains unclear who altered the meme to include the CNN logo.
Brian Klaas, a fellow in comparative politics at the London School of Economics, tweeted the image, writing that Trump "just retweeted this image, of a CNN journalist being killed, run over by a train 3 days after a woman was killed, run over by a car." It had been shared more than 2,000 times in less than two hours.
Heyer was protesting against white supremacists when she was struck by the vehicle in Charlottesville on Saturday. Nineteen people were injured in the car-ramming attack. James Alex Fields Jr., a 20-year-old from Ohio, has been charged with second-degree murder.
The president has been criticized since Saturday's attack for his failure to condemn members of the Ku Klux Klan, neo-Nazis and other members of the white supremacist movement.
He finally condemned white supremacists Monday, two days after the car-ramming attack in Charlottesville, calling racism "evil."
Trump caused controversy last month when he tweeted a video of himself wrestling and clotheslining a figure with a CNN logo replacing his head. It was footage from one of his prior appearances for World Wrestling Entertainment. The tweet has amassed more than 360,000 retweets, one of the most in Twitter history.
The origin of that video came from a Reddit internet forum user known as HanA**holeSolo, who wrote after Trump's tweet: "I wake up and have my morning coffee and who retweets my sh**post but the MAGA EMPORER [sic] himself!!! I am honored!!" He was referring to Trump's campaign slogan: Make America Great Again."
The user has a history of anti-Semitic and bigoted posts on Reddit, with one particular Photoshopped image showing Jewish CNN staff with the Star of David next to their faces on their headshots.
Trump's tweet of the video was a continuation of his attacks on the news media, which he has regularly called the fake news media. The Committee to Protect Journalists has warned that Trump's rhetoric toward the news media threatens press freedom and journalists across the world.
The media rights group said in February that Trump's attacks on the media do not "help our work trying to deal with countries like Turkey, Ethiopia or Venezuela, where you have governments who want nothing more than to silence and intimidate the press."
In another post on his Twitter account on Tuesday, Trump retweeted a Twitter user accusing him of being a "fascist," after the president shared a Fox & Friends article that said he was "seriously considering" a pardon for Joe Arpaio, the former sheriff of Maricopa County, Arizona. A court found Arpaio guilty of criminal contempt last month, according to The Hill, after he was ordered to stop racially profiling Latinos.
Trump has since deleted the retweet.