After CNBC Mistakes Andrew Yang for Redpoint Ventures Founder, Geoff Yang Says 'I Am Not Running for President'
Declaring he has no interest in running for president, Redpoint Ventures founder and AT&T board member Geoff Yang reacted to a CNBC infographic that replaced a picture of presidential hopeful Andrew Yang with his image.
"Ummm. This is @geoff_yang and I am NOT running for President," Yang tweeted after the image aired as part of the network's Squawk Box program on Monday.
Andrew Yang thanked Geoff Yang for clearing up the misunderstanding via his own Twitter.
"Thanks Geoff," tweeted Andrew Yang, who added a smiley face and thumbs-up emoji.
Andrew Yang is currently in Iowa, campaigning there a month before the Democratic caucus is scheduled to take place in the state.
"This campaign is an uprising of the people to reclaim the government that has been overrun by the corporations and lobbying interests. This is our chance to climb all the way to the top and re-write the rules to work for us. But it has to start right here in Iowa on February 3rd."
"If you do not take this opportunity, we're going to miss it," he continued. "We can't do it without you," Yang said on Monday, speaking before an audience of roughly 200 at the Perry Perk coffee shop, according to Iowa Public Radio.
"What were Donald Trump's solutions? 'We're going to build a wall. Turn the clock back. Bring the old jobs back.' Iowa, you know we have to do the opposite. We have to turn the clock forward," Yang said, "We need to evolve in the way we think about ourselves and our work and our value."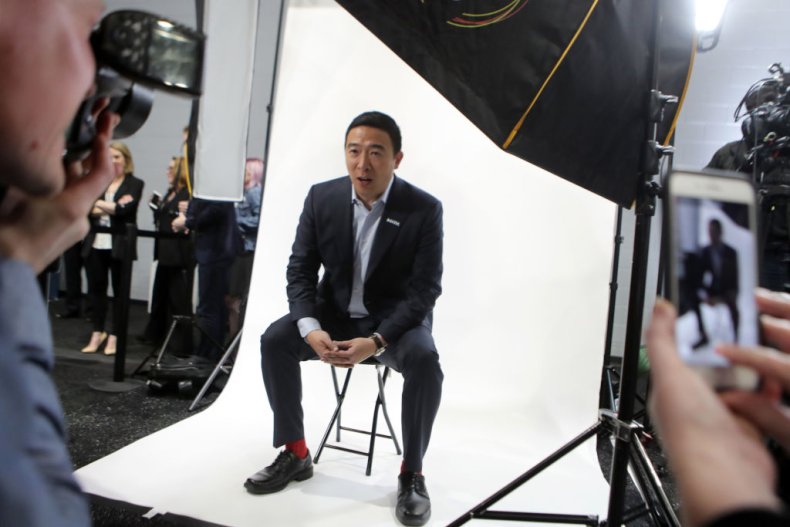 Representative Tulsi Gabbard was also misidentified as New York Senator Kirsten Gillibrand in the CNBC graphic. Gillibrand, a former candidate for president, dropped out of the race in August.
Gabbard responded to the gaffe by retweeting Scott Santens' tweet about the mistake.
CNBC apologized for the error, removing the video of the incident from their YouTube channel, then uploading the segment which aired after the commercial break on the broadcast version of the program, which contained the right pictures for both Gabbard and Yang.
"Now, unfortunately, on this network we accidentally aired the wrong photos for both Andrew Yang and Tulsi Gabbard. And we apologize for that mistake," Jon Fortt, host of Squawk Box, said during the segment.
Both Gabbard and Yang have critiqued the media's previous coverage of their campaigns, with Yang having boycotted MSNBC over what he deemed a blackout of coverage of his presidential campaign. Yang broke that boycott in December.
Gillibrand has not commented on the situation at press time.