While negotiators have a few more days to hammer out details in Glasgow, President Joe Biden has returned from the COP26 Climate Change Conference. America's leader may be taking a victory lap after the passage of the bipartisan $1.2 trillion infrastructure bill, but on climate and energy issues Biden finds himself stuck. On one hand he touts his party's green transition agenda, but on the other he proposes that the OPEC+ cartel increase oil supply to bring down fuel prices for his citizens and allies in Europe. This dilemma reflects the challenge of reconciling environmental rhetoric with the reality of self-inflicted energy scarcity.
Desperate for a win at the climate summit, Biden touted two diplomatic agreements to his base. The first is the Global Methane Pledge, with 90 countries committing to rules which could cut methane emissions by 30 percent as soon as 2030. The EPA plans to require inspection and repair of leaking pipelines, meaning this pledge—which does not include China, India or Russia—will bring concrete policy change at home without corresponding action on the part of our methane-emitting rivals.
The second may be a real accomplishment: a pledge to reverse global deforestation. This one includes China and Russia, home to much of the world's taiga boreal forest. The inclusion of Brazil and the Democratic Republic of the Congo, which house much of the planet's two largest rainforests, give the agreement greater weight, but don't hold your breath that the latter will take decisive action alone.
However, political and economic realities have spoiled presidential hopes for a wave of popular support. The world is experiencing an energy crisis as it slowly recovers from the COVID-19 pandemic. Fuel prices are spiking, thereby contributing to inflation and putting strain on American consumers in need of transportation and heat for the winter. Hence Biden's overtures to energy-rich OPEC+ countries to increase oil production. Those countries have refused.
Biden is now caught between a rock and the hard place. At a time of immense polarization within his own party, the president must take action to shield Americans from the ongoing energy crisis, but far-left voters are furious with his call for a fossil fuel surge. Biden's Build Back Better agenda, which includes $555 billion in green spending (a tall order in a country plagued by $28 trillion in debt and rising inflation), remains frozen amidst a highly public feud between his party's numerous progressives and few, but decisive, moderates.
At COP26, Biden vowed the U.S. would lead by example. Its current example is one of dysfunction and disunity. How Biden approaches the American fracking revolution—which made the United States the world's top natural gas and oil producer—will be telling. The Marcellus shale formation is a huge part of Pennsylvania's economy. If "Scranton Joe" wants to provide blue-collar jobs and secure this important battleground state for his party, he cannot abandon American energy.
A United States beset by shortages and increasing polarization simply will not be able to lead or contribute to greenhouse gas mitigation efforts. Biden must recognize the need for a dependable energy supply to keep America running. Increasing Western dependence on Russia, Saudi Arabia, Iran and Venezuela would be a huge mistake. But the reversal of his self-defeating drilling moratorium on federal lands and waters suggests that common sense has begun to trump ideological fervor.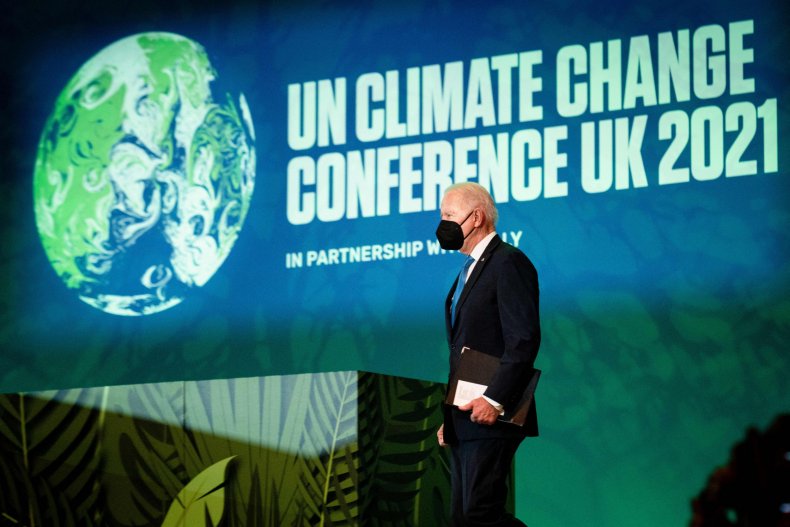 The infrastructure to meet the moment already exists, but has been abandoned. Democrats have made investors wary of natural gas, at the risk of turning dependable gas fields and pipelines into stranded assets. Their voter base will rail against restoring pipelines, fracking and shale gas, but this is a moment that demands blunt honesty.
It will be a couple of decades before renewables can support the nation's energy needs. Until then, avoiding energy poverty at home and abroad to maintain American prosperity will allow us to meet our green goals and fund technological breakthroughs.
Biden should take this opportunity to correct another misguided energy taboo: nuclear power. As the worrying consequences of greenhouse gas emissions become increasingly clear, the failure of both parties to revive nuclear energy looms large. Nuclear plants produce minimal emissions and take up a fraction of the space of equivalent wind or solar farm generation capacity, while having the highest capacity factor of any current energy source. Workers in nuclear facilities also earn higher wages on average than those in renewable energy. Nuclear is reliable, powerful and safe.
Despite all these benefits, fears of another Chernobyl or Fukushima have seen politicians reject nuclear power. Germany is in the process of phasing out its reactors, a move that will increase the country's dependence on Russian gas and hamper its efforts to reduce emissions.
It is time for the West to return to nuclear power, and adopt new technologies including small modular reactors, molten salt reactors and liquid metal reactors. The U.S. should encourage nuclear investment and reform regulations to expedite reactor approval and construction without jeopardizing human and environmental safety.
Representatives Dan Newhouse (R-Wash.) and Elaine Luria (D-Va.) introduced a proposal in July called the Nuclear Power Purchase Agreements Act. The bill would allow the secretary of energy to enter into long-term agreements to purchase nuclear power, creating jobs and driving energy independence. The president should invite these members to the White House to discuss their initiative and offer the weight of his administration to sell the public on a nuclear renaissance.
Biden's task is a difficult one. After a 2020 campaign that portrayed the Democrat as a pragmatic deal-maker, this moment may make or break his presidency. The green transition will not happen overnight; sabotaging the hydrocarbon industry that props up our economy—and destroying the bridge to the "green" fuels of tomorrow—is bad policy.
An energy-independent America can confront the challenges of the 21st century and slow the ascent of rivals who care neither for the environment nor for democracy. Maintaining a resilient energy sector in the present will allow America to lead the way to a more sustainable future.
Ariel Cohen, Ph.D., is Senior Fellow (non-resident) at the Atlantic Council and Director, Energy Growth and Security Program at the International Tax and Investment Center (iticnet.org). Daniel Tomares is a graduate student at Georgetown's McCourt School of Public Policy and a research assistant with ITIC's Energy, Growth, and Security Program.
The views expressed in this article are the writers' own.