A Rhode Island hospital is dealing with a COVID-19 outbreak just days after allowing five asymptomatic workers to return to work because of staffing shortages.
Eleanor Slater Hospital, a state-run facility, reported 28 patients tested positive for COVID-19, about 14 percent of the hospital's total patients. Amid an uptick in infections, the long-term facility brought back two COVID-positive staff members on Saturday and three on Monday, a move that's consistent with the Rhode Island Department of Health's guidance.
The infections were found on multiple campuses of the hospital, according to the Boston Globe. Joseph Wendelken, a spokesperson for the Rhode Island Department of Health, told Newsweek the outbreak was unconnected to the COVID-positive staff members. He said asymptomatic staff worked with COVID-positive patients except in one instance. In that case, the staff member worked with non-COVID patients but there weren't any COVID cases reported in that area.
However, the policy of using COVID-positive employees has been criticized since many unvaccinated staff members faced losing their jobs.
State Senator Jessica de la Cruz called the updated guidance "dangerous on so many levels." She accused Governor Daniel McKee of infecting patients "who have no other option for care." Instead of allowing COVID-positive staff members to return to work without quarantining, she advocated for the rehiring of unvaccinated workers and adopting a test to stay policy.
"We need all healthy hands on deck for this crisis," she posted on Twitter.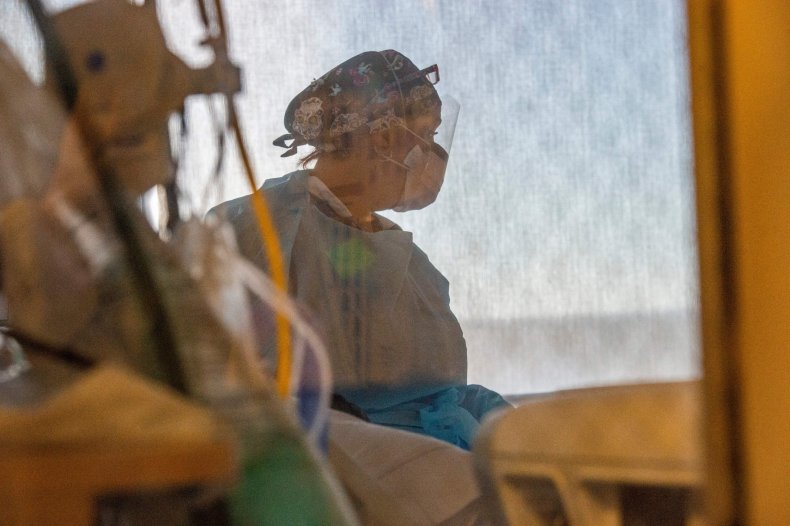 Updated quarantine and isolation guidance from the Rhode Island Department of Health that was reviewed by Newsweek allows COVID-positive employees at hospitals and nursing homes to continue working if the facility is so short-staffed it is considered a safety hazard to patients and residents. Rhode Island, like many other states, has experienced critical staffing shortages among nurses, which has been exacerbated by the Delta and Omicron outbreaks.
Wendelken defended the policy, telling The Providence Journal that unvaccinated workers are at a "greater individual risk" because of the number of COVID-positive patients. A vaccinated person who tests positive is also less likely to transmit the virus, according to Wendelken.
If a facility uses COVID-positive staff members, they're required to report it to the state Health Department and post a notice of the change on the facility's website. According to a notice on the Eleanor Slater Hospital website, all five COVID-positive staff members were asymptomatic.
"As Eleanor Slater Hospital takes steps to control COVID infections, staff and administrators are working very hard under incredibly challenging conditions to provide the best care for ESH patients," hospital spokesperson Randy Edgar told WPRI in a statement. "Eleanor Slater, like other hospitals, is facing added staffing challenges because of COVID."
On Tuesday, McKee activated 180 members of the National Guard to help with testing and vaccinations. He's also planning on mobilizing National Guard members to help provide support at hospitals.
Hanna Denietolis, an unvaccinated Rhode Island nurse, told Fox & Friends that the state "abandoned common sense" and that she was "frustrated" with the policy that allowed COVID-positive staff to work but not unvaccinated employees. Another unvaccinated nurse told Fox News that the policy was "discriminatory" toward unvaccinated workers.
A building on the Cranston campus of the Eleanor Slater Hospital went into a "code triage" this week amid staffing shortages, rising COVID cases and a looming snowstorm, according to The Providence Journal. In a hospital setting, a code triage means the hospital is pulling its collective resources to address a problem or emergency.
Update 1/7/2022 1:56 PM ET: This article has been updated to include comment from Joseph Wendelken, a spokesperson for the Rhode Island Department of Health.