After COVID-19, U.S. and Top Allies Want Change in Their Political Systems, Poll Shows
Majorities in the United States and top allies France, Germany and the United Kingdom want changes to their political systems after all four were consumed by the COVID-19 pandemic, a new survey has shown.
The survey, published Wednesday by the Pew Research Center and obtained in advance by Newsweek, showed that some 93% in France and the U.S., and 88% in the U.K. and Germany want some degree of change in their political systems, according to data gathered in November and December of last year.
Majorities among those in France and the U.S. sought dramatic action, with 47% in each calling for "major changes." An additional 21% in France and 18% in the U.S. said their respective system "needs to be totally reformed." Nearly half in the U.K. also chose one of the two more radical options as opposed to "minor changes" or "no change at all," which was by far the least popular choice among the four countries polled.
"As they continue to struggle with a public health crisis and ongoing economic challenges, many people in the United States and Western Europe are also frustrated with politics," an accompanying report began.
The authors went on to note there were "important differences across these countries' political systems," but they also noted that "the four nations also share some important democratic principles, and all have recently experienced political upheaval in different ways, as rising populist leaders and movements and emerging new forces across the ideological spectrum have challenged traditional parties and leaders."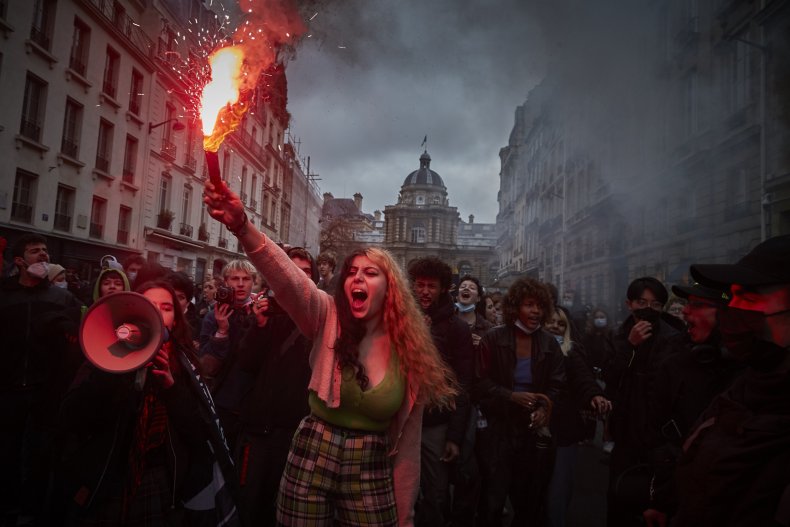 The U.S, which was surveyed at a particularly tumultuous time for national politics, immediately after major media outlets declared Democratic candidate Joe Biden the winner of the disputed 2020 presidential election, expressed particularly cynical views of the political system.
Those in the U.S. were the only population among those polled in which most, just over two-thirds, agreed that "most politicians are corrupt" in their country. Asked if "elected officials care what ordinary people think" did not apply to their nation, 56% in the U.S. agreed, second only to France at 58%, and above the U.K. at 52% and Germany at 32%.
The U.S. was the only one of the four countries polled in which a majority of the respondents were unhappy with their democracy. When asked if they were "satisfied with the way democracy is working in their country," just under a third said "not too" satisfied and just under a quarter said "not at all."
Among the three European countries, there was a significant difference in views toward democracy among those who were critical of or impressed by their country's response to COVID-19.
Each group that felt their respective nation did a "bad" job throughout the coronavirus experience in France, Germany or the U.K. was mostly unsatisfied with democracy, and the opposite was true for those who believed their respective government did a "good" job handling the pandemic.
In the U.S., there was little difference. Both those who felt the country handled the pandemic well and those who thought the country did poorly fell under the halfway mark with respect to their satisfaction with democracy in the U.S.
U.S. respondents also stood out as the most eager to support the creation of "citizen assemblies where citizens debate issues and make recommendations about national laws" and to allow "citizens, not members of the national legislature, to vote directly to decide what becomes law for some key issues."
These two ideas were popular among sizable majorities in all four countries, but the U.S. scored the highest in both at 79% in favor of assemblies and 73% in favor of referendums.
Nearly four months into 2021, the rollout of COVID-19 vaccines in France, Germany, the U.K. and the U.S. has offered prospects of a return to relative normalcy. But economic woes, social ills and political unrest remain serious threats to the stability of all four countries as their governments attempt to placate populations still reeling from a year of turmoil.