After Crisis Over Syria, Putin and Erdogan Look To Repair Relationship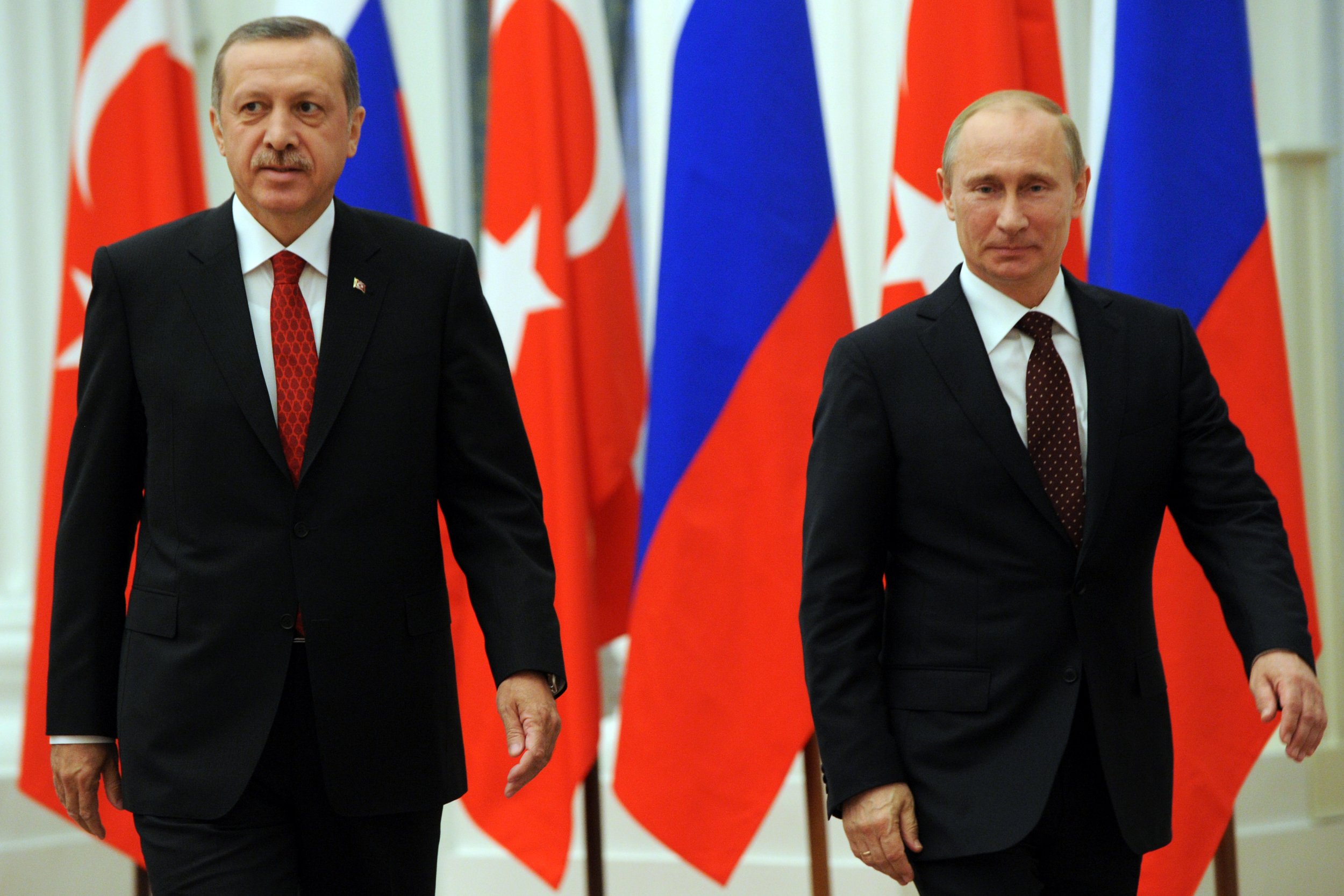 Turkish President Recep Tayyip Erdogan is to meet with his Russian counterpart Vladimir Putin in St. Petersburg on Tuesday in an attempt to heal their diplomatic rift, widened by the downing of a Russian jet on the Syrian border in November.
The jet had briefly entered Turkish airspace, resulting in the shooting down of the Su-24 Russian war plane, killing one pilot and later a marine involved in a rescue mission for the second pilot. Putin had demanded an apology from the Turkish government but Erdogan held firm.
Putin warned of "serious consequences" for Turkey after the incident. It resulted in Russian economic sanctions against Turkey, effecting a trade relationship that amounts to some $30 billion every year. Putin banned Turkish food imports, stopped charter flights from Russia to Turkey, hampering the country's tourism industry, and cancelled visa-free travel for Turks to Russia.
Both sides also disagree on the direction of the Syrian civil war, with Russia backing Syrian President Bashar al-Assad with air power against rebels and extremist groups, and Syrian-Kurds in the country's north, while Turkey supporting the rebels battling the Syrian leader. Ankara believes that Assad cannot continue in power after five years of civil war. This makes Erdogan and Putin's meeting, the first since the jet downing, all the more surprising.
But a failed coup in Turkey last month has bred growing displeasure at what Ankara sees as a lack of support from its western allies in the European Union and the United States and a distinct divergence between the reaction of world leaders to extremist attacks, such as Charlie Hebdo, and the attempted military takeover.
Putin and Erdogan are similar in their leadership manners, both viewed as strongmen leader who preside over their countries in an authoritarian manner. Erdogan is seeking a presidential system similar to that of Russia.
The Russian leader showed support to Turkey after the coup attempt, known for his dislike of popular uprisings, which was received positively in Ankara. Turkey's foreign minister, Mevlut Cavusoglu said that Russia, unlike other countries, had shown "unconditional support" after the coup attempt. This has opened a new diplomatic door, offering both Russia and Turkey an opportunity to show the West that their relationship is not completely fractured.
Tuesday's meeting could see a show of unity between the pair, a pledge to rebuild the damaged economic ties and ease tensions after the jet downing and potentially some announcements about the steps that will aid the reconciliation.