After DOJ Drops Criminal Probe Against Him, Former FBI Deputy Director McCabe Calls Out Trump's 'Revenge Tirade'
Former FBI Deputy Director Andrew McCabe said President Donald Trump had gone on a "revenge tirade" after being acquitted of impeachment charges. McCabe made the remark Friday during an interview with CNN's Brianna Keilar.
McCabe had been the subject of a two-year criminal probe after allegedly misleading investigators about revealing information to the media in 2016. During his time at the FBI, McCabe also authorized an investigation into Trump in connection with his presidential campaign's alleged collaboration with Russia to spy on Hillary Clinton's camp.
McCabe was fired from the FBI in March 2018, a move that pleased the president.
"Andrew McCabe FIRED, a great day for the hard working men and women of the FBI - A great day for Democracy," Trump tweeted at the time. "Sanctimonious James Comey was his boss and made McCabe look like a choirboy. He knew all about the lies and corruption going on at the highest levels of the FBI!"
However, the DOJ dropped its investigation of McCabe Friday, telling McCabe's attorneys in a letter that "based on the totality of the circumstances and all of the information known to the government at this time, we consider the matter closed." No charges are expected to be filed against McCabe.
Newsweek reached out to the DOJ for comment but did not receive a response in time for publication.
McCabe said he had been worried about how recent developments at the DOJ would impact his case.
"Like all Americans, I've been greatly concerned about what I've seen take place in the White House and in the Department of Justice in the last week," McCabe said. "Certainly the president's kind of revenge tirade following his acquittal in the impeachment proceeding has only amplified my concerns about what would happen in my own case."
McCabe voiced concerns that the DOJ was doing Trump's bidding.
"Quite frankly," McCabe said, "we are seeing things happen every day in this country that many of us never ever thought we'd see here."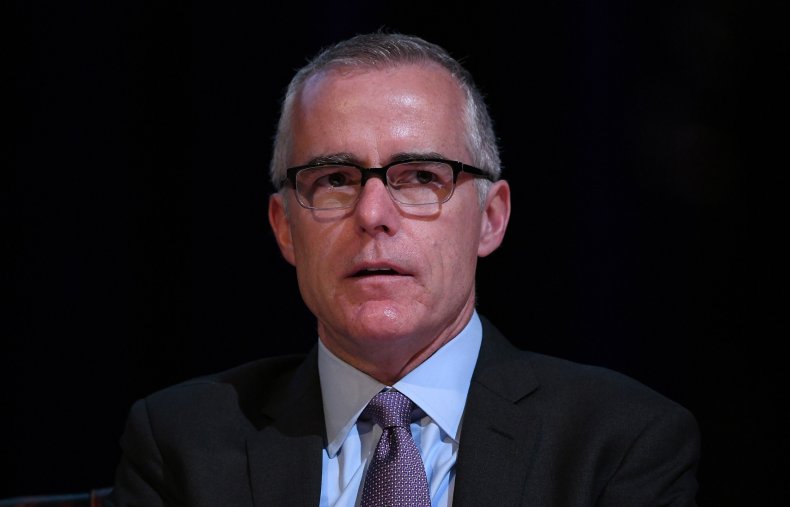 "The pursuit of political enemies and use of the criminal justice system and criminal investigations to exact some sort of revenge on those political enemies is something that should not be happening in the United States of America," McCabe added.
Attorney General Bill Barr has been the target of recent criticism after the DOJ stated it would recommend reducing the sentence of former Trump adviser Roger Stone, considerably lessening Stone's jail time from the maximum sentence of seven to nine years suggested by federal prosecutors. After the DOJ announced their intention to intervene on Stone's behalf, the four prosecutors withdrew themselves from the case.
Although Trump praised the decision, Barr said the president did not affect the decisions he made about ongoing legal proceedings.
"I'm not going to be bullied or influenced by anybody," Barr told ABC News Thursday, "whether it's Congress, a newspaper editorial board or the president. I'm going to do what I think is right."
Barr also said that Trump "has never asked me to do anything in a criminal case."
Trump took to Twitter to clarify his position on Barr's remarks.
"'The President has never asked me to do anything in a criminal case.' A.G. Barr This doesn't mean that I do not have, as President, the legal right to do so, I do, but I have so far chosen not to!"