After Donald Trump Slammed Germany's Dependence on Russia, Congress Moves to Sanction Moscow-Europe Energy Project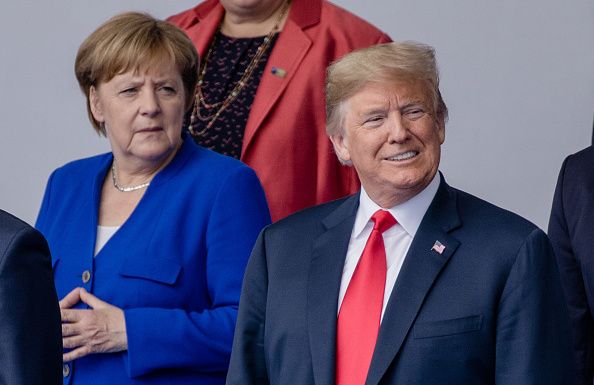 Shortly after President Donald Trump rebuked North Atlantic Treaty Organization (NATO) allies about Berlin's undue dependence on Moscow for its energy needs, members of Congress introduced a bill to sanction any company that helps build a gas pipeline bringing Russian gas into Germany.
The project in question, which Trump said makes Germany a "captive" of Russia, is the controversial Nord Stream 2 pipeline, an $11 billion energy project spearheaded by Moscow. Republican Senators John Barrasso of Wyoming and Corey Gardner of Colorado Wednesday introduced the bill proposing sanctions on any company that helps construct the pipeline.
Its stated aim is to "reduce the dependency" of U.S. allies and partners on Russian energy and to deter the Kremlin from "using its energy resources as a geopolitical weapon." The bill also aims to promote U.S. exports of liquefied natural gas (LNG) to allies as a replacement for dependence on Russian gas.
If the bill passes and companies pull out of the project to avoid U.S. sanctions, it could effectively kill the project that has been in the making since 2012.
At first glance, the bill appears to be a slap in Russia's face following a high-profile meeting between Trump and Russian President Vladimir Putin. But in reality, the sanctions would do more harm to the Trump administration's relationship with traditional allies in Europe, especially Germany, according to some experts.
"It is not clear if this [bill] gets to the floor for a vote. It might be a Hail Mary symbolic gesture. But I think it plays into the Russian narrative, even if it has the opposite intention," Brenda Shaffer, an energy analyst at Georgetown University, told Newsweek.
"Russia is constantly saying that the U.S. wants to block Nord Stream 2 to promote LNG. I think that's incorrect, but by linking these two things, non-discretionary sanctions on Nord Stream 2 and LNG, it reinforces feelings in Germany and elsewhere that this is about U.S. market share," Shaffer continued.
To be sure, some European allies and Russia's neighbor Ukraine have long voiced opposition to the pipeline. Kiev has argued that the pipeline will hurt Ukraine financially by allowing Russia to send gas to Europe without paying Kiev transit fees for shipping the gas through its territory. And some European policymakers have expressed concern that the pipeline could break European laws by allowing Moscow to dominate too much of the energy market.
Merkel, however, continues to maintain that the project makes good economic sense for Germany and Europe. And Georgetown's Shaffer said the new pipeline could ultimately be a win for both Berlin and Kiev.
"The next generation of Russian gas will be from [the] Arctic, and that can go directly down to Germany [through the pipeline]. These details are lacking in the legislation," Shaffer said.
"Russia still needs to have this transit agreement with Ukraine. But they also need a diversification of routes, they need more conditions for gas to go to Europe. And I don't buy that Ukraine being used as a transit state is good for Ukraine. It's not necessarily good for it to be dependent on Russia's economy," Shaffer continued.
Russia announced this week that it plans to renew gas transit contracts with Ukraine when they expire next year.
Meanwhile, some analysts argued that Republican lawmakers are using the bill to undermine Trump's overall friendly stance toward Russia.
"When Congress is upset with the president's policy it often tries to grab the wheel of our foreign policy car from the hands of the driver if the driver is deemed as inadequate," Ariel Cohen, a senior fellow at the Atlantic Council, told Newsweek.
"But the Europeans are really dismayed with Trump criticizing NATO, and more importantly launching a trade war. So anything we say while we're having this low point in our relationship will be viewed with great suspicion….U.S. LNG is much more expensive than piped-in Russian gas. It's really very awkward policymaking," Cohen continued.
On Friday, Russian Energy Minister Alexander Novak lashed out at the U.S. bill, calling it "absurd," and "strange."
"I did not see this proposed legislation, it should be studied from a legal point of view. It is quite a ludicrous bill that will invalidate all market rules," Novak said.